11/20/2018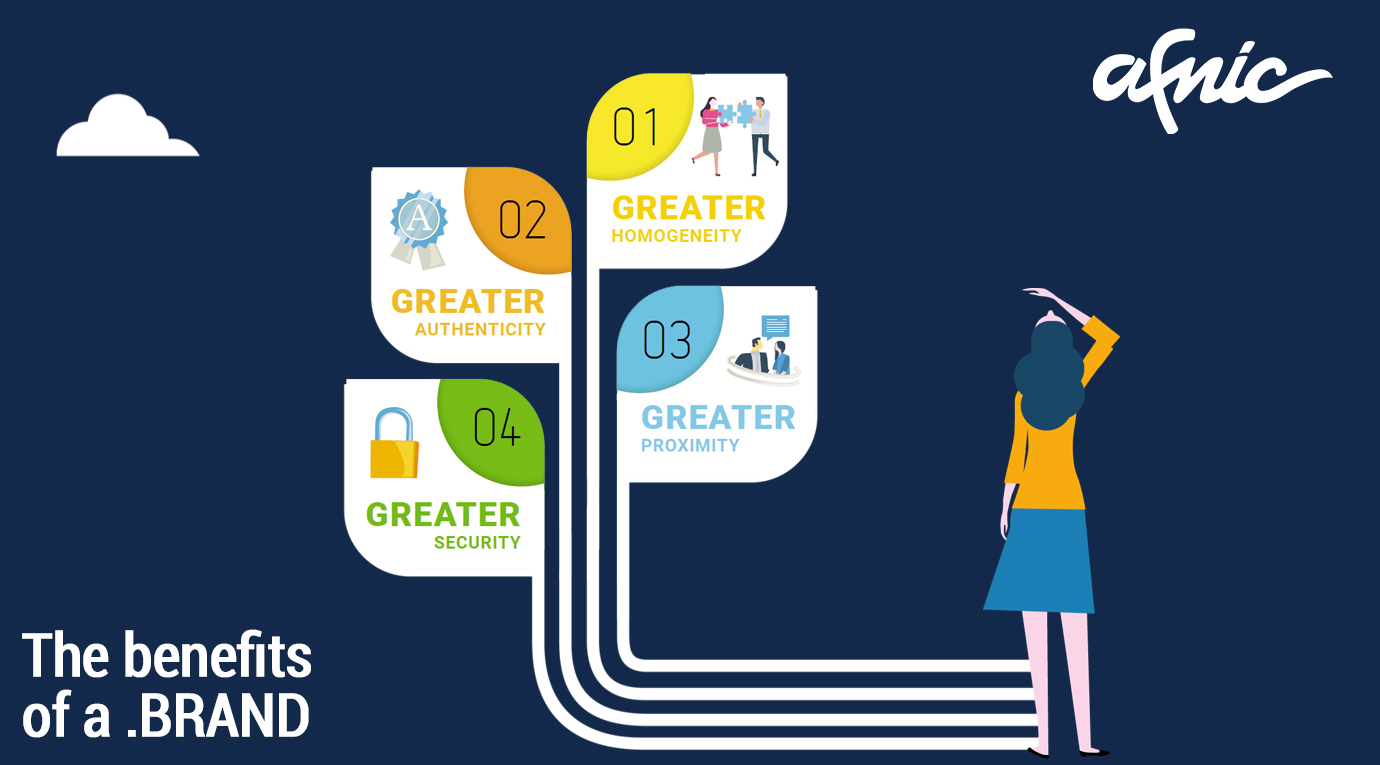 Your brand is a valuable asset, an essential lever in your marketing and sales strategy. That solid foundation is at the heart of the relationship you have with your customers and prospects. The online experience that you propose must use and strengthen that DNA, in order to increase the effectiveness of your work and bring more value to your audiences.
But these are not the only benefits! Here are four ways it enhances your online presence:
A coherent and homogeneous digital offer
With your Partners
You decide who can use domain names under your extension. This is particularly useful for all groups with business models based on partner networks (resellers, agents, franchisees, etc.). The network will only be allowed to use domain names under your .brand TLD. Not only are all of the addresses in the same format, but most importantly you control their creation and deletion.
For your products and services
Are you launching a new product or service? With your .brand TLD, you free yourself from any concerns as to the availability of the domain names for your future products under this or that TLD suffix. Being able to create all the addresses of your choice with your own TLD suffix saves you a lot of trouble and high buy-back costs.
A unique and authentic digital namespace
Your own TLD suffix allows you to apply your brand strategy effectively on the Internet (product brand, umbrella brand, etc.). Your brand equity will increase over time around your TLD suffix by creating a unique and infinitely expandable namespace according to the needs of your business.
The exclusivity of your .brand TLD guarantees the authenticity of your online products and services for your customers and prospects.
A Springboard to innovate and keep closer to your public
A .brand TLD provides an opportunity to enhance your products and services by adapting to new uses and offer an online experience closer to the behavior patterns of your audiences:
Virtually systematic use of search engines
Browsing via mobile devices (smartphones, tablets, etc.)
Community development via social networks
Securing online purchases
Etc.
Enhance security for your users
Phishing, parking, damage to brand image, sale of counterfeit products … there are many types of willful damage and they are becoming increasingly professional. Not are major groups immune to cybersquatting(1) or typosquatting(2). By having your .brand TLD and officially communicating with it, your customers and prospects will identify and trust your digital namespace.
The .brand TLDs allow to rethink user experience with an innovative and controlled online presence. Afnic has had the chance to help fifteen customers launch ambitious projetcts. This guiding role has allowed us to identify the many opportunities a personnalized TLD can bring to a brand as well as understand the stakes faced by the organizations up for this new adventure.
For further details, we invite you to download our white paper. It provides advice and practical information allowing you to start thinking about your own internet extension, as well as testimonials from organizations that successfully launched a new TLD.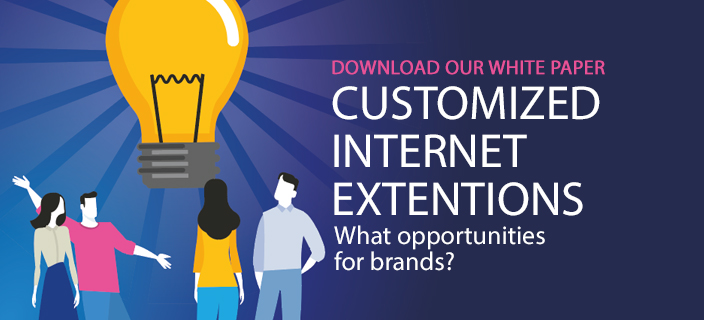 ---
(1)     Cybersquatting is a practice which consists in registering a domain name corresponding to a trademark, with the intention of reselling it to the rightful owner, altering its visibility or taking advantage of its reputation.
(2)    Typosquatting is a technique which consists in buying domain names that are graphically or phonetically close to a popular website or a well-known brand, so that the user who makes an unintentional spelling or typing error is directed to the site held by the hacker.