Home
>
Become an Afnic member
Participate in the life of the association and take advantage of numerous benefits by becoming a member of Afnic.
Since its creation, Afnic, a non-profit association, has brought together public authorities, internet users and domain name professionals to build a secure and stable internet, open to innovation and in which the French internet community plays a leading role. 
Internet users, businesses, consortiums, trade organisations, associations, public bodies, students, professors and digital researchers… Afnic membership is open to all natural or legal persons wanting to contribute to the development of the internet in France.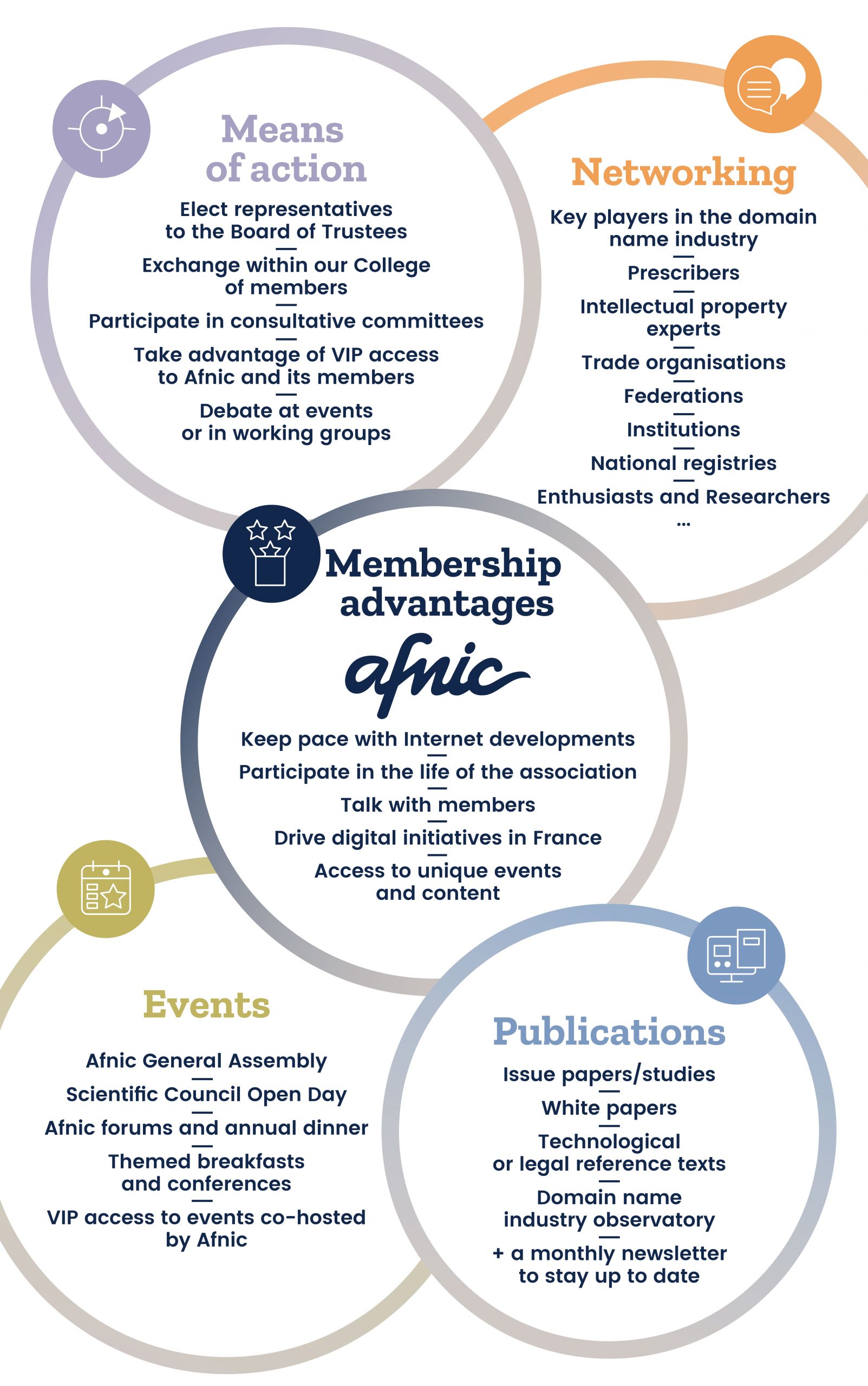 The advantages of Afnic membership
As a member, you will be invited to:
discuss Afnic's positioning and the different items on its road map (registry policy, new services, technical developments, etc.) as well as the social issues involved in the digital sphere such as internet governance, combating abuse, etc., as part of consultative committees and thematic working groups; 

take part in the association's events and highlights; 

take advantage of VIP access to our publications, reports or works; receive information on the domain name industry, the legal framework, etc.;

meet with other members among the leading digital players in France (access to the Member Directory);

elect your representatives to the association's Board of Trustees.
You also have access to a members-only website and a dedicated contact person to answer all your questions.
Membership fees
Members of the Association are divided into 3 colleges:
Registrars: 190 € ,
International Correspondent: 50 € ,
Users: companies 190 € , individuals 50 € , students 20 € .
Membership is valid for the calendar year and renewable on 1st January of each year.
Membership is not connected to obtaining a domain name and is not mandatory to register a domain name or to become a registrar.