A non-profit association, Afnic is the long-standing body managing .fr domain names.
Today, we pursue this mission by constantly improving our technical infrastructure, developing new tools, and contributing to the influence of an internet made in France.
Established in 1997, Afnic is the acronym for Association Française pour le Nommage Internet en Coopération, the French Network Information Centre. Since our creation, we have managed the domain name registry in France (currently more than 4 million .fr domain names), in connection with the entire Internet ecosystem in France. 
Because the .fr ccTLD is a public good, our role is considered one of general interest, consisting in contributing on a daily basis to:
a secure and stable internet; 
in which the French internet community plays a leading role.

 
With recognised expertise in the underlying infrastructures of the internet and in particular the DNS (Domain Name System), we take an active part in global internet governance, setting the rules and standards of tomorrow.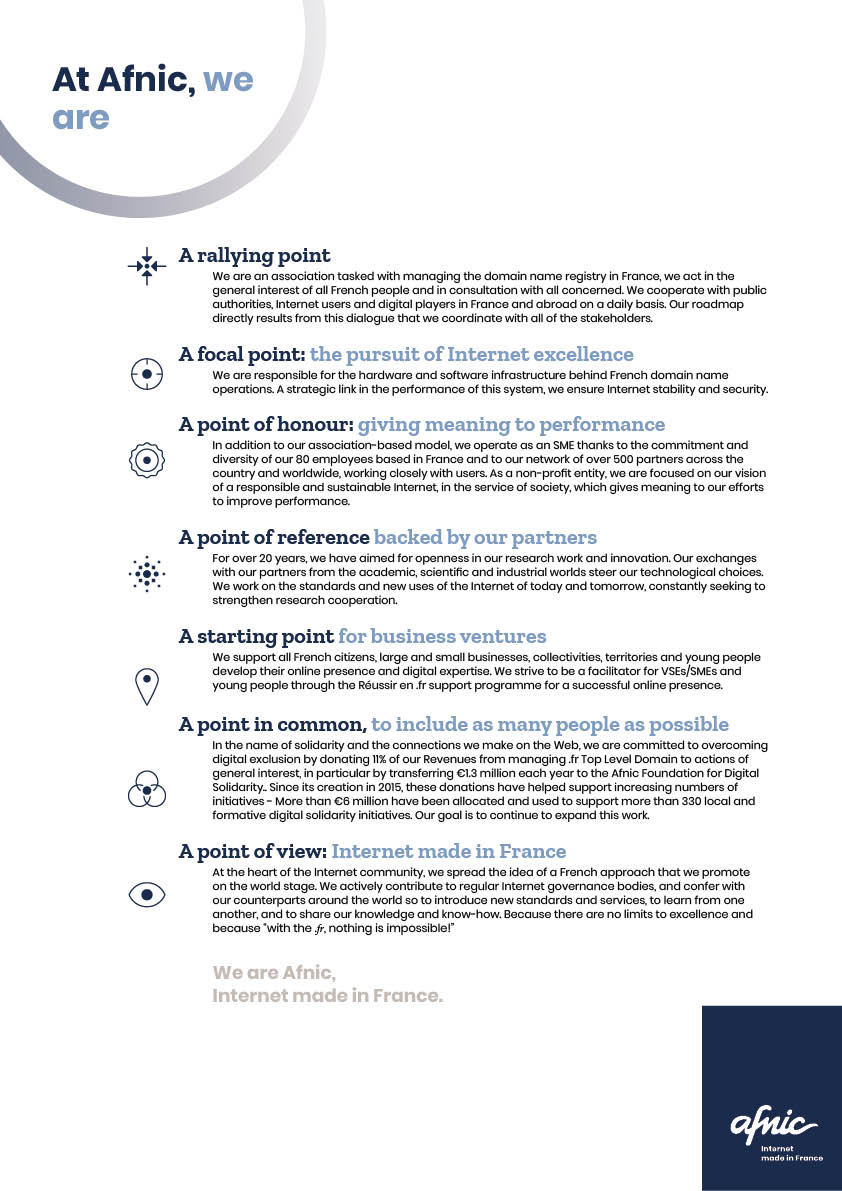 Manifesto
At Afnic, we are:

A rallying point
We are an association tasked with managing the domain name registry in France, we act in the general interest of all French people and in consultation with all concerned. We cooperate with public authorities, Internet users and digital players in France and abroad on a daily basis. Our roadmap directly results from this dialogue that we coordinate with all of the stakeholders.A focal point: the pursuit of Internet excellence
We are responsible for the hardware and software infrastructure behind French domain name operations. A strategic link in the performance of this system, we ensure Internet stability and security.
A point of honour: giving meaning to performance
In addition to our association-based model, we operate as an SME thanks to the commitment and diversity of our 80 employees based in France and to our network of over 500 partners across the country and worldwide, working closely with users. As a non-profit entity, we are focused on our vision of a responsible and sustainable Internet, in the service of society, which gives meaning to our efforts to improve performance.
A point of reference backed by our partners
For over 20 years, we have aimed for openness in our research work and innovation. Our exchanges with our partners from the academic, scientific and industrial worlds steer our technological choices. We work on the standards and new uses of the Internet of today and tomorrow, constantly seeking to strengthen research cooperation.
A starting point for business ventures
We support all French citizens, large and small businesses, collectivities, territories and young people develop their online presence and digital expertise. We strive to be a facilitator for VSEs/SMEs and young people through the Réussir en .fr support programme for a successful online presence.
A point in common, to include as many people as possible
In the name of solidarity and the connections we make on the Web, we are committed to overcoming digital exclusion by donating 11% of our Revenues from managing .fr Top Level Domain to actions of general interest, in particular by transferring €1.3 million each year to the Afnic Foundation for Digital Solidarity.. Since its creation in 2015, these donations have helped support increasing numbers of initiatives – More than €6 million have been allocated and used to support more than 330 local and formative digital solidarity initiatives. Our goal is to continue to expand this work.
A point of view: Internet made in France
At the heart of the Internet community, we spread the idea of a French approach that we promote on the world stage. We actively contribute to regular Internet governance bodies, and confer with our counterparts around the world so to introduce new standards and services, to learn from one another, and to share our knowledge and know-how. Because there are no limits to excellence and because "with the .fr, nothing is impossible!"We are Afnic,
Internet made in France.
A general interest mission
The .fr ccTLD is the first digital public good of the French people. 
As a non-profit association, Afnic has set up a multi-party governance bringing together all the stakeholders in the French internet: public authorities, users and the private sector. 
We advocate the values of integrity, openness, professionalism and community to promote an internet made in France that benefits everyone. We are committed to constantly ensuring a high level of performance and reliability, and to managing .fr with maximum effectiveness in the service of the general interest: Afnic has committed to devoting 11% of its Revenues to actions of general interest, in particular by transferring €1.3 million each year to the Afnic Foundation for Digital Solidarity.
In order to champion the general interest, we also protect our independence. Afnic does not receive any grants or subsidies its functioning, and operates as an SME. Our activities are financed entirely through the provision of our services.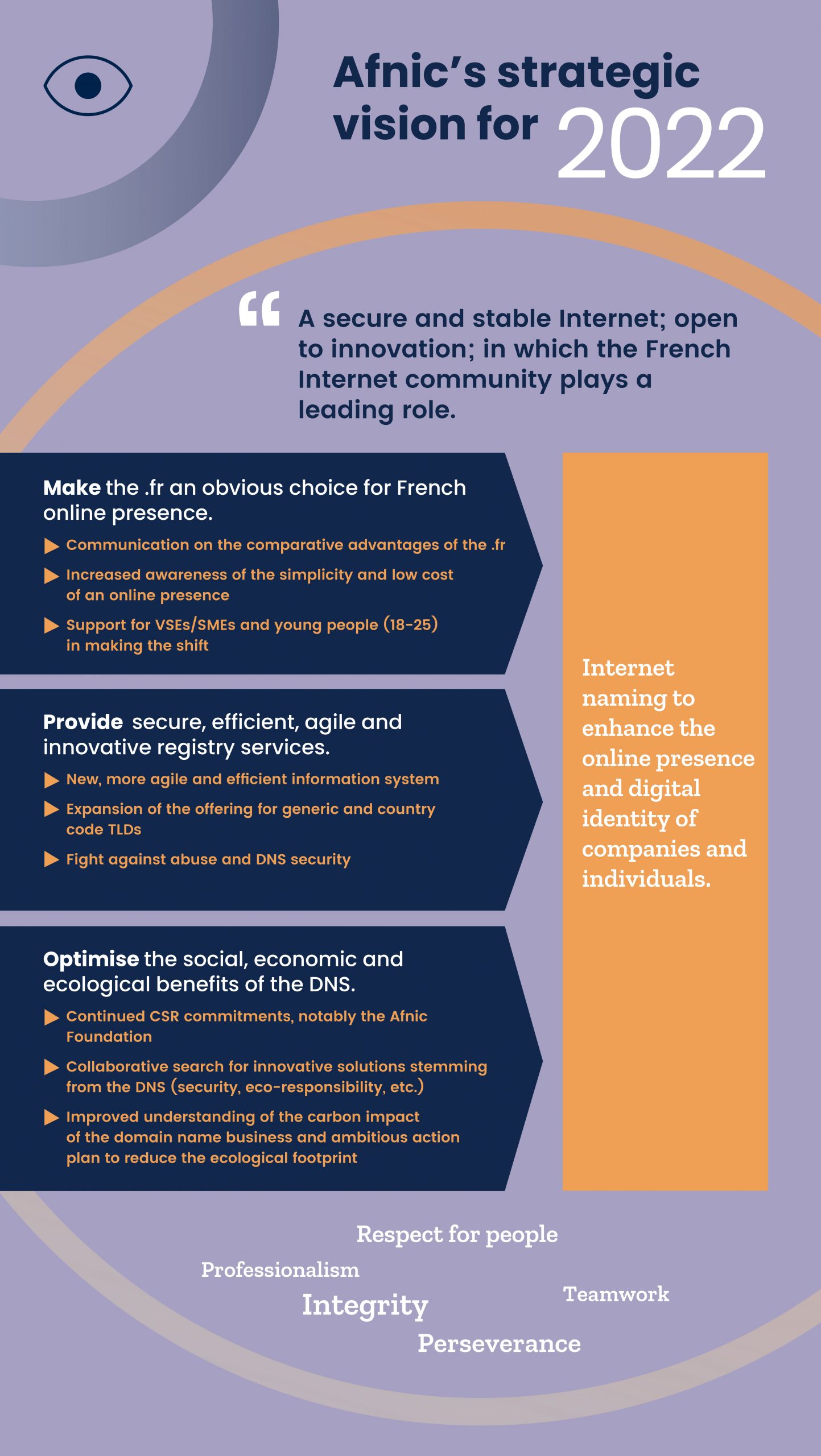 La vision stratégique de l'Afnic à 2022
"Un internet sûr et stable; ouvert aux innovations; où la communauté internet française joue un rôle de premier plan."Faire du.fr une évidence pour la présence en ligne des Français.
* Communication sur les avantages comparatifs du .fr
* Sensibilisation à la simplicité et au faible coût d'une présence en ligne
* Accompagnement au passage à l'action des TPE/PME et jeunes (18-25 ans)Offrir des services de registres agiles, performants, innovants et sûrs.
* Nouveau système d'information, plus agile et performant
* Développement de l'offre pour les extensions génériques et de code pays
* Lutte contre les abus et sécurité du DNSOptimiser les bénéfices sociaux, économiques et écologiques du DNS.
* Poursuite des engagements RSE, Fondation Afnic notamment
* Recherche collaborative de solutions innovantes à partir du DNS (sécurité, écoresponsabilité…)
* Meilleure connaissance de l'impact carbone de l'activité noms de domaine et plan d'action ambitieux pour en réduire l'empreinte écologiqueUn même objectif : Le nommage internet au service de la présence en ligne et de l'identité numérique des entreprises et des particuliers.Nuage de mots :
Respect des personnes
Professionnalisme
Intégrité
Persévérance
Travail en équipe
An active player in the internet ecosystem, in France and in the world at large
Afnic is based in Saint-Quentin en Yvelines, France. Nearly 90 people, drawn from a wide variety of different backgrounds, work within Afnic for this common good, the internet made in France.
This work is not carried out alone: we favour cooperation with the players in the French internet ecosystem in all fields – particularly in the field of innovation, within the Paris-Saclay area, a hotbed of world-class expertise.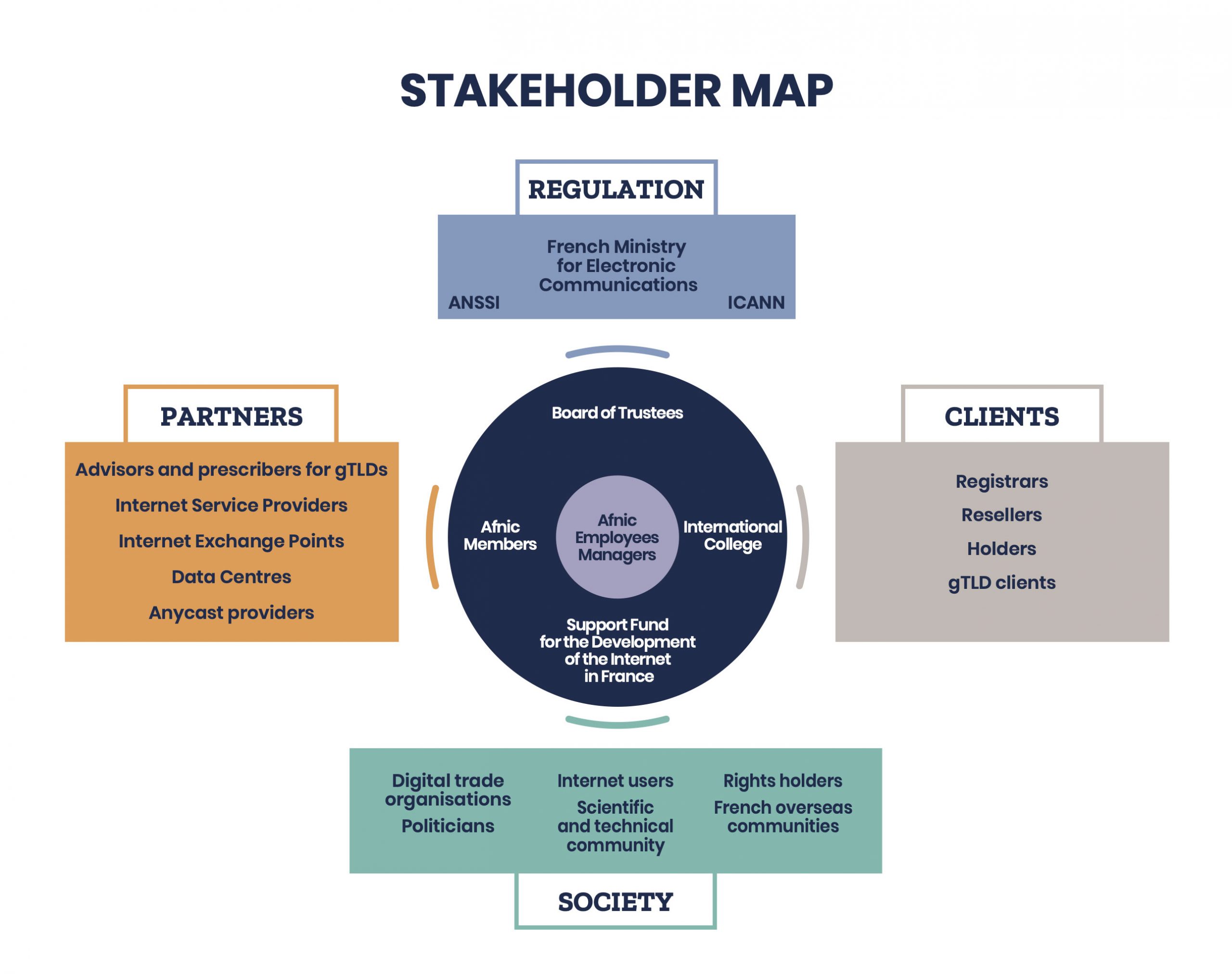 CARTOGRAPHIE DES PARTIES PRENANTES Description des éléments du centre de la carte à l'extérieur :*L'Afnic
*Collaborateurs
*ManagersAvec autour d'eux :
* Conseil d'administration
* Membres afnic
* Collège international
* Fonds de soutien au développement de l'Internet en France
* Membres afnic* En face de conseil d'administration :
REGULATION
Ministère en charge des Communications électroniques : ANSSI et ICANN* En face de collège international :
CLIENTS
Bureaux d'enregistrement
Revendeurs
Titulaires
Clients domaines de 1er niveau générique* En face de Fonds de soutien au développement de l'Internet en France :
SOCIETE
Association professionnelles du numérique
Politiques
Internautes
Communauté scientifique et techniques
Ayants droits
Communauté ultra-marines

*En face de membres afnic :
PARTENAIRES
Conseils et prescripteurs pour domaines de 1er niveau générique
Fournisseurs d'accès à internet
Points d'échange internet
Centres de données
Prestataires anycast
As standard bearers for a French approach to an open internet that benefits all, we also contribute actively to internet governance within ICANN, the Internet Governance Forum (the 2018 Paris edition of which we hosted), IETF and other standards organisations, RIPE, CENTR, etc.  
Infographie écosystèmeUn premier cadre nommé ECHELLE NATIONALE au centre de l'image, comprenant DGE, CNNUM, ISO France, etc.
Ce cadre est compris dans un plus grand bloc, nommé ECHELLE EUROPEENNE, qui comprend lui-même CENTR et Registres.
Enfin, l'ensemble de l'image est comprise dans un grand bloc nommé ECHELLE INTERNATIONALE avec les blocs Normalisation et travaux techniques (IETF, DNS-OARC) et Gouvernance de l'internet (ICANN, IGF)
Operational excellence: reliability of .fr
The reliability of the DNS is the first of our commitments: the .fr ccTLD must be available 100% of the time, with a response time of less than 150 ms.
Que se passe-t-il quand je veux accéder à un site web ?
Lorsque l'on veut accéder à un site Internet, on utilise un nom de domaine, par exemple « www.réussir–en.fr»
Mais le navigateur a besoin d'une adresse IP pour savoir où aller chercher ce site. Une adresse IP est le numéro d'identification qui est attribué à chaque périphérique relié à Internet.Démonstration de ce qu'on appelle la solution DNS :

On tape dans une barre de recherche sur un navigateur : www.réussir–en.fr»
Puis on clique sur ENTRÉE,
La requête est alors envoyée à un résolveur DNS
Le résolveur interroge l'un des serveurs racine de l'Internet
Les serveurs racines sont interrogés pour toutes les autres extensions (.org, .de, .fr, .paris, .com)
Le serveur racine indique au résolveur d'interroger le serveur de .fr / d.nic.fr
Le serveur de .fr indique d'interroger le serveur ns1.nic.fr
Le serveur ns1.nic.fr traduit la requête en adresse IP
www.réussir–en.fr devient 2001:8:1::23
L'adresse IP. est envoyée au résolveur
L'adresse IP est envoyée à l'ordinateur
Le navigateur Internet peut alors se connecter au serveur d'hébergement du site web et enfin afficher le site web recherché.

Tout ça, en une fraction de seconde

Afnic
Internet Made in France
www.afnic.fr
We are constantly improving our information system to raise our performance standards every year in domain name resolution, as well as their creation, the availability of the Whois domain name directory service, the fight against abuse (protection against hijacking) and the protection of personal data.
And we apply this same performance requirement to our customer relationships, particularly with Registrars, with:
Dedicated account managers and an integrated customer support department;
The development of services to further strengthen the security of the DNS;
And the simplicity of the .fr ccTLD.
Innovation and new services
Thanks to our origins within INRIA, the National Institute for Research in Computer Science and Control, R&D forms part of our DNA. As part of our collaborative approach to research, we partner with public laboratories, foreign counterparts and industry to put the DNS at the service of new technologies (IoT or authentication protocols, for example).
We also develop innovative services for our Registrar clients, as well as back-end registry services for companies and territories acquiring a custom TLD.
At present, Afnic provides back-end support for 13 generic domains (gTLDs): .paris, .bzh, .alsace,.corsica, .sncf, .mma, .ovh, .leclerc, bostik, .total, .aquarelle, .lancaster and .museum.
Our social commitments
As the manager of a common good, Afnic is actively involved in general interest projects.
Because the digital transformation is a national challenge for competitiveness and citizenship, we have developed the 'Réussir en .fr' ('Succeed with .fr') programme, which supports VSEs/SMEs with their online presence, in partnership with France Num (government digital transformation portal) and numerous private and institutional players. In parallel, we also run a specific programme designed for people aged between 16 and 25, training and supporting young ambassadors of the .fr.
Because the benefits of a common good must accrue to society as a whole, the bulk of the revenues from managing .fr are donated to the Afnic Foundation for Digital Solidarity, which funds digital inclusion projects throughout the country.
Because we are aware of the environmental impact of digital activities, we conducted our first carbon footprint assessment in 2013, together with initial measures (new travel policy, responsible purchasing, move to more energy-efficient premises, etc.). A comprehensive analysis of the registry activity's carbon footprint is under way and will lead to a complete action plan for making .fr a green TLD.