03/20/2017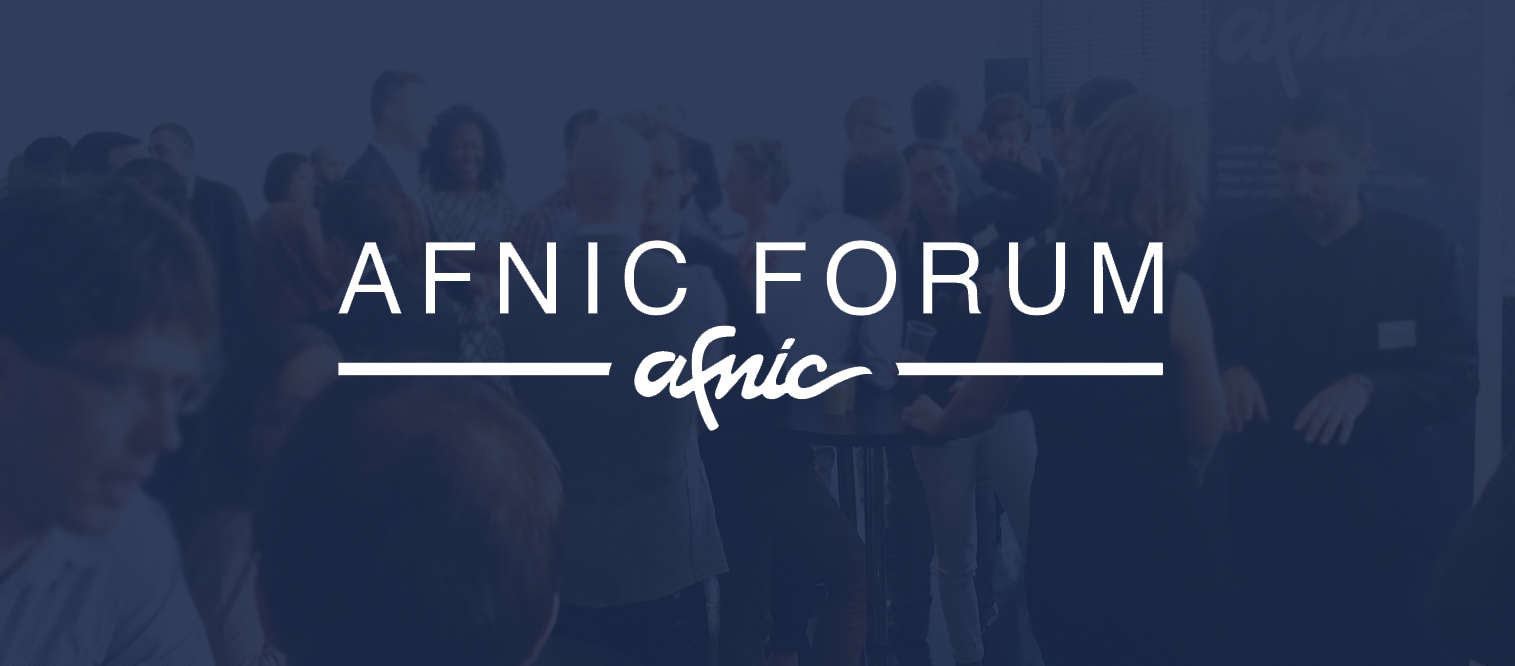 Let's go back 2 years: the Afnic Forum had yet to exist. We had the "Registrar Day", a day specially designed for Afnic Registrars. And the day was aptly named, with discussions on technical issues, presentations on operational developments or product innovations (such as launch of domain names with 1 or 2 characters or the new gTLDs). In June 2015, six months after a wave of new products (FRLock, 1&2-character domain names, the .paris, .bzh, .alsace gTLDs, etc.), the expectations of registrars had changed and that fact was beginning to be felt in the number of attendees (despite forcing them to come and visit our new premises in Saint Quentin en Yvelines!).
The turning point was the challenge facing us all: the goal of getting 1,000,000 more French SMEs online!
Engaging our ecosystem around that goal, of course, became our specific challenge. The event which convinced us to change our approach was our meeting last year with Jimdo at the Paris Micro-Enterprise Trade Fair (now the SME Trade Fair), at which we were exhibitors, after several visitors told us about Jimdo's solution which was available to everyone. So we went to meet them to understand how they worked. When our industry generally thought that "everything begins with a domain name", including online conversion tunnels, Jimdo (as well as Wix, Weebly, etc.) tackled the whole system from the opposite point of view: build a website web first, then register the domain name. That successful strategy has been confirmed by the statistics we monitor every day: there is a correlation between the growth in registrars' installed bases and registrar resellers. While market growth inexorably approaches zero, some players manage to achieve relatively good results. How?
By meeting the needs of our customers! Do bakers talk to you about the composition of their yeast or the structure of their oven when you buy a loaf? No, all we need is to buy some bread, and besides, most of us know absolutely nothing about yeast or the technique of baking bread.
Our competitors are Facebook, Twitter, Instagram, Tripadvisor, Booking or Lafourchette. Why waste time creating an expensive, time-consuming website which seems to require technical skills, when Facebook lets you open a page with your company's name for free and in a few clicks, allowing you to interact directly and effectively with you customers? Simplifying our sales paths and talking business may be a first solution for converting clients. Do you know many bakers who are conversant domain names, hosting, DNSSEC or Anycast? One thing of which I am sure is that they know Facebook. The 1st link not corresponding to a bakery on Facebook arrives in the middle of the 4th page while the search for "bakery" alone displays a Facebook bakery page on the 3rd page. QED.
Another point I learned from meeting entrepreneurs is they dream of a website that arrives in pole position on Google without spending a cent. Having a nice showcase website is good but not enough. Our SOHOs / SMEs want lead factories working 24/7 for them alone. That is what they need. How should we respond to it?
In parallel to our Registrar Day, we successfully launched our 1st Corp Day, an event dedicated to Brand TLDs (or dot brand). The needs of large enterprises and regional councils that have embarked on the .brand or .geoTLD adventure have similarities with our SOHOs:
SEO: "Should I migrate all my existing sites under .com or .fr to my new .brand sites? What will the impact be on my SEO?".
From defensive to offensive: having your own .brand suffix is not only a good defensive strategy, it is above all a great opportunity for differentiation: communication, security and personalized exchanges with customers and control all of the .brand sites. For geoTLDs, it is an opportunity to showcase a region via its SMEs, language, institutions, etc. How can you succeed the transition from defensive to offensive?
There are too many questions for me to answer here, sorry!
The objective of the Afnic Forum is to answer these questions by allowing Afnic experts and our partners to share experiences and ideas and by linking the Internet players (registries, registrars, resellers, holders, experts, institutions, etc.). In the same spirit of openness and to give a little more perspective to our discussions, new registries will be attending for the very 1st  time this year!
Would you like to take up the challenge with us, and equip a million SMEs?  Want to go on the offensive?
Make a date: come to the Afnic Forum on May 18 at the Cité Internationale Universitaire de Paris. I look forward to seeing you from 09:00 onwards.
To register, you only need one address: invitation@afnic.fr