06/18/2018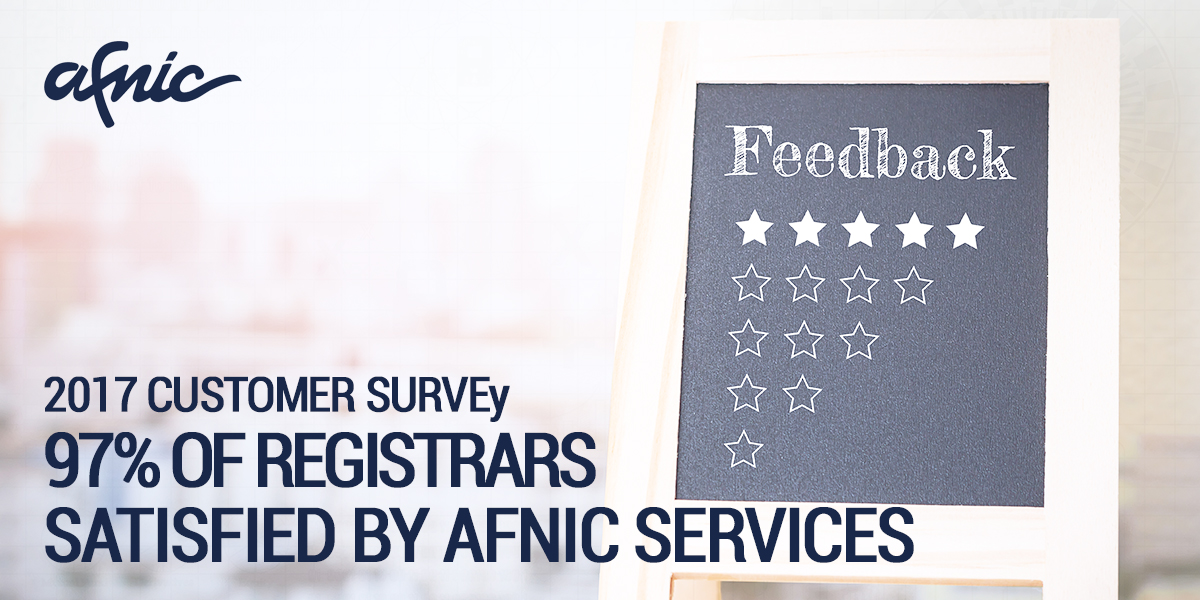 As a reminder, the annual survey with which Afnic checks the satisfaction of its Registry and Registrar customers consists of 2 main themes: "technical" issues including domain name management and Afnic infrastructures, DNSSEC, Open Data, technical support and business relations and "other" points of view such as administrative management, billing, litigation management and communication.
The management of domain names and their interfaces obtained a very high satisfaction rate, since 99% of the respondents were satisfied with the technical conditions for checking domain name availability, 96% with the WHOIS technical access conditions, and 95% with the Extensible Provisioning Protocol (EPP) registration interfaces and Web registration interfaces. Regarding Afnic's infrastructure, satisfaction with the reliability and relevance of the data used or retrieved was also excellent with a score of 99%.
It can also be noted that the DNSSEC implementation is increasing, with 37.3% of respondents responding positively compared with 23.5% in 2016, while the use of Open Data is now at 31.5% compared with 9.3% last year.
Afnic technical support was also acclaimed, the understanding of the requests achieving a score of 94%, the quality of the answers brought obtained a score of 92%, and the speed of processing requests was up by 6 points and also reached the score of 92%!
Administrative management and invoicing were very well assessed, since 100% of respondents were satisfied with the accuracy of billing, support and the follow-up of their files in case of a problem. 99% of them were satisfied with the posting of their invoices and 98% with the online payment system.
In terms of litigation management, 90% of the Registrars were satisfied with the clarity of the legal answers (+7 points compared with 2016); 86% were satisfied with the level of information required for the management of disputes and 85% with the lead-time for support.
With regard to Afnic's communication, it can be noted that the most frequently used source of information by respondents was the website, with 36% of them indicating they consulted it often and 55% occasionally.
On the commercial relations with Afnic98% of Registrars who have been in contact with their customer relationship officer were satisfied with their availability, 98% were satisfied with the information provided on new products and services, and 96% of them found the officer was able to help them develop their sales.
Finally, concerning the overall image of Afnic, 100% of the Registrars considered the association to be a professional organization, 99% believed that Afnic can be trusted, 95% found it efficient and 94% innovative (+13% compared with 2016). The majority of respondents also stated that Afnic's main strengths were its attention, availability and proximity.
About Afnic
Afnic is the acronym for Association Française pour le Nommage Internet en Coopération, the French Network Information Centre. The registry has been appointed by the French government to manage domain names under the .fr Top Level Domain. Afnic also manages the .re (Reunion Island), .pm (Saint-Pierre and Miquelon), .tf (French Southern and Antarctic Territories), .wf (Wallis and Futuna) and .yt (Mayotte) French Overseas TLDs.
In addition to managing French TLDs, Afnic's role is part of a wider public interest mission, which is to contribute on a daily basis, thanks to the efforts of its teams and its members, to a secure and stable internet, open to innovation and in which the French internet community plays a leading role. As part of that mission, Afnic, a non-profit organization, has committed to devoting 11% of its Revenues from managing .fr Top Level Domain to actions of general interest, in particular by transferring €1.3 million each year to the Afnic Foundation for Digital Solidarity.
Afnic is also the back-end registry for the companies as well as local and regional authorities that have chosen to have their own TLD, such as .paris, .bzh, .alsace, .corsica, .mma, .ovh, .leclerc and .sncf.
Established in 1997 and based in Saint-Quentin-en-Yvelines, Afnic currently has nearly 90 employees.