02/06/2019

Both attending the Trade Fair for Entrepreneurs, Pierre Bonis, CEO of AFNIC (French Network Information Center) and Pascal Faure, Director General of the INPI (National Institute of Industrial Property) signed today a partnership agreement between the two entities. The issues involved in brands and domain names overlap, with common challenges for entrepreneurs: what needs to be done and what for? How can a domain name and a brand be protected? What should be done in the case of conflict between a domain name and a brand? To name a few…
Underrated but essential steps
In practical terms, the aim of the partnership is to make entrepreneurs aware of the importance of protecting their businesses by filing brands and domain names alike – as soon as they are created. The partnership reinforces the joint initiatives of AFNIC and INPI around the brand / domain name culture by providing content and organizing joint training courses. The agreement includes in particular the provision of AFNIC's Réussir avec le web questionnaire, which the INPI can enhance and disseminate to its various audiences. The platform of practical advice for small and medium-sized businesses provides entrepreneurs with a free assessment of their online presence in order to boost their business, and help them make the most of the web.
A wide range of initiatives will also be provided for entrepreneurs to inform them about the rights, recourse and defense of their intellectual property. An example is the training course of the INPI organized on April 10 in Lille on the subject "Defending domain names", facilitated by an AFNIC employee.
"We are delighted to be associated with AFNIC, as our work revolves around a common drive to help entrepreneurs," said Pascal Faure, INPI CEO.
For Pierre Bonis, AFNIC CEO, "AFNIC is attentive to ensuring that the .fr TLD protects and encourages intellectual property. Our association with the INPI illustrates that conviction".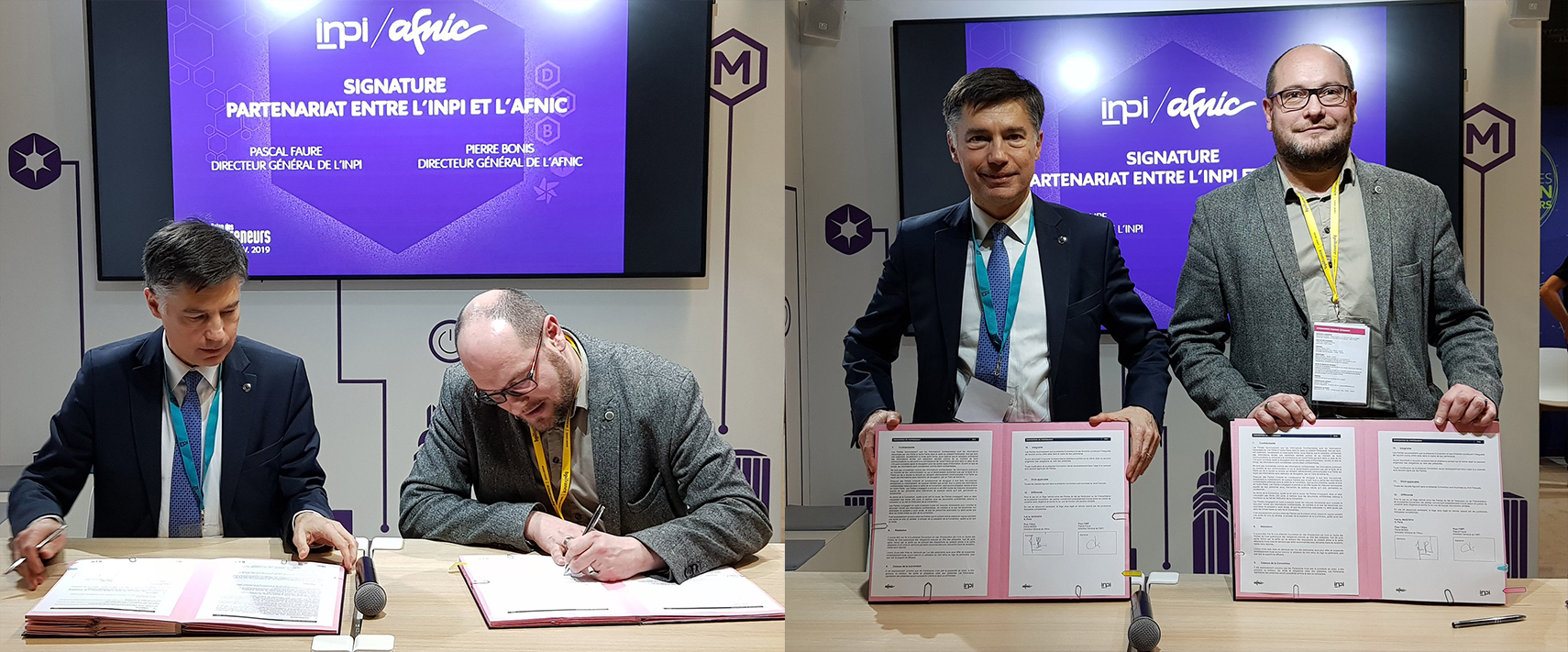 Pascal Faure (INPI) and Pierre Bonis (Afnic) sign an agreement at the Paris Trade Fair for Entrepreneurs, on 6th February 2019
AFNIC and INPI arrangements at the Trade Fair for Entrepreneurs
AFNIC and INPI are co-hosting a workshop on February 6 and 7 at 4 pm on the theme: "Your business on the internet: corporate name, trade name, banner brand, domain name or brand choice… the questions you need to ask".
The Afnic booth (booth no .417, village 4 – Small Business Tech), flying the flag of "Réussir-en.fr", supports entrepreneurs and raises awareness of the importance of an online presence.
The INPI stand (stand no. 245 – village 2 – Institutions, Support Networks & Regions), welcomes and supports innovators in their protection efforts and raises awareness among innovative SMEs about the importance of industrial property as a lever for competitiveness.
About the INPI
Beyond its work of registering and issuing title documents (patents, trademarks, designs and models), the French National Institute of Industrial Property (INPI) acts in favor of economic development through its work on raising awareness and promoting innovation and its challenges. The Institute supports all innovators so that they convert their projects into concrete achievements, and their innovations into value. As a self-financed public institution under the supervision of the Ministry of Industrial Property, the INPI is also actively involved in the development and implementation of public policies in the field of intellectual property, support for innovation and the competitiveness of companies as well as combating counterfeiting. As the custodian of all the industrial property rights filed in France and the data in the National Register of Commerce and Companies, the INPI distributes more than 14 million open, free and reusable data.
About Afnic
Afnic is the acronym for Association Française pour le Nommage Internet en Coopération, the French Network Information Centre. The registry has been appointed by the French government to manage domain names under the .fr Top Level Domain. Afnic also manages the .re (Reunion Island), .pm (Saint-Pierre and Miquelon), .tf (French Southern and Antarctic Territories), .wf (Wallis and Futuna) and .yt (Mayotte) French Overseas TLDs.
In addition to managing French TLDs, Afnic's role is part of a wider public interest mission, which is to contribute on a daily basis, thanks to the efforts of its teams and its members, to a secure and stable internet, open to innovation and in which the French internet community plays a leading role. As part of that mission, Afnic, a non-profit organization, has committed to devoting 11% of its Revenues from managing .fr Top Level Domain to actions of general interest, in particular by transferring €1.3 million each year to the Afnic Foundation for Digital Solidarity.
Afnic is also the back-end registry for the companies as well as local and regional authorities that have chosen to have their own TLD, such as .paris, .bzh, .alsace, .corsica, .mma, .ovh, .leclerc and .sncf.
Established in 1997 and based in Saint-Quentin-en-Yvelines, Afnic currently has nearly 90 employees.