06/21/2018
2017 was marked by the exceptional drive of the .fr ccTLD since with 3,166,105 domain names on 1  January 2018, and a renewal rate of 83%, it did better in 2017 than all the other ccTLDs. Its growth on its domestic market was also excellent, higher than the global market for domain names (5.2% vs. 3.2%).
Throughout the year, Afnic strengthened Réussir en .fr www.reussir-en.fr its support program for the online presence of VSEs / SMEs. First by launching Réussir avec le Web www.reussiravecleweb.fr, a self-assessment tool that has already enabled more than 2,000 companies to assess their online presence and receive a personalized action plan, free of charge. Afnic has also increased its presence in the Foliweb system and at trade fairs, in order to directly raise the awareness of more than 12,000 small businesses to the issues at stake of an Internet presence.
Afnic has continued to develop innovative solutions such as FRWATCH – which allows the holders of a domain name to identify the Internet addresses using their brand and thus measure the amount of traffic that escapes them – and new features for existing services such as Abuse Report.
The quality of Afnic's services was once again acclaimed in 2017. Afnor renewed the recognition EFQM® R4E 4* (Recognized For Excellence 4 stars) of the quality approach of the association and its ISO 27001 certification for the security of the information system of the .fr was confirmed.
The general public also acclaimed the association since according to a KANTAR TNS survey, the .fr has a good image with 97% of the respondents.  This good image is based on 4 main assets: trust (for 86%), reliability (for 85%), proximity (for 83%) and durability and solidity (for 83%).
The Afnic Foundation for Digital Solidarity (www.fondation-afnic.fr) reached cruising speed in 2017 with a second call for projects that kept its promises: 35 winning projects addressing various themes (Employment/integration, Health/Disability, Citizenship, Environment/Housing, Training/Education and Culture/Media) for the benefit of equally diverse audiences (seniors, vulnerable groups, the disabled, people on vocational integration programs or young dropouts). In two years, 1.7 million euros have already been earmarked to support those who want to make the Internet and its uses serve a more equitable, inclusive and egalitarian society.
Finally, 2017 was marked by important organizational changes, with the appointment of Pierre Bonis as the new CEO of the association to replace Mathieu Weill, the establishment of a Partnerships and Innovation Department, and the creation of a Human Resources, Quality of Worklife and Legal Affairs Department.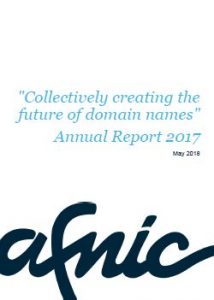 Download Afnic's 2017 activity report
About Afnic
Afnic is the acronym for Association Française pour le Nommage Internet en Coopération, the French Network Information Centre. The registry has been appointed by the French government to manage domain names under the .fr Top Level Domain. Afnic also manages the .re (Reunion Island), .pm (Saint-Pierre and Miquelon), .tf (French Southern and Antarctic Territories), .wf (Wallis and Futuna) and .yt (Mayotte) French Overseas TLDs.
In addition to managing French TLDs, Afnic's role is part of a wider public interest mission, which is to contribute on a daily basis, thanks to the efforts of its teams and its members, to a secure and stable internet, open to innovation and in which the French internet community plays a leading role. As part of that mission, Afnic, a non-profit organization, has committed to devoting 11% of its Revenues from managing .fr Top Level Domain to actions of general interest, in particular by transferring €1.3 million each year to the Afnic Foundation for Digital Solidarity.
Afnic is also the back-end registry for the companies as well as local and regional authorities that have chosen to have their own TLD, such as .paris, .bzh, .alsace, .corsica, .mma, .ovh, .leclerc and .sncf.
Established in 1997 and based in Saint-Quentin-en-Yvelines, Afnic currently has nearly 90 employees.