11/13/2014
This important event for players on the French domain name market is organized by SafeBrands/Mailclub.
The conferences are reserved primarily for corporate domain name and trademark managers. Seats are also reserved for lawyers, IP firms, trademark attorneys, SEO specialists and journalists.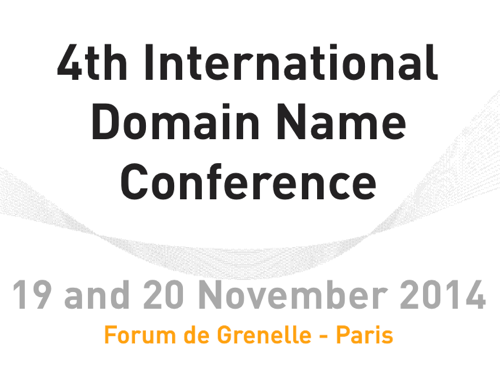 8 round tables and 2 days of conferences
… To approach domain name issues from three angles: legal, marketing, and technical.
Agenda 2014
Wednesday 19 November 2014
Morning: New governance, new extensions, new naming
Facilitators:
Sébastien Bachollet
–
Elected member of the AFNIC Board of Directors
Frédéric Guillemaut
– Elected member of the AFNIC Board of Directors
, MD of SafeBrands/Mailclub
8.45 am: Welcome breakfast
9.30am: Welcome address by Frédéric Guillemaut, Associate Director of SafeBrands/Mailclub
9.45am: Debates on the following themes:
9.45am : NewgTLD / ccTLD : market overview and evolution –

Mathieu Weill, CEO at Afnic

10.15am : Debate on Icann transition and Internet governance –

Mathieu Weill

/ Jean-Jacques Sahel, European VP at Icann
10.45am: Creating a market – Amy Repp, head of marketing at Donuts
11.00am: The next rounds of NewgTLDs – Frédéric Guillemaut
11h10-12.30pm : Round table: Naming in 2020 – Bertrand de la Chapelle / Amy Repp /

Mathieu Weill

/ Jean-Jacques Sahel / Philippe Rodhain, lawyer
Afternoon: Strategies for protecting brands and domain names
Facilitator: Sébastien Almiron, Senior Domain Name Strategist – SafeBrands
2.15pm: Gtlds – cctlds – NewGTLDs: 3 types of extensions for 3 users – Sébastien Almiron (SafeBrands) and Francesco Cetraro (Afilias)
2.40pm: What is a naming charter, its purpose, how to put one together – Sébastien Almiron (SafeBrands)
3.00pm: Example of a strategy and sharing experiences- Philippe Rodhain (Lawyer) and Bertrand Réalini (Domain name manager BNP Paribas)
3.15pm: TMCH and DPML: proof of use, choosing the marks to protect, etc. – Sébastien Almiron and Amy Repp (Donuts)
3.30pm: The specific case of Corp/BrandTLDs – Bertrand Réalini (BNP-Paribas)
3.50pm: Social networks « usernames »: strategy and security – Sébastien Almiron (SafeBrands)
4.15pm: Pause
4.30pm to 6.00pm: Domain name securit, types of attacks, how to protect yourself – Florian Maury (ANSSI), David Saussinan (Unifab),

Stéphane Bortzmeyer (Afnic)

, Jimaan Sane (Beazley)
Thursday 20 November 2014
Morning: Domain names and value creation
Facilitator: Etienne de Fontainieu – Responsable commercial et marketing, Safebrands
8.30 am: Welcome breakfast
9.00am: Marketing opportunities from the new extensions

Referencing and NewGTLDs
The NewGTLDs: implications for the domain name secondary market
Is domaining dead?
11.00am: Accounting valuation of a portfolio of domain names
Speakers:
Guillaume Pahud – Groupe Richemont – CorpTLDs Manager
Sophie Pieck – Sedo – Country Manager France/Italie
Matthias Meyer-Schönherr – Sedo – Vice-President in charge of business development for Europe and Asia-Pacific
Stéphanie Maury – Cabinet Stéphanie Maury
Franck Maquinay – SEO.fr – CEO
Nicolas Chabert – Perfeo – CEO
Afternoon: Monitoring, recovery, ending attacks: how to optimize and reduce your expenses?
Facilitator: Matthieu Aubert – Responsable juridique, Safebrands
2.30–5.00pm: Monitoring, analysing, reacting

Setting up monitoring and analysing the results
Recovery strategies, their effectiveness and cost – an overview of claims, UDRP, URS
Worldwide on-line monitoring of potential infringements of your trademarks:

Domain names
Social networks
Apps
Logos
Adwords campaigns
5.30pm: Conclusion of the 4th International Domain Name Conference
Speakers:
Matthieu Aubert – Legal Manager – SafeBrands / Mailclub
David Tayer – Lawyer – Witetic Avocats
David Saussinan – Legal Manager – Unifab (Union des fabricants)
Floriane Duel – Legal Counsel, Rapporteur in dispute resolution system Syreli –

Afnic
Chef d'Escadron Bruno Tirelli – Commander at the French "Gendarmerie Nationale" (unit of the French Army), Head of the Intelligence Bureau of the Alsace Region of the Gendarmerie, in charge of Business Intelligence
Further information and Registration
Address: Forum de Grenelle, 5 rue de la Croix-Nivert, Paris 15ème, France.
Participation is free but registration required.
About Afnic
Afnic is the acronym for Association Française pour le Nommage Internet en Coopération, the French Network Information Centre. The registry has been appointed by the French government to manage domain names under the .fr Top Level Domain. Afnic also manages the .re (Reunion Island), .pm (Saint-Pierre and Miquelon), .tf (French Southern and Antarctic Territories), .wf (Wallis and Futuna) and .yt (Mayotte) French Overseas TLDs.
In addition to managing French TLDs, Afnic's role is part of a wider public interest mission, which is to contribute on a daily basis, thanks to the efforts of its teams and its members, to a secure and stable internet, open to innovation and in which the French internet community plays a leading role. As part of that mission, Afnic, a non-profit organization, has committed to devoting 11% of its Revenues from managing .fr Top Level Domain to actions of general interest, in particular by transferring €1.3 million each year to the Afnic Foundation for Digital Solidarity.
Afnic is also the back-end registry for the companies as well as local and regional authorities that have chosen to have their own TLD, such as .paris, .bzh, .alsace, .corsica, .mma, .ovh, .leclerc and .sncf.
Established in 1997 and based in Saint-Quentin-en-Yvelines, Afnic currently has nearly 90 employees.