10/20/2023
Afnic, the association responsible for managing several TLDs, including .fr, has been awarded two labels by AFNOR Certification – the "Engagé RSE" ("Committed to CSR") label ("confirmed" level – two stars – with an overall score of 662 points out of 1,000), and "Responsibility Europe".
The awarding of these two labels marks a new milestone in Afnic's Corporate Social Responsibility (CSR) policy, demonstrating its commitment and its contribution to the United Nations Sustainable Development Goals (SDGs).
The "Engagé RSE" label
"Engagé RSE" is a demanding label. By means of 196 questions, it evaluates over 50 criteria relating to ISO 26000 and the UN's Sustainable Development Goals. An in-depth on-site assessment is carried out, in which interviews are conducted with management, employee representatives and external stakeholders. The "Engagé RSE" label certifies the comprehensive nature and the consistency of Afnic's continuous improvement mechanism for CSR. It measures both the practices and the results obtained over a number of years.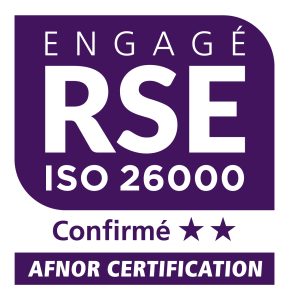 The "Responsibility Europe" label
The "Responsibility Europe" label was created on the initiative of the French AFNOR Group, together with Luxembourg's INDR (National Institute for Sustainable Development and CSR) and the Swiss sustainable development association Ecoparc. It brings together the leading CSR labels, labels which are both demanding and pragmatic. The "Responsibility Europe" label thus brings Afnic international recognition of the value of its CSR approach.
These two new distinctions symbolise our commitment to mastering our impacts on society, the economy and the environment.
Download the Afnic 2022 Corporate Social Responsibility (CSR) Report (PDF - 246 kB)
About Afnic
Afnic is the acronym for Association Française pour le Nommage Internet en Coopération, the French Network Information Centre. The registry has been appointed by the French government to manage domain names under the .fr Top Level Domain. Afnic also manages the .re (Reunion Island), .pm (Saint-Pierre and Miquelon), .tf (French Southern and Antarctic Territories), .wf (Wallis and Futuna) and .yt (Mayotte) French Overseas TLDs.
In addition to managing French TLDs, Afnic's role is part of a wider public interest mission, which is to contribute on a daily basis, thanks to the efforts of its teams and its members, to a secure and stable internet, open to innovation and in which the French internet community plays a leading role. As part of that mission, Afnic, a non-profit organization, has committed to devoting 11% of its Revenues from managing .fr Top Level Domain to actions of general interest, in particular by transferring €1.3 million each year to the Afnic Foundation for Digital Solidarity.
Afnic is also the back-end registry for the companies as well as local and regional authorities that have chosen to have their own TLD, such as .paris, .bzh, .alsace, .corsica, .mma, .ovh, .leclerc and .sncf.
Established in 1997 and based in Saint-Quentin-en-Yvelines, Afnic currently has nearly 90 employees.