07/18/2017
The assessment carried out by the French national organization for standardization (AFNOR) in February 2017 not only confirmed the renewal of Afnic's recognition by EFQM® R4E 4* (Recognized For Excellence 4 Stars), but also highlighted noteworthy improvements in the organization's approaches in a number of areas, coupled with tangible improvements in its results in several of Afnic's strong points.
"Our achievements over the last two years have been both structural and organizational. We shall continue to progress, allowing us to consider achieving EFQM® R4E 5* recognition, and even presenting ourselves for a quality prize in the near future," said Sylvie Lacep, Afnic's Director of Excellence and Security.
It should be recalled that Afnic obtained its first EFQM® R4E recognition in December 2014 for its quality initiative, which was launched in 2008 as one of its commitments as the Registry for the .fr TLD and the launch of its multi-registry strategy. At the time, the Association's objective was to structure its processes, initiate the continuous improvement loop and scale up its offer as a registry.
The assessment was followed in May by the first ISO 27001 surveillance audit of its Information Security Management System (ISMS), confirming both Afnic's 27001 certification and significant progress in terms of security management.
"Quality and security are the subject of a coordinated approach carried out as part of an Integrated Management System (IMS), which forms the foundation for the cross-business dynamic of continuous improvement at Afnic," added Sylvie Lacep.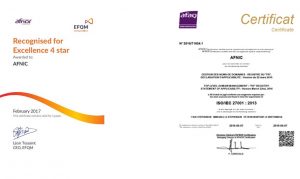 About Afnic
Afnic is the acronym for Association Française pour le Nommage Internet en Coopération, the French Network Information Centre. The registry has been appointed by the French government to manage domain names under the .fr Top Level Domain. Afnic also manages the .re (Reunion Island), .pm (Saint-Pierre and Miquelon), .tf (French Southern and Antarctic Territories), .wf (Wallis and Futuna) and .yt (Mayotte) French Overseas TLDs.
In addition to managing French TLDs, Afnic's role is part of a wider public interest mission, which is to contribute on a daily basis, thanks to the efforts of its teams and its members, to a secure and stable internet, open to innovation and in which the French internet community plays a leading role. As part of that mission, Afnic, a non-profit organization, has committed to devoting 11% of its Revenues from managing .fr Top Level Domain to actions of general interest, in particular by transferring €1.3 million each year to the Afnic Foundation for Digital Solidarity.
Afnic is also the back-end registry for the companies as well as local and regional authorities that have chosen to have their own TLD, such as .paris, .bzh, .alsace, .corsica, .mma, .ovh, .leclerc and .sncf.
Established in 1997 and based in Saint-Quentin-en-Yvelines, Afnic currently has nearly 90 employees.