03/30/2020
Since their creation in 2013, the Foliweb workshops have been designed to help VSEs and SMEs succeed on the web by improving their online presence. These workshops provide practical and pragmatic training to guide entrepreneurs in the use of online tools and teach them best practices.
Digital technology can be an ally for VSEs/SMEs now more than ever
Given the current lockdown, the decision has been made to continue with the Foliweb workshops. VESs/SMEs can therefore take advantage of this time to get to grips with digital tools or make further progress with their practices and fine-tune their presence: using social networks wisely, learning to build a website or an e-commerce store in a few simple steps, boosting their SEO, creating mail shots while respecting the personal data of customers and prospects, and much much more!
The aim: anticipate and prepare for a return to business as usual by better equipping SMEs/VSEs so as to improve their resilience. The Foliweb workshops help train and support companies in these areas with 100% online sessions that remain 100% free of charge.
Run in webinar format since 16 March, the Foliweb have been a huge success, with over 2,000 online participants over these first two weeks. "The Foliweb webinars are working fantastically. We have seen record participation rates for these formats. There is a real appetite for the subjects covered, which remain very practical and which are in line with the needs observed, given that one third of SMEs/VSEs do not yet have an online presence! Yet it is an essential factor in ensuring companies' visibility, which they will need more than ever in the coming weeks", explains Pierre Bonis, CEO of Afnic.
4 Foliweb webinars are available per week. To view the programme, click here
In 2019, 160 face-to-face Foliweb workshops were run in 31 towns in France, and 60 webinars, with a total of 17,000 participants for the two formats combined!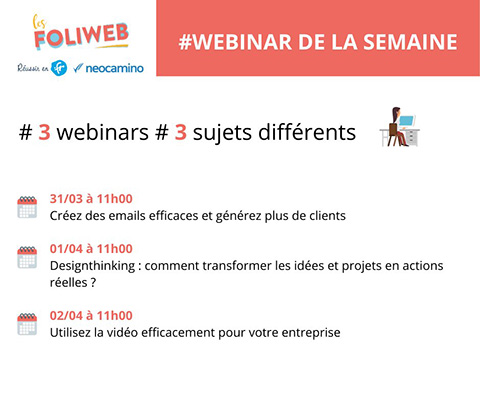 About the Foliweb workshops
The Foliweb workshops are part of Afnic's Réussir-en.fr [Succeed with .fr] programme, an initiative launched with its partner Neocamino. They have one objective: to help VSEs, entrepreneurs and freelancers succeed on the web. The experts that run these workshops give advice to professionals on the use of social networks and digital tools. Since their launch in 2013, the Foliweb sessions have supported several thousand VSEs across France.