04/04/2016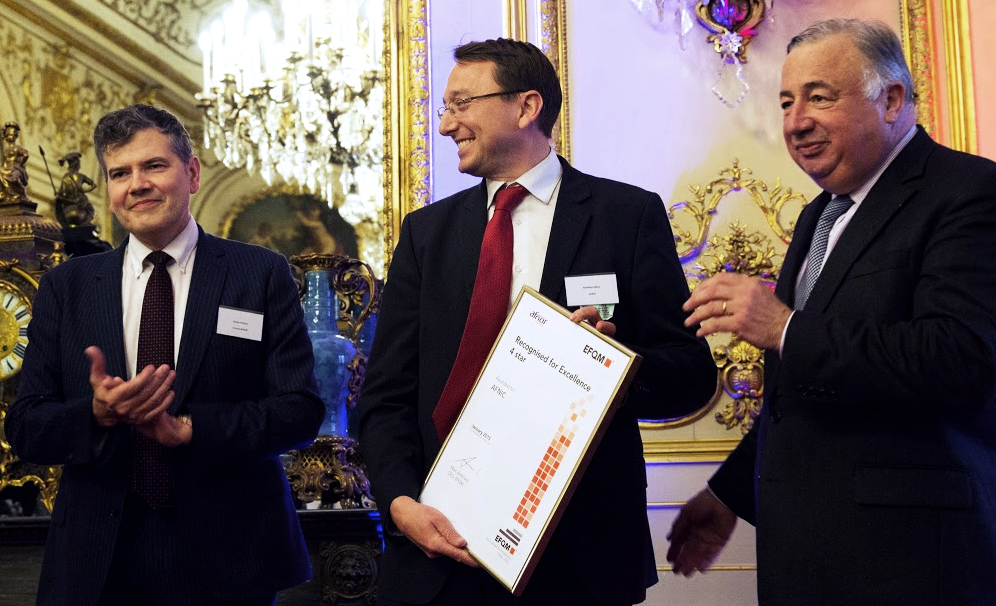 Closing the first edition of the Senate's Business Day, Afnic was invited with 16 French companies to receive the Award attesting to the excellence of its quality initiative from Gérard Larcher, President of the French Senate.
In December 2014, the  European Foundation for Quality Management (EFQM)  awarded Afnic its "Recognized for Excellence – 4 Stars" label for all of the association's managerial processes, after an audit carried out by AFNOR, the French national organization for standardization. The recognition, which crowns the efforts of all the association's employees since 2012, illustrates its commitment to operational excellence in serving its customers, and the stakeholders in the association in general.
"Being recognized for our work and our expertise is a strong argument in showing how competitive we are in an internationally free market environment," said  Mathieu Weill.
Since 2012, when Afnic was appointed as the registry for the .fr TLD, the association has developed its activities by extending them to new gTLDs such as .paris. It has developed its involvement with the French Internet community, particularly in the context of the transition oversight of the IANA function by the Government of the United States. Finally, it has established the Afnic Foundation for Digital Solidarity under the aegis of the Fondation de France, the first call for proposals for which was published on March 3, 2016.
These are just three examples of the results made possible by the quality process induced by EFQM, which affects Afnic stakeholders across the board, from its customers, to the State and the French Internet community.