06/19/2017
Afnic has published a complete overview of the global domain market in 2016 in a study based on ICANN statistics, information from registries, specialized web sites and its own research.
Key points to remember
Overall market growth in 2016 was 7.1%,  down from 11.7% in 2015.
At the end of 2016, the global domain name market represented some 338 million domain names, including 169 million under Legacy TLDs (.COM, .NET, .ORG, etc.), 28 million under  nTLDs created from 2014 onwards, and 141 million under ccTLDs (GeoTLDs).
The situation of the "Legacy" TLDs varied quite considerably in 2016, some losing stock while others made marked progress. With its 131 million domain names and 39% market share, the .COM remained the market heavyweight but its positions are slowly being eroded, with a loss of 3 market share points since year-end 2014. Its growth has also considerably slowed down (from 6.4% to 3.7%).
nTLDs continued to gain market share in terms of volume, accounting for 8% of the domain names registered worldwide at year-end 2016, compared with 4% at year-end 2015. This development in the use of nTLDs is encouraging, although its level is still low. The nTLD market can be broken down into segments – Community, Geo, Generic and Corp – with very different purposes and profiles, from the hundreds of .Corp that only hold a few names, to generic TLDs involved in a race for volume.
Country code Top-Level Domains (ccTLDs)which had an excellent year in 2015, experienced zero growth in 2016. Africa and North America were the most dynamic regions in 2016, while Europe in comparison stagnated. Latin America is growing slowly but surely, and the Asia-Pacific region is subject to very strong variations both upwards and downwards. That region today is the one that determines the overall market trend.
Major market trends in 2016
Since 2014, the market has undergone major upheavals caused by changes linked to the aim of market participants to diversify their sources of income, but also to pursue integration strategies within the value chain.
After boosting the performance of some TLDs in 2015, "Chinese domain name filings" are now weighing on the growth of these same TLDs because of the numerous deletions.
The build-up of the financial sphere in the capital of certain major players is resulting in ambitious strategies while subjecting the market to new frames of reference and changes in management teams.
The intensification of competition and the absolute necessity to optimize the match between supply and demand will continue to weigh on the players and force them to rethink their business models and their positions more than they have ever done since the market first emerged twenty years ago.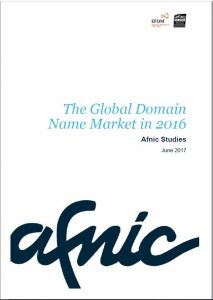 View the complete study of the worldwide domain name market in 2016
About Afnic
Afnic is the acronym for Association Française pour le Nommage Internet en Coopération, the French Network Information Centre. The registry has been appointed by the French government to manage domain names under the .fr Top Level Domain. Afnic also manages the .re (Reunion Island), .pm (Saint-Pierre and Miquelon), .tf (French Southern and Antarctic Territories), .wf (Wallis and Futuna) and .yt (Mayotte) French Overseas TLDs.
In addition to managing French TLDs, Afnic's role is part of a wider public interest mission, which is to contribute on a daily basis, thanks to the efforts of its teams and its members, to a secure and stable internet, open to innovation and in which the French internet community plays a leading role. As part of that mission, Afnic, a non-profit organization, has committed to devoting 11% of its Revenues from managing .fr Top Level Domain to actions of general interest, in particular by transferring €1.3 million each year to the Afnic Foundation for Digital Solidarity.
Afnic is also the back-end registry for the companies as well as local and regional authorities that have chosen to have their own TLD, such as .paris, .bzh, .alsace, .corsica, .mma, .ovh, .leclerc and .sncf.
Established in 1997 and based in Saint-Quentin-en-Yvelines, Afnic currently has nearly 90 employees.