11/19/2019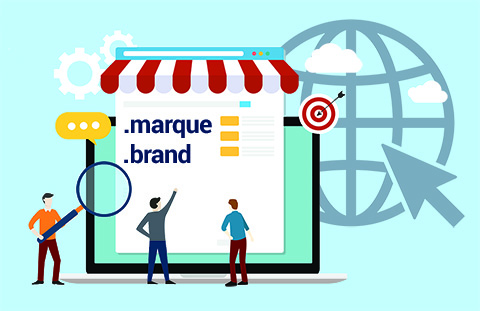 .mma, .leclerc and .sncf are just a few of the iconic and pioneering so-called 'brand' Internet Top Level Domains that have already been purchased by major groups or services, all of them proving successful in terms of brand territory and coordinating the company's online presence. With a new round of new Internet TLDs allocations on the horizon, AFNIC, the leading French Internet registry, is preparing to support brands that are establishing themselves within their respective markets in obtaining the keys to a successful digital identity.
Key figures
645 ."brand" Top Level Domains were granted by the ICANN in 2012
28 of these were acquired by French companies or institutions
17 candidates, including 8 brands, that were supported by AFNIC in 2012 successfully obtained their TLD
AFNIC currently operates 8 brand TLDs, namely .aquarelle, .bostik, .leclerc, .lancaster, .mma, .ovh, .sncf and .total
It cost approximately €150,000 to obtain a domain from the ICANN in 2012
28 brand Top Level Domain purchased in France in 2012
Brand Top Level Domains are a recent addition to the history of the Internet, with the ICANN, one of the world's main Internet regulators, first authorising and commercialising new customised domains in 2012. Some of these, such as .paris, are "open" and might therefore be available to any individual or organisation with a link to the city of Paris. Brand Top Level Domains, with a few exceptions, meanwhile, are for the exclusive use of the brands that have purchased them. AFNIC is currently the leading French body providing technical and support solutions for these Top Level Domains and has been supporting the majority of pioneering French brands in using their respective customised domains since 2012.
Digital identity now at the heart of business concerns
As far as Pierre Bonis, CEO of AFNIC, is concerned, the current situation is very different from that of 2012: "Companies and brands have matured in terms of online presence and digital outreach. The digital sphere has become a space in its own right, and one of the highest importance at that, so many organisations are now seeking to establish an innovative and controlled online presence".
Benefits cited by brands that have already taken the plunge include defining the boundaries of the digital territory, increased security and even the coherent structuring of all forms of interaction between the brand and its audiences, including customers, users, future applicants and partners. A customised domain is indeed a major lever in sustainably strengthening a company's digital space since it allows it to create an authentic and infinitely divisible territory that reflects the company's needs and where both existing and prospective customers will feel reassured.
The SNCF is a prime example of this, having launched its new online booking platform, www.oui.sncf, on 6 December 2017 following the successful complete overhaul of www.voyages-sncf.com – one of Europe's leading e-commerce sites. The case of another pioneering company in the form of MMA, meanwhile, sheds some light on companies operating as part of a network and with the ability to unite a variety of widely dispersed players. The insurance network currently has over 1,700 branches throughout France, with each branch having its own .mma Internet address with a dedicated web page, establishing a greater sense of proximity to its customers. The Zerotracas road risk prevention website (www.zerotracas.mma) and the website of the MMA's Foundation for Future Entrepreneurs (www.fondation-entrepreneurs.mma) also operate under the .mma banner.
AFNIC – a leading player in the registration and management of new gTLDs
AFNIC performs an essential public service role: managing the .fr Top Level Domain, which recently celebrated its 33rd anniversary. With over 3,400,000 registered domain names, it is one of the most dynamic European TLDs.
AFNIC draws on its extensive experience to support companies and local authorities in compiling and submitting Top Level Domain applications to the ICANN. It then offers an operational service that involves ensuring that they are working as they should – a task that it currently performs for 8 brands with the .aquarelle, .bostik, .leclerc, .lancaster, .mma, .ovh, .sncf and .total domains, as well as administering the .paris, .alsace, .corsica, .bzh and .museum domains, accounting for a total of 21 TLDs, all with their own particular fields of expertise.
As Pierre Bonis explains, "we have gone from a few pioneering brands to a larger number of brands that are also more curious and have a greater understanding of the marketing, employer brand, business, network and franchise issues that affect their image. We are there to accompany and support them at the commissioning stage and later to ensure consistent technical performance".
After all, AFNIC's role extends well beyond consultancy alone in the race that will lead to the granting of a Top Level Domain as of 2021. A company that has its own domain is, in fact, responsible for choosing a registry operator that will oversee the technical operation of the TLD and help it to establish the rules governing its use. Choosing a French operator offers the sort of cultural proximity that can prove useful at all stages of the project, as well as ensuring full compliance with the requirements of French legislation, notably including the GDPR. Furthermore, technical management requires robust infrastructures to guarantee a secure and uninterrupted service. AFNIC has its own DNS service infrastructure that is managed and hosted in France in accordance with the highest security standards and the levels of service required by the ICANN.
Not only does AFNIC boast undeniable technical excellence but it also, first and foremost, has the capacity to support companies at every stage of the process, and it is AFNIC's teams will make all the difference for companies relying on us in the run-up to the 2021 deadline and beyond.
About Afnic
Afnic is the acronym for Association Française pour le Nommage Internet en Coopération, the French Network Information Centre. The registry has been appointed by the French government to manage domain names under the .fr Top Level Domain. Afnic also manages the .re (Reunion Island), .pm (Saint-Pierre and Miquelon), .tf (French Southern and Antarctic Territories), .wf (Wallis and Futuna) and .yt (Mayotte) French Overseas TLDs.
In addition to managing French TLDs, Afnic's role is part of a wider public interest mission, which is to contribute on a daily basis, thanks to the efforts of its teams and its members, to a secure and stable internet, open to innovation and in which the French internet community plays a leading role. As part of that mission, Afnic, a non-profit organization, has committed to devoting 11% of its Revenues from managing .fr Top Level Domain to actions of general interest, in particular by transferring €1.3 million each year to the Afnic Foundation for Digital Solidarity.
Afnic is also the back-end registry for the companies as well as local and regional authorities that have chosen to have their own TLD, such as .paris, .bzh, .alsace, .corsica, .mma, .ovh, .leclerc and .sncf.
Established in 1997 and based in Saint-Quentin-en-Yvelines, Afnic currently has nearly 90 employees.