05/30/2014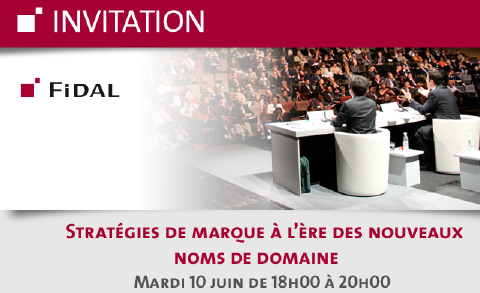 2014 marked a major turning point in domain naming on the Internet: the arrival of new top-level domain names (new TLDs such as .luxury, .paris, .web, etc.) means as many business opportunities as threats for trademark proprietors.
The revolution means companies must rethink their branding strategies on the Internet, and raises a number of practical issues:
How to address the opportunities and threats implied by arrival of the new TLDs.
What protection and defense strategy to adopt for domain names.
How to manage brand / domain name assets on the global level.
What geoTLD strategy to adopt: the example of .paris.
How to integrate the new gTLDs in a naming policy.
How to use the new domain names for SEO purposes.
Internet naming in the future: after the domain name.
The conference provides an opportunity to answer users' questions and for Fidal (www.fidal.fr) to present their analysis of the results of the "domain name" survey with their customers.
Speakers
Philippe Boutron – Lawyer, Associate Director, FIDAL;
Alexandre Nappey – Lawyer, Accredited Panelist for WIPO and FIDAL;
Amy Repp – Director of Sales and Marketing, Donuts Inc;
Jean-Philippe Clément – Special Adviser, ICT and innovation, Paris City Hall;
Émilie Turbat – Director of Sales, Afnic;
Amaury Grimbert – President, OP3FT – Frogans Project.
Practical information
Tuesday 10, June 2014 from 18:00 to 20:00
Salon d'honneur du Palais Brongniart
8 Place de la Bourse
Paris 2ème arrondissement
Entry free, registration required.