02/08/2023
From 8 February to 23 March 2022, Afnic is inviting you to give your opinion on the implementation of a new mediation service as a means of amicable resolution of disputes between rights holders and domain name holders. This service would add to the existing alternative dispute resolution procedures (ADR).
Maintaining a trustworthy Internet, at the service of users, by combating abuse of domain names daily is an absolute priority for Afnic. In this regard, we have developed a set of services and procedures over many years that are accessible to all and that enable us to deal with the various online attacks affecting domain names. In particular we offer two alternative dispute resolution procedures (PARL Expert and SYRELI), of which considerable use is made by rights holders. As part of our commitment to continuous improvement, we wish to study the possibility of implementing a new procedure, free of charge, for the amicable resolution of disputes, by opening a mediation service.
We have laid out and proposed the ways in which this mediation service could be rolled out and in particular how it could complement the other existing procedures. These concern all the operational aspects associated with the implementation of this new service: framework, training of mediators, start-up, duration, status of the domain name concerned and execution of the agreement.
We invite you to give us your opinion on this project! This consultation will allow us to optimally fine-tune the contours of this new service by taking account of feedback from all stakeholders.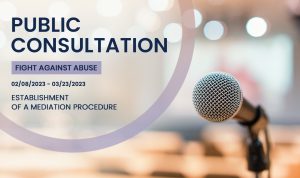 About Afnic
Afnic is the acronym for Association Française pour le Nommage Internet en Coopération, the French Network Information Centre. The registry has been appointed by the French government to manage domain names under the .fr Top Level Domain. Afnic also manages the .re (Reunion Island), .pm (Saint-Pierre and Miquelon), .tf (French Southern and Antarctic Territories), .wf (Wallis and Futuna) and .yt (Mayotte) French Overseas TLDs.
In addition to managing French TLDs, Afnic's role is part of a wider public interest mission, which is to contribute on a daily basis, thanks to the efforts of its teams and its members, to a secure and stable internet, open to innovation and in which the French internet community plays a leading role. As part of that mission, Afnic, a non-profit organization, has committed to devoting 11% of its Revenues from managing .fr Top Level Domain to actions of general interest, in particular by transferring €1.3 million each year to the Afnic Foundation for Digital Solidarity.
Afnic is also the back-end registry for the companies as well as local and regional authorities that have chosen to have their own TLD, such as .paris, .bzh, .alsace, .corsica, .mma, .ovh, .leclerc and .sncf.
Established in 1997 and based in Saint-Quentin-en-Yvelines, Afnic currently has nearly 90 employees.