09/02/2020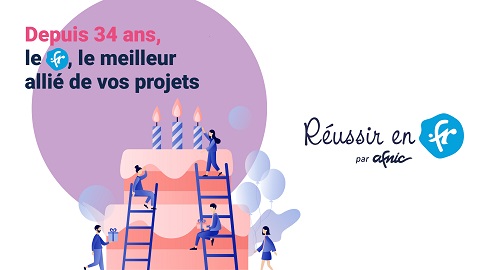 Around 3.6 million .fr domain names were registered at September 2020, with a 38.07%,market share, its highest ever level.
The .fr is on average 40% less costly than the .com
Afnic donates 90% of the profits from the .fr every year to its Foundation for digital solidarity, which provides €1 million of funding for projects in favour of digital inclusion across France every year.
The .fr TLD is accessible to individual users and businesses in Europe, as well as in Switzerland, Norway, Iceland and Liechtenstein.
In the late 1990s, the .fr was reserved for French businesses, but the TLD has become much more accessible since 2004, while still maintaining its security and effectiveness. Access was also granted to private individuals in 2006, one of the factors in its growing popularity: according to Afnic , VSE/SME managers favour the use of .fr (52%) over that of .com (40%). And 91% of French VSE/SMEs believe that a .fr address inspires confidence.
Afnic is committed to the digital transformation of VSE/SMEs through its platform Réussir en .fr [Succeed with .fr] which provides a free analysis of companies' online presence along with advice, and the Foliweb workshops attended by 17,000 participants last year and some 70,000 since their creation. The web version of these workshops providing training on online presence met with great success during lockdown.
Pierre Bonis, CEO of Afnic, gave the following statement: "This anniversary is an opportunity to remind people that the .fr is focused on the digital transition and solidarity in France now more than ever. It is not only practical but secure, responsible and inexpensive. And it is winning over businesses and freelancers across France." »
About Afnic
Afnic is the acronym for Association Française pour le Nommage Internet en Coopération, the French Network Information Centre. The registry has been appointed by the French government to manage domain names under the .fr Top Level Domain. Afnic also manages the .re (Reunion Island), .pm (Saint-Pierre and Miquelon), .tf (French Southern and Antarctic Territories), .wf (Wallis and Futuna) and .yt (Mayotte) French Overseas TLDs.
In addition to managing French TLDs, Afnic's role is part of a wider public interest mission, which is to contribute on a daily basis, thanks to the efforts of its teams and its members, to a secure and stable internet, open to innovation and in which the French internet community plays a leading role. As part of that mission, Afnic, a non-profit organization, has committed to devoting 11% of its Revenues from managing .fr Top Level Domain to actions of general interest, in particular by transferring €1.3 million each year to the Afnic Foundation for Digital Solidarity.
Afnic is also the back-end registry for the companies as well as local and regional authorities that have chosen to have their own TLD, such as .paris, .bzh, .alsace, .corsica, .mma, .ovh, .leclerc and .sncf.
Established in 1997 and based in Saint-Quentin-en-Yvelines, Afnic currently has nearly 90 employees.