03/26/2019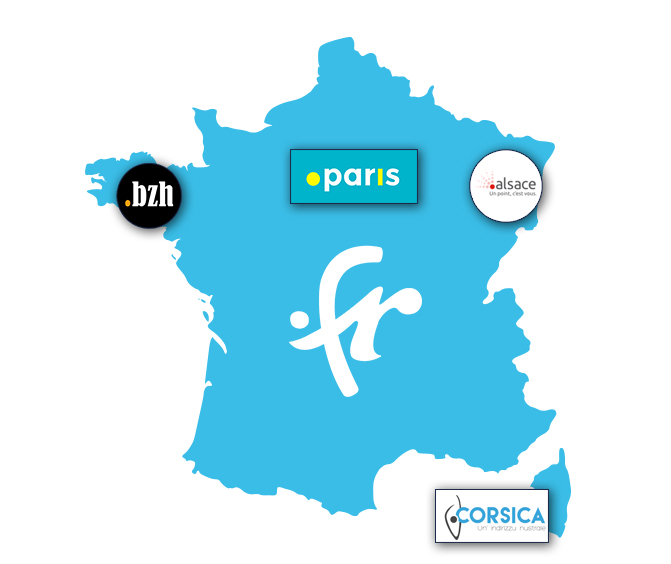 Internet addresses under the .paris, .bzh, .alsace and .corsica GeoTLDs are becoming highly successful. Afnic, the French Association that operates these Top Level Domains, has noted that they are attracting companies, associations and institutions of all shapes and sizes.
Key figures:
The .paris, .bzh, .corsica and .alsace TLDs now represent some 35,000 French companies, associations and institutions.
The .paris GeoTLD wins with 21,000 domain names.
After a slow start since their creation in since 2014/5, growth in GeoTLDs is taking off.
Background
The .london GeoTLD includes 66,000 domain names. The city of New York is also attractive with 68,000 domain names under the .nyc GeoTLD, compared with 20,628 domain names to date for .paris. The French capital is therefore late in terms of volumes of registrations, but the gap is narrowing thanks to a recent upswing and the very high loyalty of users.
GeoTLDs tell a very special story
Afnic now operates the .paris GeoTLD, launched in 2014, as well as the .bzh (9,000 domain names) launched in 2014, .alsace (2,100 domain names since 2015), and .corsica (1,400 domain names since 2015) GeoTLDs. Although they are a little more expensive to buy, these TLDs have recently become extremely popular. Companies, associations, and institutions see them as a way of displaying the regional basis for their online presence. That basis is often synonymous with regional know-how and production at a time when the origin of products and short retail circuits are consumer concerns. These TLDs are therefore both a means of highlighting production with regional roots, as well as promoting those roots, especially in the tourism market where the quest for authenticity is also of growing importance.
Pierre Bonis, Afnic CEO, is delighted with the success: "French companies of all sizes are increasingly aware of the importance of their digital identity. Many of them wish to have a .fr, and some choose to express their regional basis via a GeoTLD. It proves they are gaining expertise on the subject, and have no hesitation about being creative online as well."
The role of Afnic
Afnic, the acronym for the French Network Information Center, has a remit as a basic public service: to manage the .fr ccTLD and over 3,300,000 domain names in its portfolio, making it one of the most dynamic in Europe. The registry has been delegated by the French government to manage the domain names under the .fr ccTLD. Afnic also manages the French Overseas TLDs .re (Reunion Island), .pm (Saint-Pierre and Miquelon), .tf (French Southern and Antarctic Lands), .wf (Wallis and Futuna) and .yt (Mayotte).
Backed by that know-how, Afnic has become the back-end registry for the companies and local authorities that have chosen to have their own GeoTLDs. The .paris, .bzh, .corsica and .alsace TLDs are open to citizens everywhere. Afnic also operates the .leclerc and .sncf brand TLDs, which are reserved for the companies in question.
From cities, to regions or controlled designations of origin, tomorrow digital identity will be accessible to one and all
ICANN, one of the world's leading Internet regulators, is expected to allow applications to create new TLDs by 2020/2021.
Pierre Bonis concludes "These new business and cultural opportunities have great appeal; France is catching up and using these identities in a global online communication approach that should further enhance its influence."