03/01/2013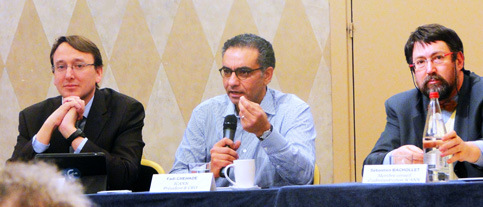 For his first visit to France and Paris as the CEO of ICANN, Fadi Chehadé chose to come to meet the French domain name community. Proposed by Afnic, a key player in French domain names and in the presence of its CEO Mathieu Weill, as well as Sébastien Bachollet, a member of the ICANN Executive Committee behind the meeting, the afternoon was attended by some forty participants.
For nearly three hours, Fadi Chrhadé discussed various issues with key players in the French Internet sector (registrars, Internet access providers, specialized lawyers), as well as with government officials. Afnic's purpose in the initiative was to carry out its assignment as a facilitator for the French Internet community.
The meeting also enabled the ICANN CEO to:
announce the reorganization of the operational functions of ICANN into three hubs, located in Los Angeles, Singapore and Istanbul;
confirm that the new extensions – such as .bzh or .paris for which Afnic is the technical operator – should be launched from mid-2013;
 indicate his vision of Internet governance, for which he envisages a development in the role of the U.S. government;
 and call on France, as a friend of the United States, to take its rightful place in that development.
See the pictures of the meeting on Facebook and Google+