09/10/2012
The domain name being a powerful factor in online communication, in this theme file Afnic discusses the issues involved in the methodology studied. Tips and best practices are the main features of the paper, allowing companies to easily establish a policy for managing and targeting interactions with their providers.
The document proposes a practical approach for:
Identifying and assessing the risks involved;
Limiting the risks from inside the company;
Limiting the risks from outside the company.
The document cites recent examples to illustrate all of these points.
Leveraging its expertise, Afnic seeks to provide readers with a series of best practices that can be used to improve the management of their assets and ensure their visibility on the Internet. Best practices that have proven to be extremely effective in dealings with specialized service providers.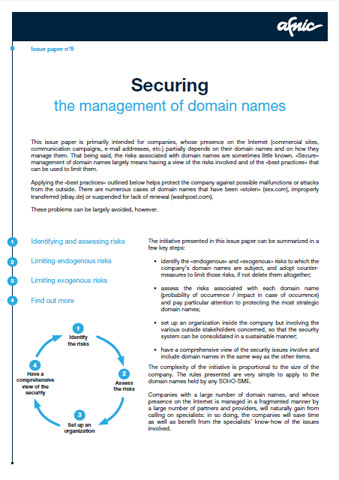 To download file # 9:
Securing the management of domain names