11/20/2017
So you've just finished your company's website with the ideal domain name. Now you need to ensure the visibility of your new showcase on the Internet and attract a maximum number of new visitors! While good SEO practices will help you increase the visits to your site, you also need to consider how to properly communicate and display your new Internet address. To succeed in your communication, here is a small checklist of the 11 vital supports on which to display your domain name:
1) Your business cards
This little contact card used by nobles from the 17th century onwards in France has constantly evolved over time to facilitate the communication of retailers and then of large companies. Today fully democratized, all sizes of companies must customize theirs! In addition to displaying your logo, phone number or email address, it is essential today to include your domain name!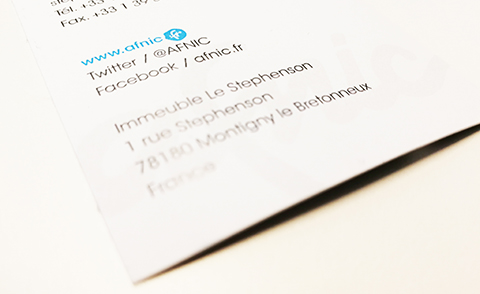 2) Your e-mail signature
E-mail signatures are an excellent free communication medium so that your prospects can contact you easily. You can even add your news and special operations! Do not forget to include the address of your website! Compared with a paper support such as a business card, the advantage here is that you can make your internet address directly clickable using an html link! Nothing better to encourage the recipients of your emails to click and visit your site! If you sendout newsletters don't forget to mention your domain name there as well!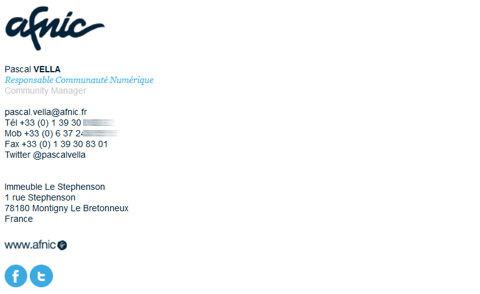 3) Flyers, leaflets and brochures
If you intend to launch a "street marketing" operation or leave a souvenir for your future customers during an appointment or at a trade fair, flyers are often the most effective communication tool to use. Although not free, not only must this advertising digest effectively catch the attention of the person who reads it, but should also contain some contact information (phone, physical address or email address). The advantage of indicating your domain name in addition allows you to guide the reader to more information and content: the details of a promotional offer, the range of choices in your catalogue, more information about your business, etc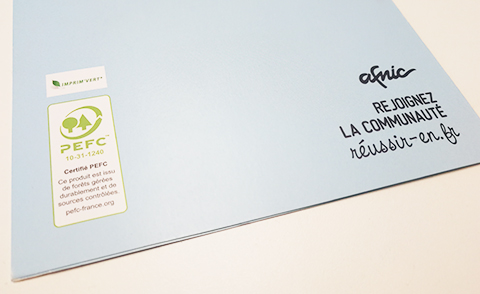 4) Advertising inserts
In line with flyers, you also have advertising inserts. Whether it's in the form of a newspaper insert, a poster or even a commercial for TV or radio, never forget to include your domain name. This will enhance your credibility as a professional and, as for a flyer, an advertising insert will allow all the people whose interest you have attracted to learn more about you. If your budget allows you to do so, this will be even more valid for ads on the Internet (AdWorks, Classic Display or video, etc.) that link directly to your website.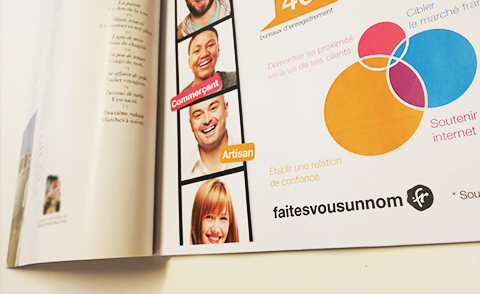 5) Stationery and office supplies
As with your business cards, all of your company's stationery that can be distributed to your customers can be personalized with your contact information. Without really being exhaustive, think about your letterheads, correspondence cards, envelopes, labels, pens, address stamps, flap folders, post-its, notepads, etc.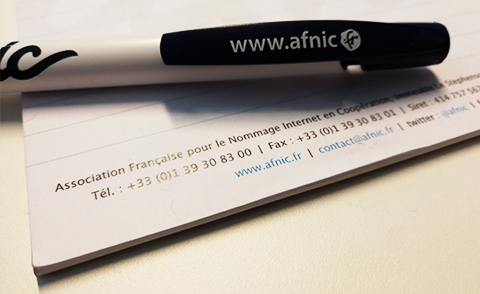 6) Your showcase
If you have a physical store with a storefront, do not hesitate to put your domain name on your storefront. Outside of your opening hours, your customers and prospects can visit your site for further information, learn more about your products and services, and even buy them if you have an online store. Simply have a specialized printer personalize an adhesive vinyl or repositionable film so you can display your website directly on the street! An ideal support not to neglect.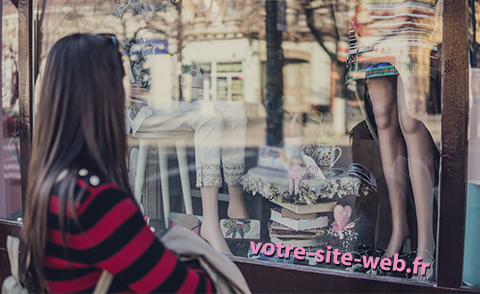 7) At a trade fair / market and in your shop
Your first goal in a market or trade fair is to be visible in order to welcome visitors and leave them a good impression or sell them a product. To attract the attention of passersby you have a large choice of decorations and customizable items: umbrella stands, reception desks, roll-ups (kakemonos), cardboard cubes, posters, vinyl floor stickers, etc. Remember that when designing these objects, no matter how simple they may be, always remember to make sure your domain name is clearly visible. During peak times at the fair, an interested visitor who does not have time to meet you can always refer to your website! If you have a store or physical point of sale, do not forget to mention your website especially if you have an e-shop! If you sell goods, think about packaging and bags as well!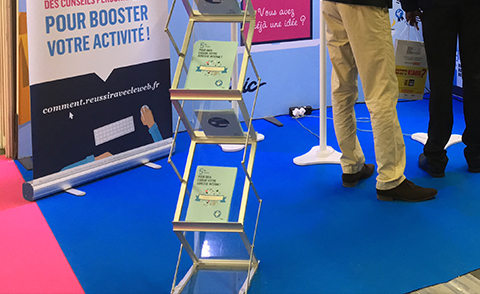 8) Company car
Investing in the personalization of your company car(s) with a logo, a slogan and your contact details is equivalent to investing in an advertisement without having to choose its strategic location! Every move of the vehicle and even when it's parked increases the visibility of your brand, your messages and your website! As for shop window stickers you can get a specialized printer to customize an adhesive vinyl film or use customized magnetic plates (to quickly change your vehicle depending on whether your trip is for personal or professional purposes.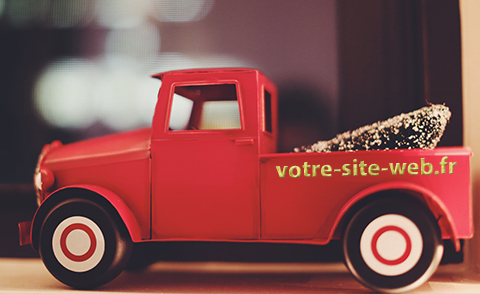 9) Company outfits
Do you or your employees wear special clothing for your activity? Feel free to personalize them with the colours of your company with at least a logo and a domain name! Does your activity require your presence at a trade fair? Why not make a t-shirt specifically for the occasion with a special message and your contact details?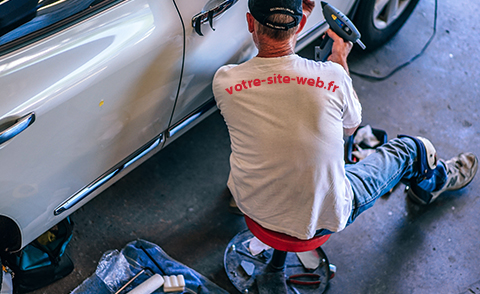 10) Business gifts
If as part of a commercial development or to reward your most loyal customers you use small business gifts (goodies), also think about displaying your domain name in addition to your logo!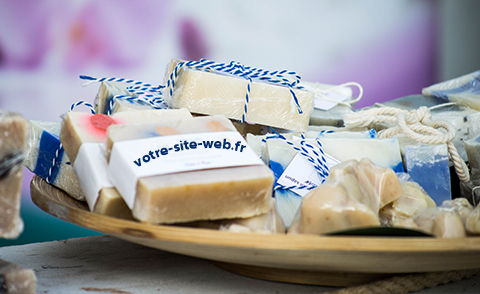 11)  Places specific to your profession
For even more relevance or originality, think about the media specific to your profession. For example, in a restaurant think about the menu, the coasters, the place-mats, the slates for the dishes of the day and why not at the bottom of the plates!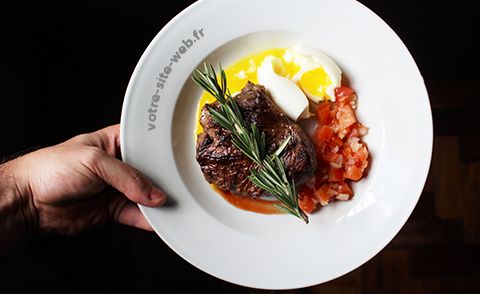 After these few vital locations to make your domain name visible, you can obviously give free rein to your imagination and your creativity, especially if you intend to launch communication operations and want to stand out from the crowd! Stickers, promotional bread bags, etc.
Another tip: also remember that you can have your URL address designed so that it easily integrates all your communication media. Some brands have directly integrated their domain name into their logos, such as fnac.com.
So whatever case, if you have to place your company name, brand or logo somewhere, always ask yourself whether it is relevant or not to add your Internet address! Don't hesitate to comment this article with your idea!