06/17/2013
Afnic's Annual General Meeting was held on 7 June 2013. In addition to the appointment of a new Board and a new Chairman – in the person of Emmanuel Sartorius – the event provided an opportunity to disclose the contents of the 2012 annual report.
2012 was marked by three major changes:
 Afnic's contract as the registry for the .fr TLD was renewed for a period of 5 years. The trust shown in the association is based on a number of its commitments, including the implementation of a cost accounting system for the .fr TLD and the creation of a Support Fund for the Development of the Internet (FSDI);
As part of the process of creation of new gTLDs, Afnic supported (and continues to support) the initiators of 17 projects. In so doing, it is positioned as the leading technical registry operator in France in terms of numbers of customers;
 Parallel to these developments, the registry for the .fr TLD initiated a global risk management process and improved its governance by setting up Board committees (Finance and Risk Management Committee, Registry Policy Committee);
In 2013, operations approved in 2012 should be carried out, such as the creation of the FSDI, integration within the root of at least one of the new extensions in which Afnic is involved, promotion of the .fr TLD or transfers of R&D results. These changes show that Afnic is capable of integrating issues crucial for the Internet, and of meeting the challenges facing all of its stakeholders.
Reminder: in 2012 Afnic represented:
–  67 employees;
–  A turnover of 13.4 million euros;
–  2.5 million domain names;
–  An annual growth of 15% for the .fr TLD;
–  Management of 6 ccTLDs;
–  Support for the initiators of 17 projects as part of the opening of new gTLDs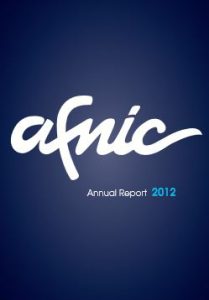 About Afnic
Afnic is the acronym for Association Française pour le Nommage Internet en Coopération, the French Network Information Centre. The registry has been appointed by the French government to manage domain names under the .fr Top Level Domain. Afnic also manages the .re (Reunion Island), .pm (Saint-Pierre and Miquelon), .tf (French Southern and Antarctic Territories), .wf (Wallis and Futuna) and .yt (Mayotte) French Overseas TLDs.
In addition to managing French TLDs, Afnic's role is part of a wider public interest mission, which is to contribute on a daily basis, thanks to the efforts of its teams and its members, to a secure and stable internet, open to innovation and in which the French internet community plays a leading role. As part of that mission, Afnic, a non-profit organization, donates 90% of its profits to its Foundation for Digital Solidarity. Afnic is also the back-end registry for the companies as well as local and regional authorities that have chosen to have their own TLD, such as .paris, .bzh, .alsace, .corsica, .mma, .ovh, .leclerc and .sncf.
Established in 1997 and based in Saint-Quentin-en-Yvelines, Afnic currently has 80 employees.