04/18/2017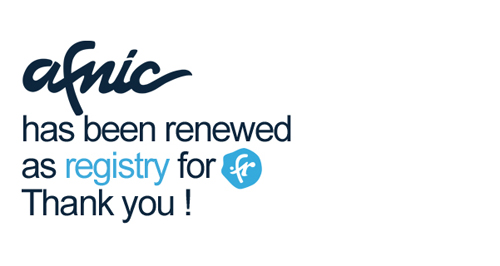 In a decree dated 5 April 2017 published in the Official Journal of the French Republic, Mr. Christophe Sirugue, French Minister of State for Industry, the Digital Sector and Innovation, has appointed Afnic as the Registry for the .fr TLD for a term of 5 years from 25 June 2017.
"We are delighted by this decision which rewards the commitment and work of the teams and members of Afnic, who have allowed us to meet our commitments to make .fr a secure, simple and competitive namespace. With growth close to 30% since 2012, the .fr is one of the 4 most dynamic TLD suffixes in Europe and ranks as one of the top 10 in top-level domains worldwide. The .fr now represents a community of more than 3 million online successes," said Mathieu Weill, Afnic CEO.
Afnic will continue to promote the .fr as a key partner in ensuring the online presence of SOHOs / SMEs, supporting digital solidarity and making the voice of France heard at the international level.
For the next 5 years, Afnic has set itself the goal of helping the one million French SOHOs / SMEs still absent from the Internet get on-line. Since 2012, the Réussir-en.fr program has been helping them begin their digital transformation and develop their online presence with business diagnostics, tools and practical advice.
A non-profit association committed to combat digital exclusion, Afnic donates most of the profits from .fr to the Afnic Foundation for Digital Solidarity, created in 2015, which financed 35 projects throughout France as of its first operating year in 2016.
Afnic would especially like to thank the community as whole for their support, in particular its members and registrars whose dedication has been a decisive factor in developing the competitiveness of the .fr ccTLD.
About Afnic
Afnic is the acronym for Association Française pour le Nommage Internet en Coopération, the French Network Information Centre. The registry has been appointed by the French government to manage domain names under the .fr Top Level Domain. Afnic also manages the .re (Reunion Island), .pm (Saint-Pierre and Miquelon), .tf (French Southern and Antarctic Territories), .wf (Wallis and Futuna) and .yt (Mayotte) French Overseas TLDs.
In addition to managing French TLDs, Afnic's role is part of a wider public interest mission, which is to contribute on a daily basis, thanks to the efforts of its teams and its members, to a secure and stable internet, open to innovation and in which the French internet community plays a leading role. As part of that mission, Afnic, a non-profit organization, has committed to devoting 11% of its Revenues from managing .fr Top Level Domain to actions of general interest, in particular by transferring €1.3 million each year to the Afnic Foundation for Digital Solidarity.
Afnic is also the back-end registry for the companies as well as local and regional authorities that have chosen to have their own TLD, such as .paris, .bzh, .alsace, .corsica, .mma, .ovh, .leclerc and .sncf.
Established in 1997 and based in Saint-Quentin-en-Yvelines, Afnic currently has nearly 90 employees.