08/25/2014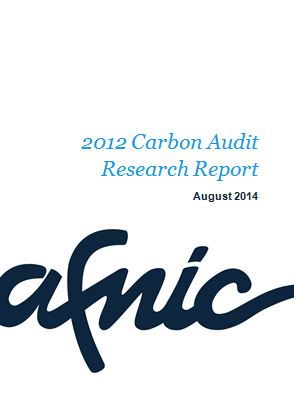 Internet support services such as data hosting, telecommunications infrastructures or the domain name system are key features without which the information society as we know it today would not exist.

That being said, because they are less visible to the general public than web applications, those services are also included in the analysis of the overall ecological footprint of the Internet, its carbon footprint in particular. We know the positive effects of the Internet in the fight against global warming (better remote management of energy costs, the ability to reduce business travelling by using teleconferencing and telecommuting, etc.), but what the internet "costs" in terms of greenhouse gas emissions is less well known.

For that reason, in a spirit of transparency and accountability, and as a benchmark Internet registry, Afnic has decided to assess its carbon footprint. The assessment, carried out with the support of the Versailles-Yvelines Chamber of Commerce and Industry, and the independent EcoAct firm of consultants, consisted first of all in defining the scope to take into account in determining our carbon emissions. Afnic chose to adopt the widest scope, including in the calculation of its carbon footprint all of its activities, from home-to-work commuting of its employees to the publication of communication brochures, sending emails internally and externally and the operation of our datacenter facilities.

That extensive effort, carried out through to the end of 2013, resulted in the publication by Afnic of its first carbon audit for 2012. It will serve as a benchmark to ensure that Afnic is on the right path to reduce its emissions in the years to come, not only in relative terms but also in absolute terms, while maintaining the growth of our business.

The initiative has been recognized by the Versailles-Yvelines Chamber of Commerce and Industry in awarding Afnic the Environment Managers Network diploma. Afnic intends to implement an ambitious action plan for an accountable, sustainable French Internet namespace. 
About Afnic
Afnic is the acronym for Association Française pour le Nommage Internet en Coopération, the French Network Information Centre. The registry has been appointed by the French government to manage domain names under the .fr Top Level Domain. Afnic also manages the .re (Reunion Island), .pm (Saint-Pierre and Miquelon), .tf (French Southern and Antarctic Territories), .wf (Wallis and Futuna) and .yt (Mayotte) French Overseas TLDs.
In addition to managing French TLDs, Afnic's role is part of a wider public interest mission, which is to contribute on a daily basis, thanks to the efforts of its teams and its members, to a secure and stable internet, open to innovation and in which the French internet community plays a leading role. As part of that mission, Afnic, a non-profit organization, has committed to devoting 11% of its Revenues from managing .fr Top Level Domain to actions of general interest, in particular by transferring €1.3 million each year to the Afnic Foundation for Digital Solidarity.
Afnic is also the back-end registry for the companies as well as local and regional authorities that have chosen to have their own TLD, such as .paris, .bzh, .alsace, .corsica, .mma, .ovh, .leclerc and .sncf.
Established in 1997 and based in Saint-Quentin-en-Yvelines, Afnic currently has nearly 90 employees.