05/23/2017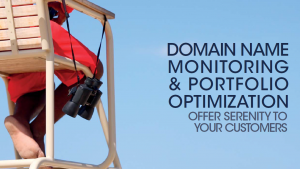 The main purpose of FRWATCH is to allow registrar customers to identify domain names using their brands and thus measure the amount of traffic they are loosing. FRWATCH is also the only solution that uses DNS queries on non-existing domain names (NXDomain), to discover registration opportunities and thus allow customers to increase their traffic.
The advantages of FRWATCH in detail:
A high value added service that can be easily integrated into a registrar's business offering
Complete monitoring on most market-available TLD suffixes
The e-mailing of a report detailing: the list of domain names containing the monitored string of characters, the number of DNS requests on the .fr – information provided exclusively by Afnic – and a focus on the main developments since the last report issued
A non-binding service with customizable reporting frequency: daily, weekly or monthly
The lowest fee on the market: € 9 / month and per character string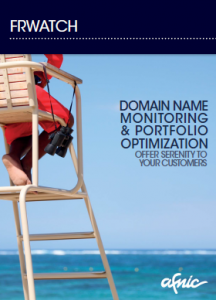 Download our FRWATCH presentation leaflet
They already use FRWATCH
DOMAINE.FR
DOMAINOO
MEYER & PARTENAIRES
ORDIPAT
SDV PLURIMEDIA
About Afnic
Afnic is the acronym for Association Française pour le Nommage Internet en Coopération, the French Network Information Centre. The registry has been appointed by the French government to manage domain names under the .fr Top Level Domain. Afnic also manages the .re (Reunion Island), .pm (Saint-Pierre and Miquelon), .tf (French Southern and Antarctic Territories), .wf (Wallis and Futuna) and .yt (Mayotte) French Overseas TLDs.
In addition to managing French TLDs, Afnic's role is part of a wider public interest mission, which is to contribute on a daily basis, thanks to the efforts of its teams and its members, to a secure and stable internet, open to innovation and in which the French internet community plays a leading role. As part of that mission, Afnic, a non-profit organization, has committed to devoting 11% of its Revenues from managing .fr Top Level Domain to actions of general interest, in particular by transferring €1.3 million each year to the Afnic Foundation for Digital Solidarity.
Afnic is also the back-end registry for the companies as well as local and regional authorities that have chosen to have their own TLD, such as .paris, .bzh, .alsace, .corsica, .mma, .ovh, .leclerc and .sncf.
Established in 1997 and based in Saint-Quentin-en-Yvelines, Afnic currently has nearly 90 employees.