09/05/2019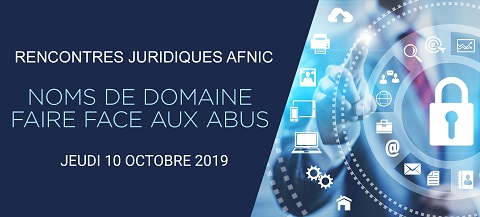 Cybersquatting, identity theft, fraud, phishing, illegal content, infringement of intellectual property rights, personality, etc. , all require day-to-day management.
This meeting is an opportunity to take an in-depth look at the range of potential procedures and actions available to prevent and deal with abuse.
We will also be exploring good practices for developing an online presence that is safe from abuse, such as the réussir- en.fr resource, Afnic's services for monitoring and securing domain names, steps you can take to access unpublished personal data, domain name recovery, and how to stop identity theft or delete a domain name, etc.
To round off the afternoon, Afnic's Legal Department plans to discuss current issues such as EU consumer protection regulations and domain name seizure.
We look forward to seeing you:
On Thursday 10th October 2019 between 2pm and 5.30pm
(Coffee reception from 1.30pm)
at Afnic's offices in Montigny le Bretonneux, Saint-Quentin en Yvelines