01/23/2017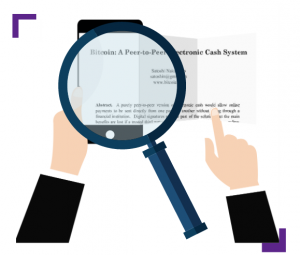 A blockchain is a form of technology that is transparent and secure by design and which is used to store and transmit information, but operates without any trusted authority or central server. It is also a database that timestamps all the exchanges between users since its inception.
Best known for its use in the Bitcoin "distributed" or "peer-to-peer" payment system, a blockchain can also be used in other activities in which the various stakeholders make use of a central authority, which could be replaced by a blockchain.
This issue paper provides a simple and objective explanation of how the technology works, its main applications to date, its limitations (technical, data security, etc.) and its possible applications in the domain name registry sector.
A good way to understand or learn more about a form of technology that raises many unresolved issues but holds considerable promise.
Download the issue paper on blockchains
More Issue papers by Afnic
About Afnic
Afnic is the acronym for Association Française pour le Nommage Internet en Coopération, the French Network Information Centre. The registry has been appointed by the French government to manage domain names under the .fr Top Level Domain. Afnic also manages the .re (Reunion Island), .pm (Saint-Pierre and Miquelon), .tf (French Southern and Antarctic Territories), .wf (Wallis and Futuna) and .yt (Mayotte) French Overseas TLDs.
In addition to managing French TLDs, Afnic's role is part of a wider public interest mission, which is to contribute on a daily basis, thanks to the efforts of its teams and its members, to a secure and stable internet, open to innovation and in which the French internet community plays a leading role. As part of that mission, Afnic, a non-profit organization, has committed to devoting 11% of its Revenues from managing .fr Top Level Domain to actions of general interest, in particular by transferring €1.3 million each year to the Afnic Foundation for Digital Solidarity.
Afnic is also the back-end registry for the companies as well as local and regional authorities that have chosen to have their own TLD, such as .paris, .bzh, .alsace, .corsica, .mma, .ovh, .leclerc and .sncf.
Established in 1997 and based in Saint-Quentin-en-Yvelines, Afnic currently has nearly 90 employees.