04/03/2018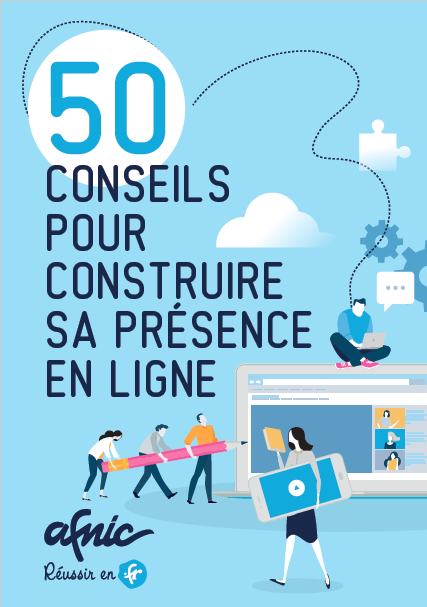 Through 3 key steps – getting started, communicating, taking stock – this guide provides VSE/ SME managers with 50 tips for building and developing their online presence. It's the ideal tool to stock up on practical, strategic recommendations and boost your business on the Internet.
Being on the Internet is more than just an asset: it's all-important.
Digital technology is an opportunity not to be missed and a tremendous growth driver for all French SMEs. Afnic has been working to develop the online presence of small French companies since 2014, particularly through its platform Réussir en fr (www.réussir-en.fr)
By multiplying its local initiatives and advice services – facilitating Foliweb workshops, attending a wide range of trade fairs and events dedicated to entrepreneurship, creating the self-assessment and advice tool Réussir avec le web (www.reussiravecleweb.fr) – Afnic has undertaken to support companies in developing their Internet-based business.
This guide is the result of that field work and provides, in 3 distinct phases and 50 tips, an effective method for building a successful online presence, step by step.
1.     Getting onto the Internet
Advice on how to analyze your objectives and the resources at your disposal, identify the priorities and start on a solid basis.
2.    Communicating about your business
Tips for promoting your business and interacting with your customers and suppliers, and thus becoming increasingly visible on the web.
3.    Taking stock of your work
Suggestions for seeing the effectiveness of the work done with figures and customer feedback, and understanding what works in a strategy and what needs to be redefined.
"The 50 tips to building your online presence are the result of the daily dialogue Afnic has been having with web professionals for years, and they are now available to all in an overarching, accessible way. In so doing, the .fr TLD, which Afnic has been tasked with managing, is serving France's economic development in a more practical fashion than ever before. Because the online presence of craft workers, retailers, VSEs and SMEs is a major challenge for the country's economy! This guide is an invitation to act on the expertise of hundreds of web hosts and pros who today distribute the .fr. There is necessarily one near you,"  says Pierre BONIS, Afnic's CEO.
Click here to download the guide "50 tips to building your online presence"
About Afnic
Afnic is the acronym for Association Française pour le Nommage Internet en Coopération, the French Network Information Centre. The registry has been appointed by the French government to manage domain names under the .fr Top Level Domain. Afnic also manages the .re (Reunion Island), .pm (Saint-Pierre and Miquelon), .tf (French Southern and Antarctic Territories), .wf (Wallis and Futuna) and .yt (Mayotte) French Overseas TLDs.
In addition to managing French TLDs, Afnic's role is part of a wider public interest mission, which is to contribute on a daily basis, thanks to the efforts of its teams and its members, to a secure and stable internet, open to innovation and in which the French internet community plays a leading role. As part of that mission, Afnic, a non-profit organization, has committed to devoting 11% of its Revenues from managing .fr Top Level Domain to actions of general interest, in particular by transferring €1.3 million each year to the Afnic Foundation for Digital Solidarity.
Afnic is also the back-end registry for the companies as well as local and regional authorities that have chosen to have their own TLD, such as .paris, .bzh, .alsace, .corsica, .mma, .ovh, .leclerc and .sncf.
Established in 1997 and based in Saint-Quentin-en-Yvelines, Afnic currently has nearly 90 employees.