01/19/2017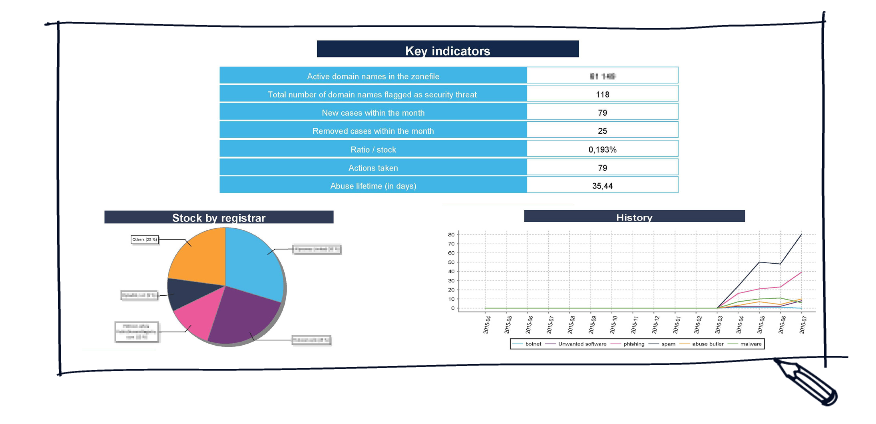 To enable top-level registries to comply with specification 11.3b of the ICANN registry agreement* and its clarifications, Afnic created Abuse report in 2015. This service measures the quality of a domain name portfolio by identifying potential security threats (phishing, malware, botnets, spam, etc.).
Afnic has now upgraded Abuse report with new features to track operations carried out on domain names constituting potential security threats:
Daily monitoring of the customer base;
Transmission of email alerts  to the registry, the registrar and the holder, with the identification of each new security threat;
Monitoring of operations carried out on all the domain names constituting potential security threats;
Abuse report supplies the registry with a complete monthly monitoring report providing:
Comprehensive monitoring indicators: installed base, potential security threats, new security threats, withdrawn security threats, deleted security threats, actions carried out, lifespan of security threats, etc.;
The criteria needed to analyze the potential security threats detected: registrar, type of security threat, type of action carried out, history file, source of security threat identification.
Various listings: domain names constituting security threats in the previous month; the list of withdrawn domain names; the list of actions carried out: withdrawal from the blocklist, deletion of domain name, etc.
Abuse report is available for a free trial: please contact our sales department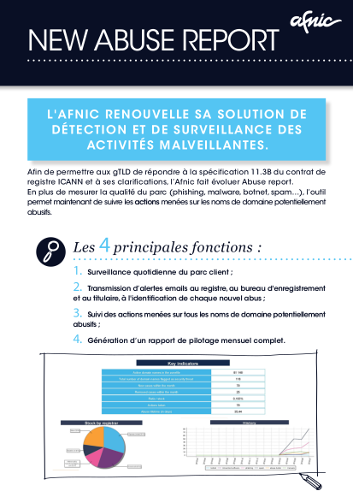 Download our documentation about Abuse Report
Indicative rates:

Up to 50,000 domain names: €300 Excl. VAT setup fee and then €200 Excl. VAT per month.
Over 50,000 domain names: Cost estimate available on request.
---
* About specification 11.3b of the ICANN registry agreement
Registry Operator will periodically conduct a technical analysis to assess whether domains in the TLD are being used to perpetrate security threats, such as pharming, phishing, malware, and botnets. Registry Operator will maintain statistical reports on the number of security threats identified and the actions taken as a result of the periodic security checks. Registry Operator will maintain these reports for the term of the Agreement unless a shorter period is required by law or approved by ICANN, and will provide them to ICANN upon request.
Source: ICANN registry agreemen
About Afnic
Afnic is the acronym for Association Française pour le Nommage Internet en Coopération, the French Network Information Centre. The registry has been appointed by the French government to manage domain names under the .fr Top Level Domain. Afnic also manages the .re (Reunion Island), .pm (Saint-Pierre and Miquelon), .tf (French Southern and Antarctic Territories), .wf (Wallis and Futuna) and .yt (Mayotte) French Overseas TLDs.
In addition to managing French TLDs, Afnic's role is part of a wider public interest mission, which is to contribute on a daily basis, thanks to the efforts of its teams and its members, to a secure and stable internet, open to innovation and in which the French internet community plays a leading role. As part of that mission, Afnic, a non-profit organization, has committed to devoting 11% of its Revenues from managing .fr Top Level Domain to actions of general interest, in particular by transferring €1.3 million each year to the Afnic Foundation for Digital Solidarity.
Afnic is also the back-end registry for the companies as well as local and regional authorities that have chosen to have their own TLD, such as .paris, .bzh, .alsace, .corsica, .mma, .ovh, .leclerc and .sncf.
Established in 1997 and based in Saint-Quentin-en-Yvelines, Afnic currently has nearly 90 employees.