03/29/2013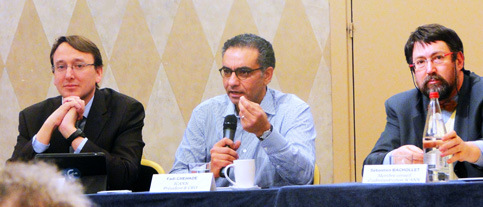 On February 26, 2013, the main stakeholders in the French Community of domain names were invited by Afnic for a meeting with Fadi Chehadé, ICANN's CEO.
For those who missed the event, a video summarizes some the meeting's highlights:
Fadi Chehadé – speaking an impeccable French – discussed:
– the importance of domain names today,
– the opportunities represented by the new gTLDs,
– the role of ICANN,
– Internet governance.
Mathieu Weill, CEO of AFNIC, then focused on the commitment of the registry for the .fr TLD to facilitate relations between the French Internet community and ICANN.
Finally, Sébastien Bachollet, member of the ICANN Executive Committee, highlighted the interest of a meeting between ICANN and Afnic for Internet users.
See the overview and images of the event in our press release dated March 4, 2013.