07/11/2023
As a partner to the CPME's Trophées Numériques digital awards, Afnic crowned the winner of its '.fr Website' award along with a prize cheque for €7,000 to support their digital efforts. We take a look back at the 5th edition.
The CPME's (Confederation of SMEs) digital awards honour the managers of very small, small and medium-sized enterprises (SMEs) across all sectors who have successfully embraced the digital revolution to raise their profiles, gain new clients, recruit staff or facilitate the inclusion of people (re)entering the workplace.
Of the 5 prize categories, the '.fr Website' category rewards companies that have created a website with a .fr domain name to promote their Made in France expertise and/or their presence in France. As a member of the selection panel, Afnic nominated the following 3 companies:
Restaurant Le Cheverny has been serving authentic family cuisine in Limoges since 1986 – https://lecheverny.fr/
Step One manufactures and markets healthy and innovative cosmetic products in the form of powders to be reconstituted – https://step-one.fr/
Following a period of voting by Internet users, ACS Prévention was announced the winner of the '.fr Website' award, with the company's director, Tristan Tual, notably receiving recognition for the extensive work put into creating the content published on its website. It has certainly been a strategy that has paid off and enabled the company to position itself as an expert in its field, boosting the number of online quotes and prospecting outside its catchment area, therefore giving it the opportunity to open new branches.
Afnic is keen to promote companies that put their websites at the centre of their digital strategies. Indeed, as well as being as a sign of reliability and credibility, a website provides an online space that is independent of any third-party platform, giving the company full control over its image and the content it publishes.
Reflecting its strong commitment to the digital transformation, next year will see Afnic celebrate the 10th anniversary of its digital support programme Réussir en .fr ("Succeed with .fr").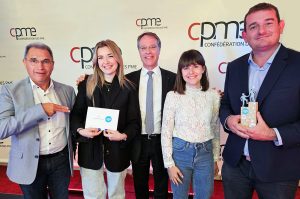 About Afnic
Afnic is the acronym for Association Française pour le Nommage Internet en Coopération, the French Network Information Centre. The registry has been appointed by the French government to manage domain names under the .fr Top Level Domain. Afnic also manages the .re (Reunion Island), .pm (Saint-Pierre and Miquelon), .tf (French Southern and Antarctic Territories), .wf (Wallis and Futuna) and .yt (Mayotte) French Overseas TLDs.
In addition to managing French TLDs, Afnic's role is part of a wider public interest mission, which is to contribute on a daily basis, thanks to the efforts of its teams and its members, to a secure and stable internet, open to innovation and in which the French internet community plays a leading role. As part of that mission, Afnic, a non-profit organization, has committed to devoting 11% of its Revenues from managing .fr Top Level Domain to actions of general interest, in particular by transferring €1.3 million each year to the Afnic Foundation for Digital Solidarity.
Afnic is also the back-end registry for the companies as well as local and regional authorities that have chosen to have their own TLD, such as .paris, .bzh, .alsace, .corsica, .mma, .ovh, .leclerc and .sncf.
Established in 1997 and based in Saint-Quentin-en-Yvelines, Afnic currently has nearly 90 employees.