12/18/2012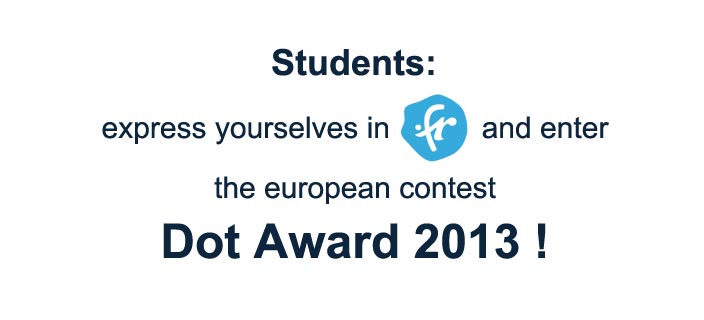 Open to any person who has created a website under the .fr  TLD, the Dot Award 2013 contest is organized by the Fundació puntCAT – the Registry for the .cat TLD (Catalonia) – with the support of RVO-Society,  CENTR, ARNES and Afnic.  It is open to any student or group of students – secondary school, high school or university students – from the same school domiciled in the territory of the European Union as well as in Iceland, Liechtenstein, Norway or Switzerland. Various prizes – worth up to 750 euros – will be awarded to the best sites with the .fr  taking part in the contest.
The different stages of the contest
The Dot Award 2013 contest takes place in two stages:
During the first stage – from December 18, 2012 to March 14, 2013 – Afnic receives the entries for .fr  in the three different categories:  Design, Content and Information Technology. The Afnic jury awards 5 prizes in accordance with the contest rules and regulations, or a total of 15 prizes.
For each of the three categories, prizes of up 70 euros are up for grabs!
After this first stage, the 15 winning entries enter the second stage of the competition: the winning entries from each European organizer are accepted for the Dot Award 2013 contest by the Fundació puntCAT. Each entry will therefore compete in its original category of Design, Content and Information Technology.
The best websites in each category will win prizes worth € 750, awarded in May 2013.
To find out more: