05/16/2023
From 16 May 2023 to 6 June 2023, Afnic is holding a new public consultation to gain as much feedback as possible on the planned rate increase for the .fr and French Overseas TLDs.
Afnic is considering increasing the fee for .fr and the French Overseas TLDs its manages (.re, .pm, .yt, .tf and .wf) for registrations and other operations, from €4.56 excl. tax to a maximum  of €5.07 excl. tax. In a context of high inflation and weak growth in the stock of domain names, the purpose of this proposed increase is to enable Afnic to safeguard its ability to deliver results in terms of security and the fight against abuse, and more generally to guarantee the fundamental principles upheld by our association:  a secure and stable Internet, managed by qualified staff in a spirit of openness and dialogue.
This proposal was previously presented for discussion during the latest consultative committee meetings in March 2023. The feedback given by the members present has been incorporated into the consultation documentation.  Our aim for this consultation is to hear your opinions and as such we welcome feedback from each of you.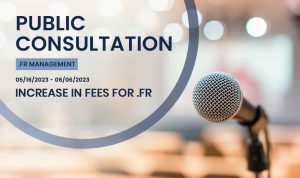 About Afnic
Afnic is the acronym for Association Française pour le Nommage Internet en Coopération, the French Network Information Centre. The registry has been appointed by the French government to manage domain names under the .fr Top Level Domain. Afnic also manages the .re (Reunion Island), .pm (Saint-Pierre and Miquelon), .tf (French Southern and Antarctic Territories), .wf (Wallis and Futuna) and .yt (Mayotte) French Overseas TLDs.
In addition to managing French TLDs, Afnic's role is part of a wider public interest mission, which is to contribute on a daily basis, thanks to the efforts of its teams and its members, to a secure and stable internet, open to innovation and in which the French internet community plays a leading role. As part of that mission, Afnic, a non-profit organization, has committed to devoting 11% of its Revenues from managing .fr Top Level Domain to actions of general interest, in particular by transferring €1.3 million each year to the Afnic Foundation for Digital Solidarity.
Afnic is also the back-end registry for the companies as well as local and regional authorities that have chosen to have their own TLD, such as .paris, .bzh, .alsace, .corsica, .mma, .ovh, .leclerc and .sncf.
Established in 1997 and based in Saint-Quentin-en-Yvelines, Afnic currently has nearly 90 employees.