02/03/2020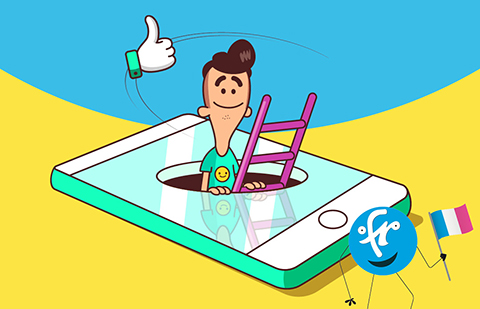 This Internet Top Level Domain has confirmed its strength (over 3.4 million holders) and its attractiveness among young people. The online survey conducted in November 2019 among a panel of 509 young people also showed that:
58% consider that the .fr has a "very good reputation";
40% consider that the .fr has a "fairly good reputation".
Pierre Bonis, CEO of Afnic, commended these results: "Young people create websites as part of their school, university and professional assignments. The .fr is a reliable and successful TLD; they are our future users and it is our job to give them all the information they need to ensure a controlled and independent online presence".
Afnic raises the awareness of over 17,000 VSEs/SMEs every year regarding their online presence and has been running a programme to help young people master their digital identity since 21 October 2019. Afnic also runs workshops in schools like the Guyancourt catering school and the IDRAC Business School in Lyon in partnership with the French federation of student associations (FFBDE – Fédération Française des Bureaux d'Étudiants), and raises awareness on a much broader range of topics than just domain names.
Methodology:
Data collected as part of a perception survey on .fr carried out every 2 years. 509 young people aged 16 to 25 were surveyed by MV2 Group for Afnic in November 2019 via an online questionnaire.
About Afnic
Afnic is the acronym for Association Française pour le Nommage Internet en Coopération, the French Network Information Centre. The registry has been appointed by the French government to manage domain names under the .fr Top Level Domain. Afnic also manages the .re (Reunion Island), .pm (Saint-Pierre and Miquelon), .tf (French Southern and Antarctic Territories), .wf (Wallis and Futuna) and .yt (Mayotte) French Overseas TLDs.
In addition to managing French TLDs, Afnic's role is part of a wider public interest mission, which is to contribute on a daily basis, thanks to the efforts of its teams and its members, to a secure and stable internet, open to innovation and in which the French internet community plays a leading role. As part of that mission, Afnic, a non-profit organization, has committed to devoting 11% of its Revenues from managing .fr Top Level Domain to actions of general interest, in particular by transferring €1.3 million each year to the Afnic Foundation for Digital Solidarity.
Afnic is also the back-end registry for the companies as well as local and regional authorities that have chosen to have their own TLD, such as .paris, .bzh, .alsace, .corsica, .mma, .ovh, .leclerc and .sncf.
Established in 1997 and based in Saint-Quentin-en-Yvelines, Afnic currently has nearly 90 employees.