10/22/2019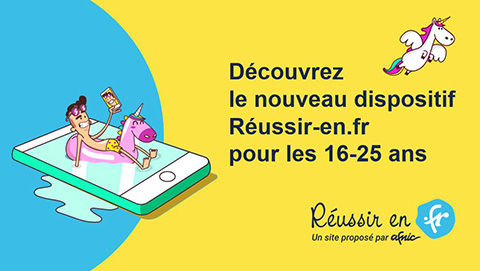 Afnic, the association responsible for the .fr country-code Top Level Domain, has announced the introduction of a support scheme on 21 October to help 16-25-year-olds master their online presence, in partnership with the French federation of student associations (FFBDE – Fédération Française des Bureaux d'Étudiants). The scheme is comprised of two specific components: training workshops across France, run in higher education institutions that have partnered with the operation, and a variation of its platform Commence par Réussir-en.fr (meaning "Let's start succeedding with .fr"), dedicated to young people.
Afnic intends to use this new scheme to reach out to 50,000 young people by the end of 2019, helping them understand their "default" uses of the Web, share knowledge and reflect on the issues and good practices involved in mastering their digital identity, on a personal and eventually professionally level.
Good practices for mastering your online presence
As part of its promotion of the .fr Top Level Domain, Afnic has devoted part of its activity to supporting French VSEs/SMEs in their digital transformation for a number of years now, particularly in terms of their digital identity, website creation, Internet presence, cybersecurity, etc.
Drawing on this experience, the association is now focusing on 16-25-year-olds, students and/or budding entrepreneurs. Although skilled in digital tools, this generation does not always see the relevance of mastering their e-reputation. Against this backdrop, personal branding is attracting increasing attention, and command of digital tools and know-how is becoming essential.
A scheme comprised of two components
20 training workshops in 20 schools, including Centrale Lille Graduate Engineering school and the Hotel Management School in Saint-Quentin-en-Yvelines. The 2-hour workshops will be run by the schools' students, pre-selected and trained in the subject by Afnic experts. 10 ambassadors will be chosen to run the 20 workshops scheduled for 21 October and 6 December.
The topics covered will include:
Controlled and independent online presence, at a time of scandals linked to the collection of personal data by the GAFA
Personal branding as a way of making an impression on recruiters: registering a domain name, creating a website and a personalised email address
The advantages of the .fr TLD
A variation of the platform Réussir-en.fr (meaning "Succeed with .fr") designed for young people
The association launched the variation of Commence par Réussir-en.fr on 21 October, specifically dedicated to young people. A wide range of content will be available, in addition to a quiz to test knowledge and uses.
Users are also able to:
Check the availability of a .fr domain name;
Find out about workshops run in schools in their region and sign up via the student association;
Visit the website for VSEs/SMEs for those interested or already involved in a professional activity and looking for increased support.
The scheme is visible on social networks and websites frequently visited by young people: Facebook, Twitter, LinkedIn, Instagram, Snapchat stories, YouTube display, etc.
About Afnic
Afnic is the acronym for Association Française pour le Nommage Internet en Coopération, the French Network Information Centre. The registry has been appointed by the French government to manage domain names under the .fr Top Level Domain. Afnic also manages the .re (Reunion Island), .pm (Saint-Pierre and Miquelon), .tf (French Southern and Antarctic Territories), .wf (Wallis and Futuna) and .yt (Mayotte) French Overseas TLDs.
In addition to managing French TLDs, Afnic's role is part of a wider public interest mission, which is to contribute on a daily basis, thanks to the efforts of its teams and its members, to a secure and stable internet, open to innovation and in which the French internet community plays a leading role. As part of that mission, Afnic, a non-profit organization, has committed to devoting 11% of its Revenues from managing .fr Top Level Domain to actions of general interest, in particular by transferring €1.3 million each year to the Afnic Foundation for Digital Solidarity.
Afnic is also the back-end registry for the companies as well as local and regional authorities that have chosen to have their own TLD, such as .paris, .bzh, .alsace, .corsica, .mma, .ovh, .leclerc and .sncf.
Established in 1997 and based in Saint-Quentin-en-Yvelines, Afnic currently has nearly 90 employees.