04/24/2018
From the autumn of 2017 onwards, Afnic has played a pioneering role in informing and training Registrars on the new GDPR regulations.  After a consultative committee meeting on the subject in October, in December Afnic published the new Registration Contract for the .fr which comes into force when the application of the GDPR becomes effective, and then organized two training webinars for registrars in early 2018.
Further to the very wide range of questions raised during these events, Afnic decided to publish a FAQ compiling all the questions that were asked, and the answers it provided, in order to inform the general public in addition to the community of Registrars.
From the changes implemented by the new regulation, to the application of the new registration contract for the .fr TLD, to the type of data published and to their retention period, this FAQ provokes discussion about the entry into force of the GDPR.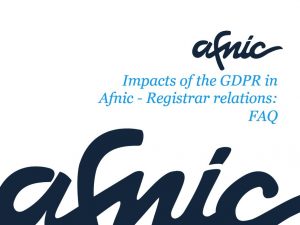 Download "GDPR Impacts in Afnic – Registrars relations" (PDF – 1 MB)