02/19/2014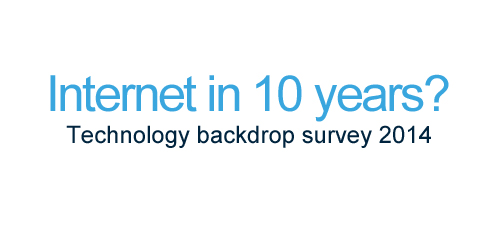 Launched as part of its R&D work, the "Technology Backdrop" survey – which went online for the first time in 2008 – was designed by AFNIC's Scientific Council and conducted by the INIT Company. This survey aims to seek a common vision for technology trends.
Based on predictions made by the respondents to the survey, the backdrop will consist of two types of assertions trends. First, the basis of the backdrop will consist of items on which a consensus has been reached. Then, while relying on this common basis, forecasts opposing subpopulations of respondents will be used to integrate alternative scenarios into the backdrop.
Internet users and professionals are invited to respond to the online survey, which is available in French and English:
https://www.init-web.com/cgi-bin/HE/SF?P=7z365z2z-1z-1zB4630FC4B0
Revisit the results of the first two editions of the AFNIC "Technology Backdrop" survey:
About Afnic
Afnic is the acronym for Association Française pour le Nommage Internet en Coopération, the French Network Information Centre. The registry has been appointed by the French government to manage domain names under the .fr Top Level Domain. Afnic also manages the .re (Reunion Island), .pm (Saint-Pierre and Miquelon), .tf (French Southern and Antarctic Territories), .wf (Wallis and Futuna) and .yt (Mayotte) French Overseas TLDs.
In addition to managing French TLDs, Afnic's role is part of a wider public interest mission, which is to contribute on a daily basis, thanks to the efforts of its teams and its members, to a secure and stable internet, open to innovation and in which the French internet community plays a leading role. As part of that mission, Afnic, a non-profit organization, has committed to devoting 11% of its Revenues from managing .fr Top Level Domain to actions of general interest, in particular by transferring €1.3 million each year to the Afnic Foundation for Digital Solidarity.
Afnic is also the back-end registry for the companies as well as local and regional authorities that have chosen to have their own TLD, such as .paris, .bzh, .alsace, .corsica, .mma, .ovh, .leclerc and .sncf.
Established in 1997 and based in Saint-Quentin-en-Yvelines, Afnic currently has nearly 90 employees.