05/19/2022
Lucile Ravasse has joined the Association's Management Committee as Communications Director.
Appointed to head up a 6-person team, Lucile Ravasse will develop communication and promotion surrounding Afnic, its offerings and its expertise.
The main targets on her roadmap include:
ensuring greater visibility and accessibility for the different Afnic expertise within the community:
continuing to support .fr growth in terms of volumes and market share;
promoting all Afnic products and services.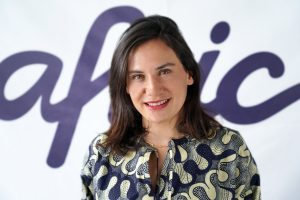 Lucile Ravasse, 37, graduated from HEC business school. She has in-depth knowledge of Afnic having worked at the Association since 2013 as Marketing Manager for the .fr TLD before heading up the Marketing Department. She has notably worked on the design for the .FR Lock, .FR Performance and .FR Rush products as well as jointly building and overseeing the Réussir-en.fr ("Succeed with .fr") programme for VSEs/SMEs and young people. She has steered the marketing plan and draws on tools to deliver operational excellence on a daily basis in order to ensure the success of the communication initiatives to advance Afnic's strategy.
About Afnic
Afnic is the acronym for Association Française pour le Nommage Internet en Coopération, the French Network Information Centre. The registry has been appointed by the French government to manage domain names under the .fr Top Level Domain. Afnic also manages the .re (Reunion Island), .pm (Saint-Pierre and Miquelon), .tf (French Southern and Antarctic Territories), .wf (Wallis and Futuna) and .yt (Mayotte) French Overseas TLDs.
In addition to managing French TLDs, Afnic's role is part of a wider public interest mission, which is to contribute on a daily basis, thanks to the efforts of its teams and its members, to a secure and stable internet, open to innovation and in which the French internet community plays a leading role. As part of that mission, Afnic, a non-profit organization, has committed to devoting 11% of its Revenues from managing .fr Top Level Domain to actions of general interest, in particular by transferring €1.3 million each year to the Afnic Foundation for Digital Solidarity.
Afnic is also the back-end registry for the companies as well as local and regional authorities that have chosen to have their own TLD, such as .paris, .bzh, .alsace, .corsica, .mma, .ovh, .leclerc and .sncf.
Established in 1997 and based in Saint-Quentin-en-Yvelines, Afnic currently has nearly 90 employees.