02/12/2015
Continuing its efforts to provide business support for new domain name registries, Afnic now offers a new service for controlling all of the business activities.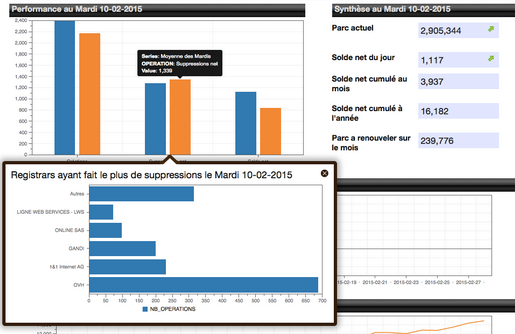 Called "Registry Analytics", the service allows registries to precisely determine their objectives and accurately monitor and measure their performance.
In particular the service includes:
An activity analysis (domain name creation, deletion and renewal indicators);
An analysis of the registry's installed base and distribution channels (stock, distribution of stock per registrar, accredited registrars, holder geography, history files, etc.) ;
An analysis of market data with comparative views;
The main reporting and data analysis functions (to create reports, charts, graphs, toppings, data exports, etc.).
The service is a genuine decision-aid tool tailored to the needs of registries, based on Afnic's long-standing experience and expertise in registry management and markets. It provides Afnic customers with the main management indicators they need for their business as soon as they start up the service. Customers benefit from significant time savings in data processing and avoid expensive investments in business intelligence solutions.
For more information on Afnic's Consultancy & Expertise offering:
Read our Registry Analytics dedicated page
contact us on info@afnic.fr
About Afnic
Afnic is the acronym for Association Française pour le Nommage Internet en Coopération, the French Network Information Centre. The registry has been appointed by the French government to manage domain names under the .fr Top Level Domain. Afnic also manages the .re (Reunion Island), .pm (Saint-Pierre and Miquelon), .tf (French Southern and Antarctic Territories), .wf (Wallis and Futuna) and .yt (Mayotte) French Overseas TLDs.
In addition to managing French TLDs, Afnic's role is part of a wider public interest mission, which is to contribute on a daily basis, thanks to the efforts of its teams and its members, to a secure and stable internet, open to innovation and in which the French internet community plays a leading role. As part of that mission, Afnic, a non-profit organization, has committed to devoting 11% of its Revenues from managing .fr Top Level Domain to actions of general interest, in particular by transferring €1.3 million each year to the Afnic Foundation for Digital Solidarity.
Afnic is also the back-end registry for the companies as well as local and regional authorities that have chosen to have their own TLD, such as .paris, .bzh, .alsace, .corsica, .mma, .ovh, .leclerc and .sncf.
Established in 1997 and based in Saint-Quentin-en-Yvelines, Afnic currently has nearly 90 employees.