02/12/2015
Continuing its efforts to provide business support for new domain name registries, Afnic now offers a new service for controlling all of the business activities.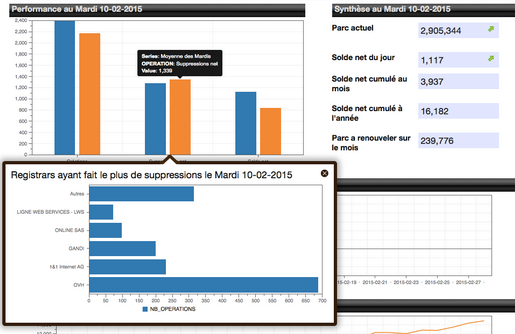 Called "Registry Analytics", the service allows registries to precisely determine their objectives and accurately monitor and measure their performance.
In particular the service includes:
An activity analysis (domain name creation, deletion and renewal indicators);
An analysis of the registry's installed base and distribution channels (stock, distribution of stock per registrar, accredited registrars, holder geography, history files, etc.) ;
An analysis of market data with comparative views;
The main reporting and data analysis functions (to create reports, charts, graphs, toppings, data exports, etc.).
The service is a genuine decision-aid tool tailored to the needs of registries, based on Afnic's long-standing experience and expertise in registry management and markets. It provides Afnic customers with the main management indicators they need for their business as soon as they start up the service. Customers benefit from significant time savings in data processing and avoid expensive investments in business intelligence solutions.
For more information on Afnic's Consultancy & Expertise offering:
Read our Registry Analytics dedicated page
contact us on info@afnic.fr