09/20/2016
Réussir-en.fr and Jimdo: serving the online presence of entrepreneurs!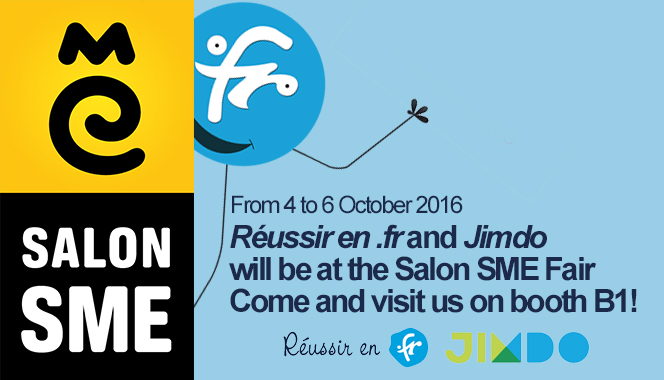 Although e-commerce represents an opportunity for French companies – 35.5 million consumers and 16 billion euros spent in 2016* – nearly one in every three SME / SOHO in the country still has no website! (*Source Fevad 2016).
As the support platform for launching an online business created by Afnic in 2014, Réussir-en.fr works with a million of the companies concerned to show them that owning a website and a personalized domain name is :
a simple, fast, and inexpensive process
an indispensable step for a relevant, controlled online presence
an opportunity whatever your business activity in terms of reputation and business development
a pledge of credibility and reliability for customers, prospects and partners alike 
an even more effective lever when coupled with social networking tools
During the 3 days of the SME Trade Fair, Réussir-en.fr and its partner Jimdo – an editor of simple but effective websites – will be welcoming professional players on their joint stand (B1) to advise them on how to develop their online presence!
"After the success of the online SME Trade Fair in June, we are delighted to take part in its physical version, which allows us to keep closer to entrepreneurs and business starters, and respond better to their questioning. Our support and advisory role is crucial because online presence is a challenge for small and medium-sized French enterprises," says Mathieu Weill, CEO of Afnic.
"Through our partnership with Afnic, we simplify the transition of French entrepreneurs to the digital economy. Our joint offer allows project owners to have a turnkey solution, including the hosting of their website and domain name under the .fr TLD, with a single invoice. The partnership also provides full support for entrepreneurs in getting their websites on-line aided by Jimdo experts to create the website, and the coaching provided by Réussir-en.fr in choosing a domain name," adds Justine Perussel, alliance manager for Jimdo France.
A workshop to launch your business on the Internet
Réussir-en.fr and Jimdo will also be hosting the workshop "An easy-to-use checklist to launch your internet activity" to guide entrepreneurs in starting their online business: from content to Internet address and design, Jimdo and Réussir-en.fr will be providing a complete range of great tips to help business starters have a successful website that accurately reflects their image.
Tuesday, October 4 from 9:00 to 9:30 Room 5 SME
Wednesday, October 5 from 9:00 to 9:30 Room 5 SME
Thursday, October 6 from 9:00 to 9:30 Room 5 SME
For further information or to attend one of the workshops, please contact us at presse@afnic.fr
About the SME Trade Fair
The leading event for the managers and creators of small businesses, the 3-day SME Trade Fair allows entrepreneurs and business backers to learn more and find advice about the solutions and tools available to complete the development of their existing business, takeover or start-up.
The 2016 SME Trade Fair represents:
– 200 open-access conferences for the managers of small businesses, start-ups and single-owner home offices
– 180 exhibitors to discover new solutions, boost projects and make the best choices for a business
– More than 500 experts present to share, find personalized advice and learn about best practices
Practical information
Paris 2016 SME Trade Fair 4, 5 and 6 October from 09:00 to 18:00 at the Palais des Congrès de Paris 2, Place de la Porte Maillot 75017 Paris
About Jimdo (www.jimdo.fr)
With an easy-to-use, intuitive interface, Jimdo allows anyone to create a showcase website, blog or e-store from a computer, smartphone or tablet – without any knowledge of computers. Founded in Germany in 2007 by Christian Springub, Fridtjof Detzner, and Matthias Henze, the company now has a workforce of more than 200 enthusiastic employees in its offices in Hamburg, San Francisco and Tokyo. The Jimdo system is available in 8 languages and has enabled the creation of more than 15 million websites around the world.
About Afnic
Afnic is the acronym for Association Française pour le Nommage Internet en Coopération, the French Network Information Centre. The registry has been appointed by the French government to manage domain names under the .fr Top Level Domain. Afnic also manages the .re (Reunion Island), .pm (Saint-Pierre and Miquelon), .tf (French Southern and Antarctic Territories), .wf (Wallis and Futuna) and .yt (Mayotte) French Overseas TLDs.
In addition to managing French TLDs, Afnic's role is part of a wider public interest mission, which is to contribute on a daily basis, thanks to the efforts of its teams and its members, to a secure and stable internet, open to innovation and in which the French internet community plays a leading role. As part of that mission, Afnic, a non-profit organization, has committed to devoting 11% of its Revenues from managing .fr Top Level Domain to actions of general interest, in particular by transferring €1.3 million each year to the Afnic Foundation for Digital Solidarity.
Afnic is also the back-end registry for the companies as well as local and regional authorities that have chosen to have their own TLD, such as .paris, .bzh, .alsace, .corsica, .mma, .ovh, .leclerc and .sncf.
Established in 1997 and based in Saint-Quentin-en-Yvelines, Afnic currently has nearly 90 employees.