01/08/2013
It is essential for rights-holders today to know the means at their disposal in order to contact third parties who have filed potentially litigious domain names. Similarly, it is equally important for them to know the tools and procedures they can use to manage disputes when the search for an amicable solution is not possible or has been unsuccessful.
The Guide for Rights-Holders, released today by Afnic as part of the French Registry's series of special reports, answers all of these issues for domain names filed under the .fr TLD. Starting with an overview of the operation of the domain name system, the document specifies the role of Afnic and describes the various procedures and services, both free and fee-paying, made available to rights-holders by the Registry for the .fr TLD.
You will learn for example the differences between the suspension and blocking of domain names, as well as the legal basis and procedures for using the Syreli dispute resolution system – an increasingly popular means of protection for rights-holders and their legal advisors – implemented by Afnic since November 2011.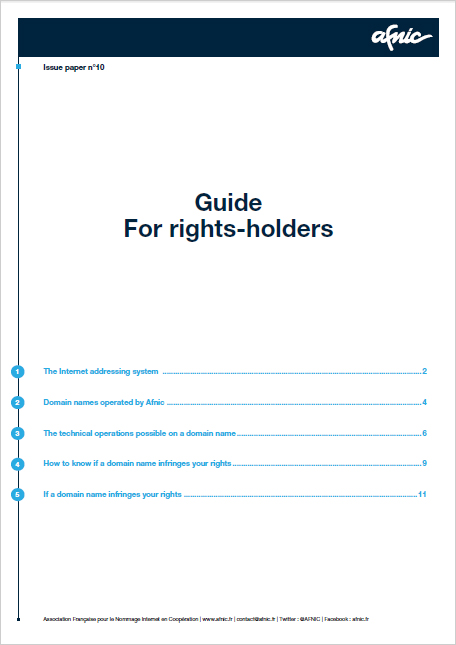 To download file # 10: