12/11/2014
12,000 .paris domains reserved
The .paris project began in 2008 and was approved by ICANN in 2013. After its opening to the first 100 ambassadors on June 4, 2014 and a registration period reserved for rights-holders from September 9 to November 11, 2014, the .paris TLD has now entered a new phase.
On December 2, 2014, .paris domain names became available to the general public. 12,000 domain names using the new digital address for the French capital have already been reserved, including almost 6,000 on the first day of the launch.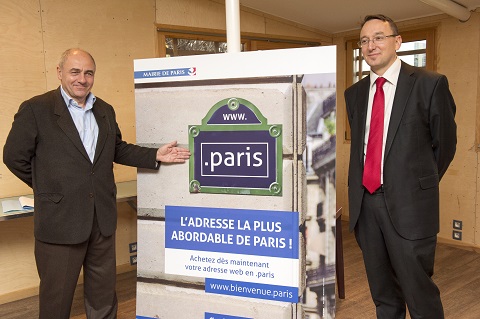 From left to right: Jean-Louis MISSIKA, Deputy Mayor of Paris et Mathieu WEILL, CEO of Afnic on Dec. 2 2014 for the opening ceremony of .paris
.bzh, a popular success
Two days later, on December 4, 2014, the .bzh TLD also became available to the general public. For all Breton-born individuals and Brittany enthusiasts, the opening of this new Internet domain culminates a project that was initiated ten years ago. Gathering all the players since 2004 and backing by the Brittany Regional Council, the www.bzh Association, supporting the .bzh project, obtained ICANN approval to create this new digital identity in 2013.
One week after the opening, almost 3,000 .bzh domain names have been registered by businesses, associations, local authorities and individuals, which contribute together to the construction of a new digital territory, spreading the image of Brittany to the world.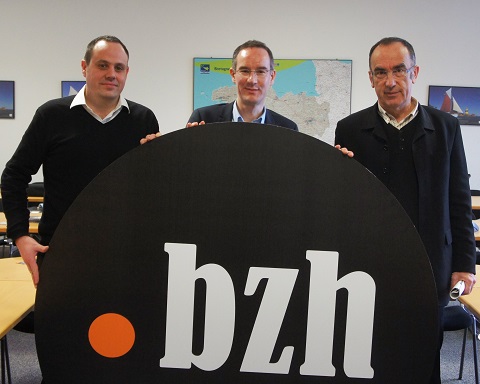 From left to right: Matthieu CRÉDOU, marketing director of'Afnic, David LESVENAN, President of www.bzh, Jean-Michel LE BOULANGER, vice-president of Brittany Region, in charge of cultural affairs.
The growth in these figures confirms the enthusiasm of French users for new Internet domains (gTLD) that bring new, targeted places for expressing community membership, and fostering digital solidarity.
Quality, Expertise and Reliability
As can be seen, the past week has been intense for Afnic, the operational partner selected by Paris City Hall and the www.bzh Association to manage the new Internet namespaces.
Thanks to its experience, Afnic can offer skills as well as services tailored to the needs of all of its partners. As a technical registry operator, Afnic is responsible for implementing and managing the technical infrastructure in accordance with the standards defined by ICANN, as well as communicating with registrars around the world.
A partner with Paris City Hall since 2009, and the .bzh project since 2011, Afnic has been committed to the success of these two new digital territories for several years. Their mutual success reflects the closeness of that long-standing cooperation.
In addition to the .paris and .bzh TLDs, for five years Afnic has supported the deployment of 15 other new registries for new Internet extensions, including the .alsace, .corsica, .ovh, .sncf and .leclerc namespaces.
The non-profit organization, registry of .fr, also manages the overseas ccTLDs .re (Reunion Island), .pm (St. Pierre and Miquelon), .tf (French Southern and Antarctic Territories), .wf (Wallis and Futuna) and .yt (Mayotte). The 23 ccTLDs represent a portfolio of more than 2.8 million domain names and make Afnic the leading French operator of Internet Registry Services.
The next general openings are to take place in 2015, beginning with the .alsace TLD in January.
Testimonials
For Jean-Louis Missika, Deputy Mayor of Paris in charge of all matters pertaining to urban planning, architecture, Greater Paris projects, economic development and attractiveness:
"The technical expertise and motivation of the Afnic team have been factors for success throughout the lengthy management of the .paris TLD project, including during our negotiations with global domain name regulator ICANN."
For David LESVENAN, President of the www.bzh Association:
"We are delighted that we can now offer the people of Brittany – and all fans of Brittany at large – a new digital means of expressing their attachment to our region. This remarkable venture is the result of a collaborative effort to which Afnic teams have provided their expertise and availability since 2011."
About Afnic
Afnic is the acronym for Association Française pour le Nommage Internet en Coopération, the French Network Information Centre. The registry has been appointed by the French government to manage domain names under the .fr Top Level Domain. Afnic also manages the .re (Reunion Island), .pm (Saint-Pierre and Miquelon), .tf (French Southern and Antarctic Territories), .wf (Wallis and Futuna) and .yt (Mayotte) French Overseas TLDs.
In addition to managing French TLDs, Afnic's role is part of a wider public interest mission, which is to contribute on a daily basis, thanks to the efforts of its teams and its members, to a secure and stable internet, open to innovation and in which the French internet community plays a leading role. As part of that mission, Afnic, a non-profit organization, has committed to devoting 11% of its Revenues from managing .fr Top Level Domain to actions of general interest, in particular by transferring €1.3 million each year to the Afnic Foundation for Digital Solidarity.
Afnic is also the back-end registry for the companies as well as local and regional authorities that have chosen to have their own TLD, such as .paris, .bzh, .alsace, .corsica, .mma, .ovh, .leclerc and .sncf.
Established in 1997 and based in Saint-Quentin-en-Yvelines, Afnic currently has nearly 90 employees.