As a promoter of open innovation around the DNS and its applications, Afnic partners with players from the private and public sectors in a committed effort to develop the standards and uses of tomorrow's internet.
Internet of Things, cybersecurity, internet identity: on all these subjects, the technologies associated with the DNS can provide responses and contribute towards the ever-increasing security, simplicity and reliability of the internet.  
Originally an offshoot of the Inria (National Institute for Research in Computer Science and Control), Afnic brings together some of the most advanced experts – engineers and researchers – in all fields linked to the infrastructure underlying the internet, and is determined to play a pioneering role in the study, design and testing of technologies for the internet of the future. 
More than 10% of our staff are dedicated to forward planning and R&D, particularly in the Partnerships and Innovation department – which works in conjunction with all Afnic departments (Excellence & Security, Marketing, Legal, etc.).
Digital innovation through cooperation
Our R&D is based on sharing with the internet community and our ability to work in collaboration with all players (foreign counterparts, research laboratories, industrial partners, etc.) and to design or partner projects over a wide scope covering the registry business lines. 
These joint initiatives more often than not have an international dimension. They can also rely on a very high level scientific, academic and industrial network in the Île-de-France area, notably from the Plateau de Saclay (at Paris-Saclay University, sometimes referred to as Europe's Silicon Valley).
For large-scale projects, these partnerships sometimes take the form of a consortium, like the DiNS project on the IoT. This project aims to make IoT networks interoperable by capitalising on the DNS and its advanced networks to improve security keys.
Exploratory projects and innovative services
The Partnerships and Innovation department focuses its research work on three key areas, all linked to our core business, the DNS:

– Registry services based on the concept of "trusted third party":
Thanks to its architecture and its global presence, the DNS can position itself as an essential intermediary service for new technological architectures.
Several projects aim to capitalise on its robustness and resilience (zero interruptions in 30 years!) to resolve various issues:
connectivity;

interoperability;




identification and digital identity (ID4me);




the Internet of Things (DiNS project);




blockchain;




 combating abuse (COMAR project);




private or semi-public resolution services. 
– Developments of the DNS:
Although the DNS is a historically stable technological basis, it has been rapidly evolving for some years (DoH, QUIC, etc.). We play a pro-active role in all these areas, through our contributions (Homer project) and our presence in standards organisations. We also pay particular attention to all matters linking the DNS and the protection of personal data. 
– New uses for the domain name:
We keep a constant watch on the different uses and practices concerning domain names, in order to identify trends and steer or fine-tune our products and services accordingly. We also carry out technical surveillance with Zonemaster, which is on track to become the benchmark DNS verification tool.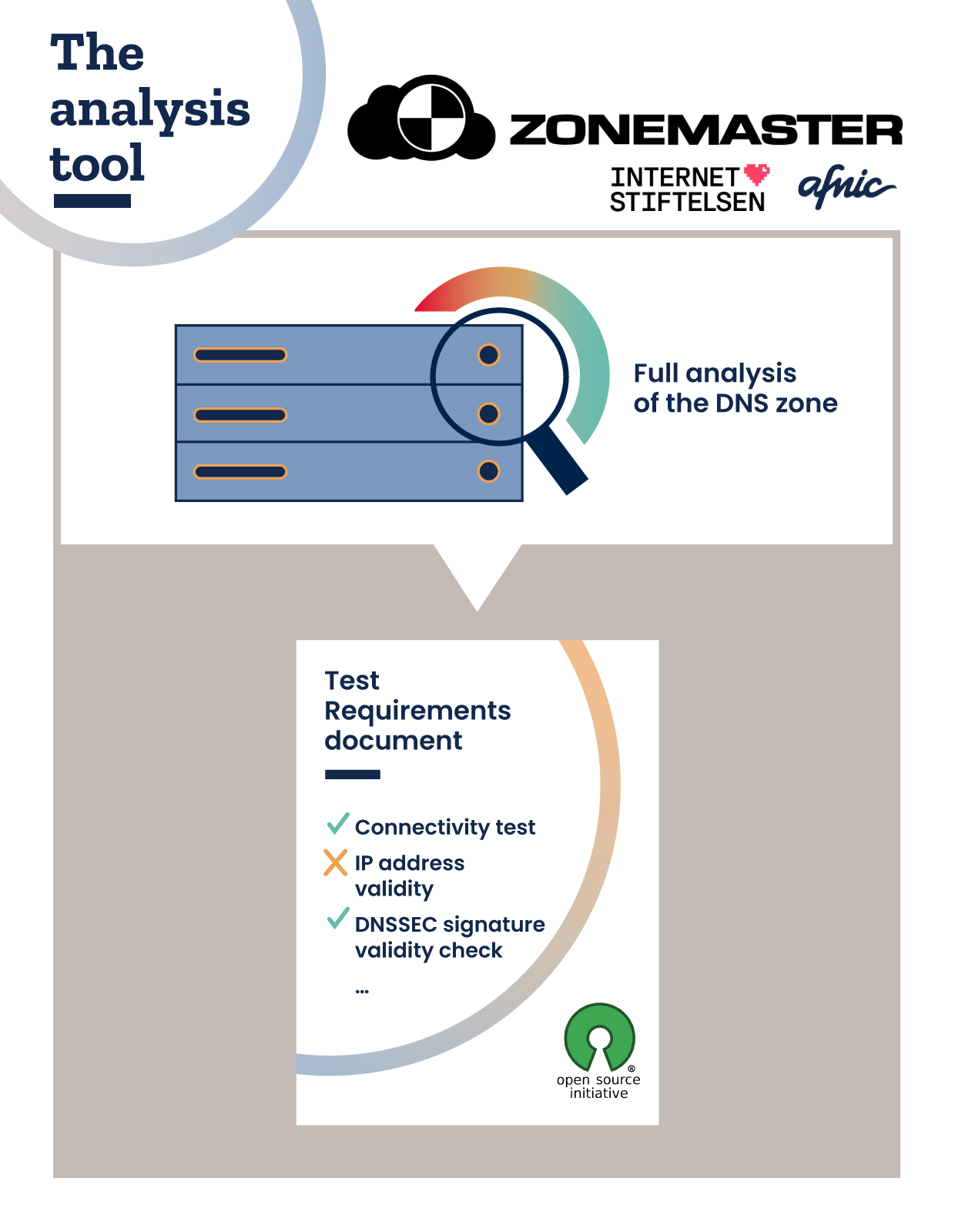 Zonemaster, the benchmark DNS verification tool
Developed in collaboration with the Swedish registry IIS, Zonemaster is positioning itself to become the benchmark DNS verification tool. Made available to the community and developed as free software, it is now used in the tests performed by ICANN on all TLDs.
Zonemaster, free software
Technology watch and participation in standardisation activities
A constant watch on technological developments, which is hardwired into Afnic's being, allows it to track how other internet infrastructures evolve, beyond the DNS alone. This watch fuels reflection and the quest for innovative solutions to improve registries' operational performance and allow the creation of new products and services.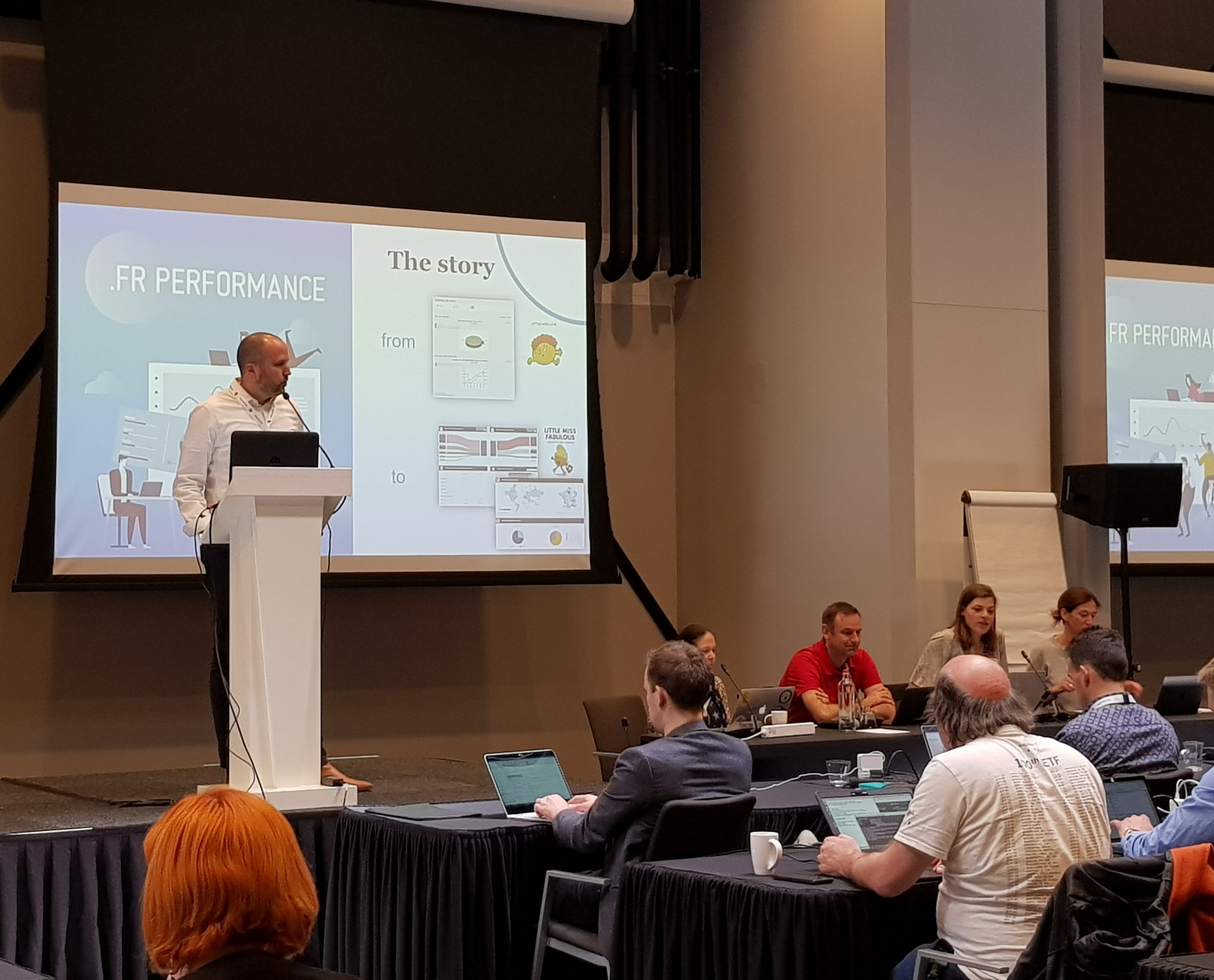 Presentation of .FR Performance during a CENTR R&D workshop.
Our researchers also contribute to developing future internet standards, through the main internet standardisation and coordination bodies. They play an active role in the working groups of the IETF, notably on subjects relating to domain names and network infrastructures. Afnic is also represented in meetings of RIPE, CENTR, DNS-OARC, the LoRA Alliance for the IoT, and other national and international conferences dedicated to the coordination and management of internet resources.
Transfer and dissemination of expertise and research results
Afnic plays an active role in disseminating and sharing the results of its research as well as its technical expertise. Afnic's researchers and engineers take part in workshops, seminars and conferences organised by its academic and industrial partners in France and internationally. 
This determination to openness is also reflected in its increasing participation in open source projects, and in the development of consulting and training activities. 
The Afnic Scientific Council Open Day, open to the public and available online in full on our YouTube channel, also forms part of this desire to share our reflections and our top-level expertise in domains linked to Internet infrastructures.
Under the critical eye of the Scientific Council
With a view to ensuring the success of its research, remaining at the forefront of forward planning and playing its full part in Internet governance, Afnic set up a Scientific Council in 2007. As a consultative body whose main function is discussion and proposal, it also keeps a critical eye on our work, helps to broaden our horizons and contributes to drawing up Afnic's strategy. 
The Scientific Council is composed of well-known scientists from the worlds of academia and industry, in France and abroad, from a wide variety of different disciplines in order to anticipate the technical challenges, and also the socio-economic implications, of the development of the internet:
Laurent Toutain: Senior Lecturer at IMT Atlantique, specialist in the Internet of Things and IPv6, Chair of the Afnic Scientific Council.
José Araujo: Group CTO Orange Cyberdefense, specialist in telecommunications, network security and forensics.
Pierre Beyssac: Chairman of Eriomem France.
Isabelle Chrisment: Professor, researcher at Télécom Nancy, University of Lorraine, Loria – Inria France, specialist in the supervision and security of dynamic networks.
Laurent Gyde: Chief Technical Officer, GIP RENATER.
Kinda Khawam: Lecturer/researcher at the University of Versailles since 2007. Specialised in radio resource allocation in next generation wireless networks.
Gordon Lennox: President of the Technologies, Droits, Responsabilités, Société association (TDRS), former internet ambassador for the European Commission, specialist in the fields of security and personal data protection.
Simon Muyal: Chief Technical Officer, France-IX
Cristel Pelsser: Professor at the University of Strasbourg. Specialist in networks, routing, measurement and protocols.
Valérie Schafer: Professor of Contemporary European History at the C²DH (Luxembourg Centre for Contemporary and Digital History) at the University of Luxembourg, specialising in the internet, telecommunications and computing.
Guillaume Sire: Lecturer/researcher in Information and Communication Sciences at the University Toulouse Capitole, member of the Institute in Space, Territories, Culture and Communications Law (IDETCOM). His work primarily covers the cultural industries, search engines and Internet governance.