Since 1986, .fr has been France's national TLD, and much more. .fr embodies a certain idea, a specifically French one, of online presence.
A presence that radiates throughout the world, for an internet that reflects security, simplicity, accessibility and solidarity, in which each party remains in control of his or her digital space and personal data.
At Afnic, we believe that digital technology is an opportunity for all, and that it is important to know how it is used in order to master it and make it the tool for an untrammelled, carefree and responsible presence in the world – without ever losing sight of the impact of the web on society or the environment.
.fr is our common good. Deploying, protecting and sharing it is our everyday mission.
Why opt for .fr?
.fr is French people's favorite TLD… and we're doing our best to make sure it remains so! 
Key figure
51%
.fr is the first choice for French VSEs/SMEs when creating their website and is perceived by VSEs and young people as the TLD most suited to French businesses.

source: Réussir avec le web study, September 2018 – August 2019; MV2 Group study – November 2019
Registering a .fr domain name is simple and quick. A few clicks with a Registrar or reseller is all it takes to build a complete digital space (website, personalised email address, redirects) that you control from A to Z. .fr is accessible to all: a .fr name costs €12 per year on average (depending on the services you choose), which is 20% to 30% cheaper than a .com domain name.
.fr is a trusted TLD, with non-discriminatory and transparent rules and a clear naming charter that guarantees respect for intellectual property rights. It is backed by a dispute resolution service to assist domain name holders and rights holders. 
.fr also represents a commitment to the protection of personal data. Information on natural persons provided upon registration of a .fr domain name is anonymised by default in the Whois database and hosted in France.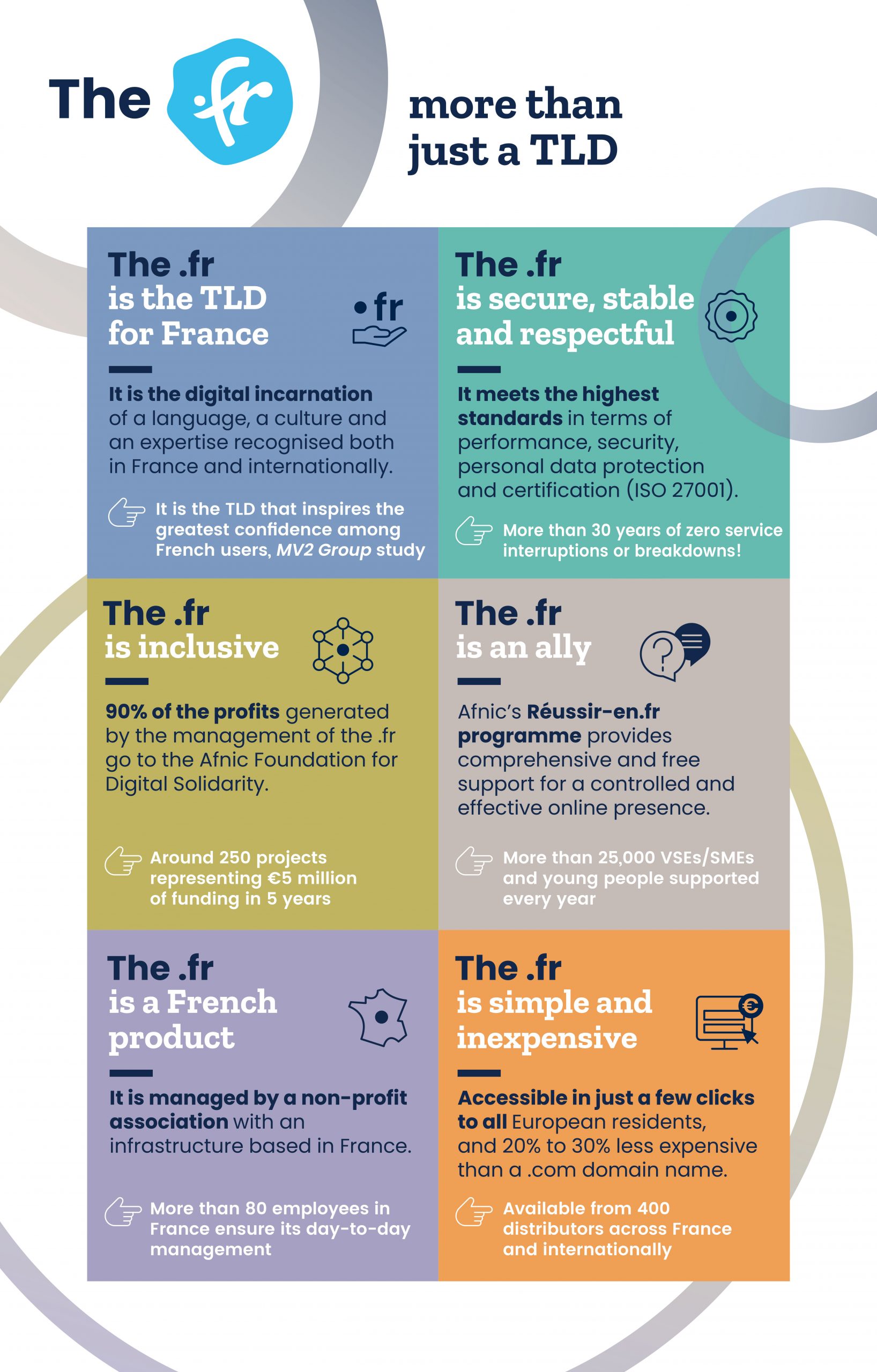 The .fr more than just a TLD
How do I register a .fr name?
It's simple! 
Choose your name


Be sure to choose a name that sets you apart – respecting the rules of the Naming Charter.

Check its availability
Choose your Registrar

depending on your criteria (geographic location, services offered, etc.). Registrars are accredited by Afnic to market .

fr

domain names. There are several hundred of them, spread across France and abroad. 
Just a few clicks, and it's registered!
Search for a domain name
You want to create your internet address, buy a domain name, check its availability or find information on an already registered domain name, use our Whois tool:
FIND A REGISTRAR
WHOIS NOTICE
As Registry and in accordance with the French Post and Electronic Communication Law, Afnic has to collect from registrars the data needed to identify domain name holders in order to constitute the whois database (whois database).

The whois database is protected by the provisions of the French Law of the 1st of July 1998 transposing the European Directive of the 11th of March 1996 on database legal protection in the Intellectual Property Code.

The French state is the only entity to hold the producing rights of the databases as substantial investment, quantitative as much as qualitative, that were used to achieve this database. Afnic has the license to use and protect the rights on the whois database. Complete or partial reproduction and/or use of the AFNIC's database without the express permission of the AFNIC is strictly forbidden. Afnic reserves the right to initiate any procedure of any kind to protect the database whois from fraudulent uses.

Any breach to these rules can carry penal sanctions as counterfeit, without prejudice of a potential damages request from the AFNIC. The whois database user commits to use the published data according to the laws and rules in effect. Moreover, the user is bound to respect the personal data protection framework and in particular, the Regulation (EU) 2016/679 of the European Parliament and of the Council of 27 April 2016 applicable from 25 May 2018 (hereinafter 'the European Data Protection Regulation "or" GDPR"). The infringement of the personal data protection framework can carry penal sanctions. As the user will access personal information, the user must refrain from collecting or misuse this information. In a more general way, the user must refrain from any act likely to infringe the privacy or reputation of individuals.
How does it work?
Every address ending in .fr is a 'domain name' – one of the basic building blocks of the internet. 
In order to communicate with each other, devices connected to the internet are identified by a unique internet address, known as an IP (Internet Protocol) address. This address takes the form of a series of numbers, for example: 192.134.4.20.
The domain name is actually a translation of the IP address in a series of easier-to-remember characters, such as an own name or a brand. It is mainly used to access websites (e.g. afnic.fr) or for email addresses (e.g. support@afnic.fr).
This translation between domain name and IP address (called 'resolution') is carried out by the Domain Name System (DNS). Invisible to the user, it takes a fraction of a second thanks to complex technologies, with an absolute security requirement. Without the DNS, surfing the internet would be much more difficult!
Who is behind .fr?
Afnic (Association Française pour le Nommage Internet en Coopération), the French Network Information Centre, a non-profit association, is the registry for .fr.
Find out more about the association
.fr is everywhere in France. See for yourself!
.fr is not a virtual entity. It can be seen everywhere in France, through several hundred Registrars nationwide who promote and market the .fr domain. 
It is expressed through our 'Réussir en .fr' ('Succeed with .fr') programme which supports VSEs/SMEs and young people in the development of an independent and controlled online presence. This programme is deployed at two levels: 
the

réussir-en.fr

platform offering a self-diagnostic tool and practical worksheets, tutorials and testimonies on the problems involved with an online presence;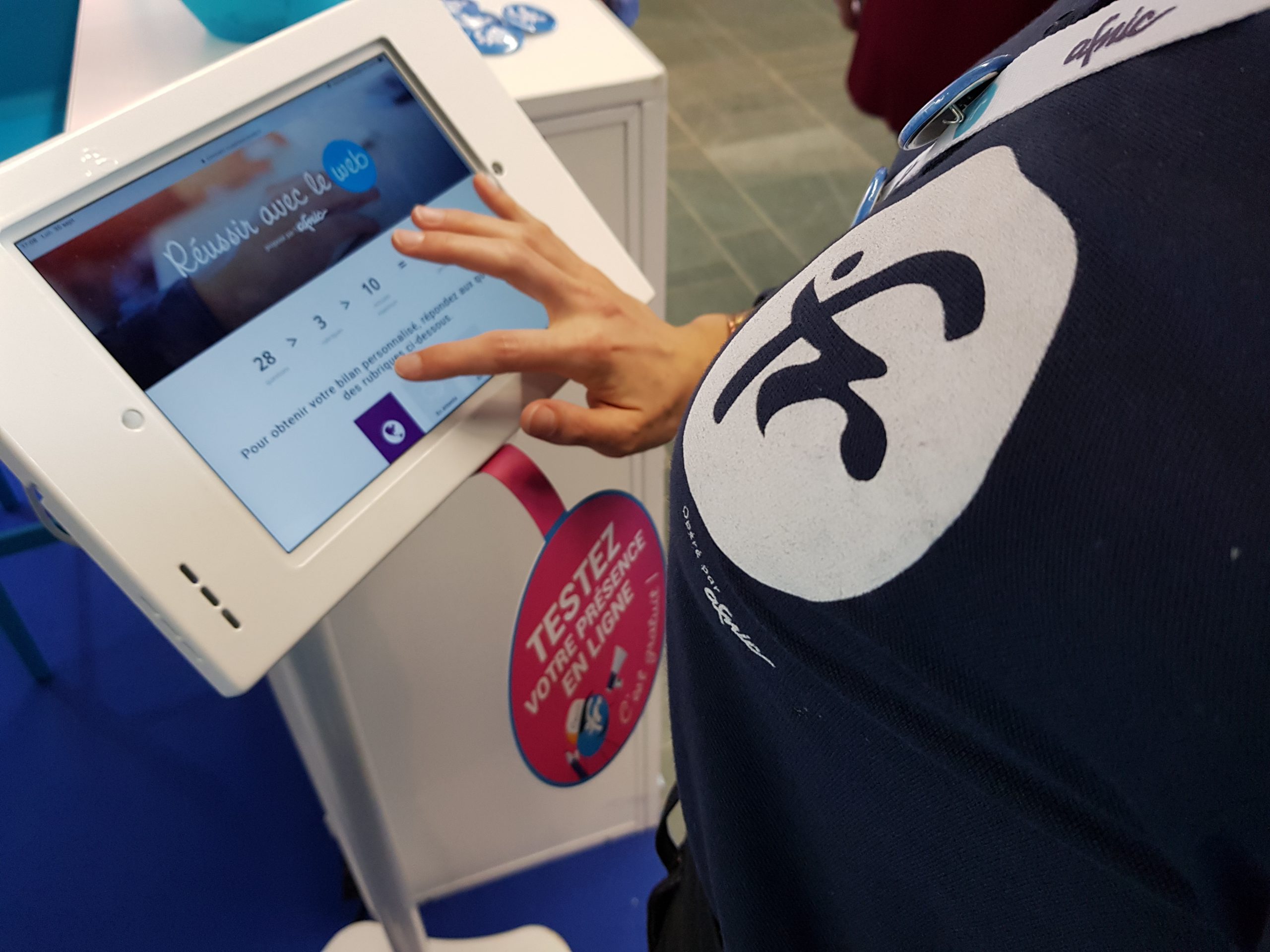 "Réussir avec le Web" online presence self-diagnostic device on the "Réussir en .fr" stand
free meetings and workshops that we organise throughout France for young people and entrepreneurs. Every year, we raise awareness among more than 20,000 VSEs and 3,000 young people. 
.fr is also present at trade shows where our teams go to meet entrepreneurs, at universities where our researchers give lectures, at the seminars we organise, and at the conferences we attend…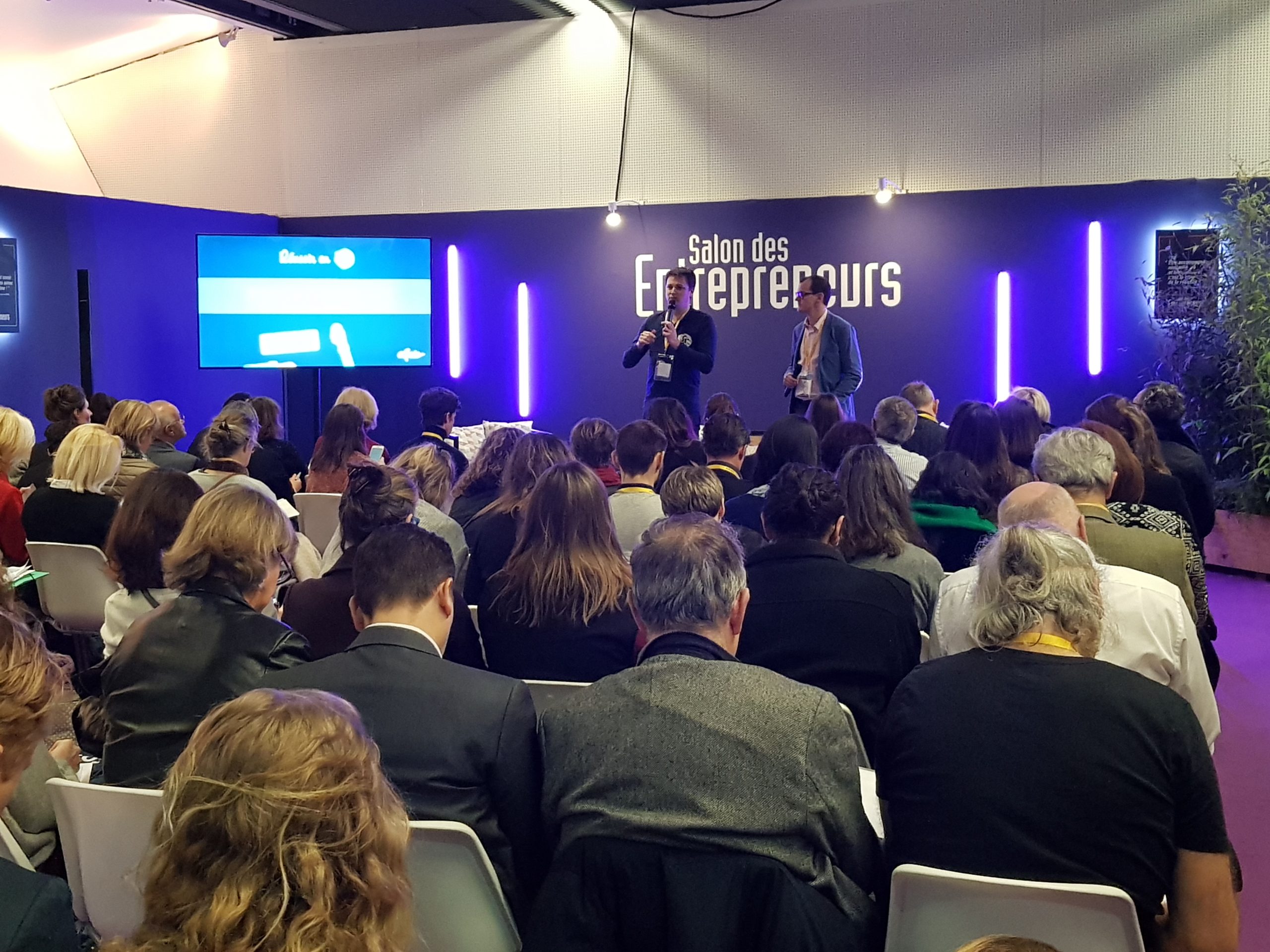 Conference "Réussir en .fr" at the Salon des Entrepreneurs of Paris 2019.
Finally, the achievements of .fr are reflected in the actions of the Afnic Foundation: nearly 250 digital inclusion projects throughout France and €5 million distributed to date. 
Choosing .fr means choosing solidarity!
 .fr is a common good, so it is only natural that its profits are returned to the community.
Thus, 90% of the profits generated by the management of .fr go to the Afnic Foundation for Digital Solidarity. Under the aegis of the Fondation de France, the Afnic Foundation finances more than a hundred local projects each year:
to reduce regional divides and promote internet access for all;

to foster digital inclusion and combat 'digital illiteracy'.
Discover the website of the Afnic Foundation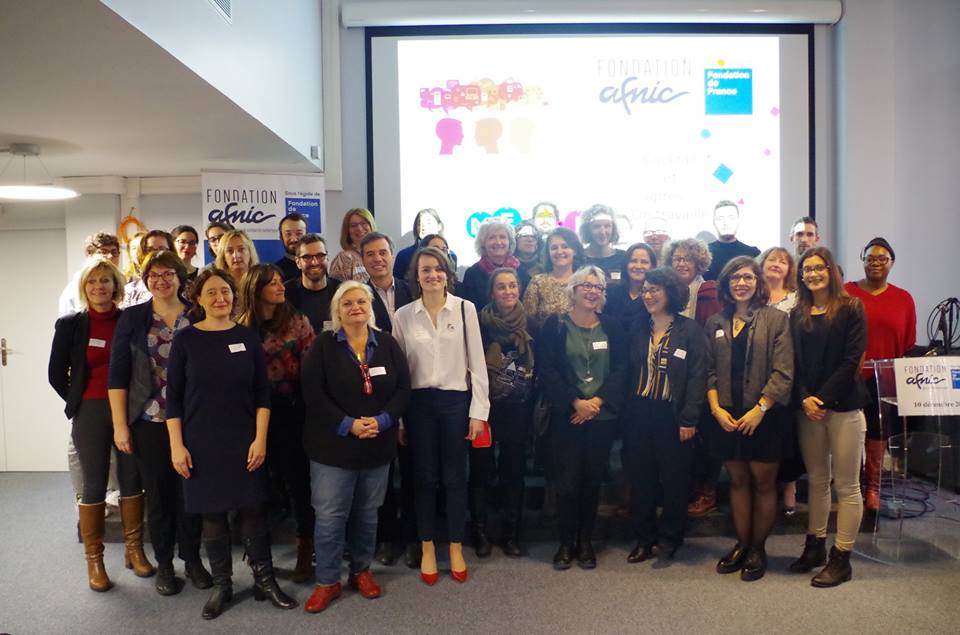 Photo of the 2019 award winners of the Afnic Foundation