12/02/2019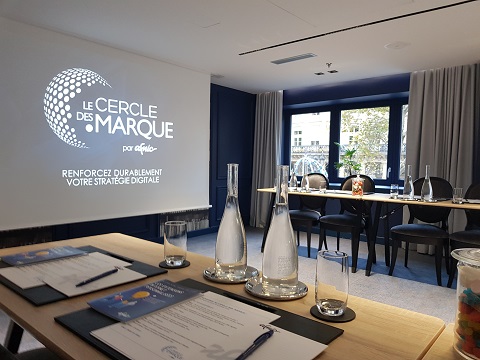 AFNIC, the French domain name registry, has launched the Cercle des .marque (The BrandTLD Club), a forum dedicated to custom Internet Top Level Domains and open to brands and their representatives. On 14 November 2019, some forty or so members met for the first event held at the Hôtel du Louvre in Paris. Participants unanimously welcomed the prospects that emerged from this session, which produced a wealth of shared experiences.
In view of the dynamism of French brands in this area (France ranks fourth among countries with active dot brand domain websites), we wanted to bring brand representatives together to exchange views on the development and command of their digital territory. This first event provided an opportunity to discuss the challenges facing brands online and how a custom domain can help respond to them tangibly and durably.
Why launch a brand Internet Top Level Domain and how to develop it? What are the take-aways from these exchanges?
A brand is one of a company's most strategic assets. It requires continuous investment to strengthen and protect it in the long term.
A website address with a custom Top Level Domain allows the brand to regain possession of its proprietary digital spaces, to strengthen trust and to guarantee its online users greater security (in a context of rampant fake news and cybersquatting for example).
To illustrate these challenges, .bnpparibas and .sncf shared their experiences with using their TLDs. These two TLDs contribute to giving their online presence a unique identity as well as to improving control of the domain name system in response to tough security challenges.
BNP Paribas spoke of the great interest shown in its brand TLD both by in-house users and customers. It enables the group to provide its partners with improved technical and operational security as well as guaranteeing the authentic provenance of its online services and its communications. Lastly, it reflects a spirit of innovation and tends to promote a sense of togetherness among Internet users.
The French state railway operator SNCF presented its rebranding and the migration of its online reservations platform voyages-sncf.com to its new address: oui.sncf. This website generates annual revenues of €4 billion, so it was of primordial importance to the SNCF to make sure it maintained its natural search engine optimisation. The company relied on a well-founded communication plan to introduce its new brand and thus encourage users to search for "oui.sncf" on Google, in turn improving its indexing. This switch-over project, which greatly motivated employees, was a resounding success. The website oui.sncf saw its traffic increase by 10% just three months after going live.
Having participated in the ICANN discussion meetings and forums, we believe brands will once again be able to apply for their Top Level Domains from 2022 on. Businesses are urged to start thinking about this now, since the application submission period may well be limited to just a few weeks. This session was an initial step, the aim of the Cercle des .marque community being to continue to exchange ideas and experiences on brand domains. We are pleased to have been joined by people from a wide variety of different businesses and with expertise in a range of different fields. The discussions and shared experiences confirmed that adopting a brand TLD is a strategic, transversal project to sustainably strengthen a brand.
Are you a brand representative? Do you want to take part in the debate and/or join the Cercle des .marque? Contact us at the following address: cercle-marque@afnic.fr
For more information and to find out all about the advantages of a .brand TLD, download our white paper "Benefit from brandTLD opportunities".