03/06/2015
"Alternative Dispute Resolution" procedures (ADR) are an out-of-court method available to rights holders who consider that a third party has infringed their rights by filing a domain name or using it in a way that is detrimental to them.
A dispute resolution system called Syreli has been available since 2011 for the domains managed by Afnic (.fr, .re, .yt, .wf, .tf and .pm).
In 2012, after the first year of use of this procedure, Afnic published the first assessment of Syreli trends, constituting a wealth of information for anyone who wanted to understand how the process was managed, identify the key steps in the review procedure, determine the best way to present a case file or use supporting documents, and easily find benchmark decisions.
Beginning this year, Afnic has improved its offer. The frequency of the review is now quarterly and it has been renamed: "Syreli Trends" is now "ADR trends", ahead of the upcoming launch of the new Afnic alternative dispute resolution procedure called PARL Expert. Ultimately the document will summarize both Afnic procedures, Syreli and PARL Expert.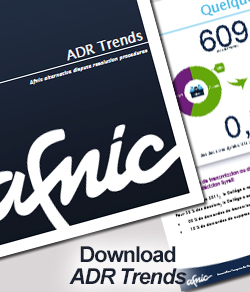 The figures to note from the first review for 2015 are as follows:
Since its establishment in 2011, Syreli has resulted in

609 decisions

.

In 58% of the cases, the motion requested by the applicant was accepted

: 90% of domain name transfer requests, 10% of domain name deletion requests.
Only 0.5% of Syreli decisions have been subject to judicial review, the results of which are not yet known.
The document also provides an opportunity to learn more about the various principles underlying decisions such as:
the grounds for the claim;
the completeness of the claim file;
the validity of the claimant's reason for acting;
the legitimate interest of the holder;
with the benchmark decisions opposite each principle.
More information
About Afnic
Afnic is the acronym for Association Française pour le Nommage Internet en Coopération, the French Network Information Centre. The registry has been appointed by the French government to manage domain names under the .fr Top Level Domain. Afnic also manages the .re (Reunion Island), .pm (Saint-Pierre and Miquelon), .tf (French Southern and Antarctic Territories), .wf (Wallis and Futuna) and .yt (Mayotte) French Overseas TLDs.
In addition to managing French TLDs, Afnic's role is part of a wider public interest mission, which is to contribute on a daily basis, thanks to the efforts of its teams and its members, to a secure and stable internet, open to innovation and in which the French internet community plays a leading role. As part of that mission, Afnic, a non-profit organization, donates 90% of its profits to its Foundation for Digital Solidarity. Afnic is also the back-end registry for the companies as well as local and regional authorities that have chosen to have their own TLD, such as .paris, .bzh, .alsace, .corsica, .mma, .ovh, .leclerc and .sncf.
Established in 1997 and based in Saint-Quentin-en-Yvelines, Afnic currently has 80 employees.