07/20/2020
2019 highlights
With 3,428,951 names in stock at 31 December 2019, the .fr gained 3.7% in 2019 with a net balance of 123,655 names. While slightly down on 2018 (+4.4%), this growth nonetheless remained well above that of the French domain name market as a whole. The .fr has confirmed its driving role in the digital transformation.
A role that lies at the heart of Afnic's mission and which it facilitates through various partnerships and programmes:
In February, Afnic and INPI (French National Industrial Property Institute) signed a partnership agreement aimed at facilitating processes for enterprise creators to file trademarks and register domain names at the same time. This joint educational effort represents an opportunity for both organisations to improve coordination of their actions aimed at improving the security of entrepreneurs' intellectual property.
The "Réussir-en.fr" [Succeed with .fr] support programme, with its practical workshop initiative Foliweb , deployed in partnership with Neocamino, continues to gain traction. More than 15,000 VSEs/SMEs took part in 2019, illustrating Afnic's tangible and practical contribution to the digital transformation.
In October, Afnic launched a variation of its platform Réussir-en.fr for young people aged 18-25, offering educational content, tutorials and advice to manage their online presence. This initiative to promote digital identity is reinforced by a partnership with the French federation of student associations (FFBDE – Fédération Française des Bureaux d'Étudiants) to train ambassadors to run workshops at schools and universities.
A study of the popularity and reputation of .fr, conducted towards year-end by an independent polling institute (MV2), confirmed the positive image of the national TLD: 36.7% of people asked about the domain names they are familiar with mentioned the .fr as their first response, ahead of the .com (29.5%).
As for the dialogue and exchange that Afnic value so highly, the pre-summer period was a time of reflection with the French Internet community. After the Afnic Forum, Afnic took part with the Afnic Foundation for Digital Solidarity in the French Internet Governance Forum, which it opened with the annual Afnic Scientific Council Open Day on the theme of "digital protection".
Lastly, Afnic inaugurated a new sales rendezvous in 2019 entitled "Le Cercle des .marque" ["The BrandTLD Club"] which aims to promote dialogue between major brands using personalised TLDs and others looking to take the plunge before long. Run alongside our partner registrars, this first edition allowed us to showcase the dynamism and inventiveness of French brands that use TLDs (.sncf, .mma, .leclerc for example) and the interest of those that have not yet obtained their own TLD.
Key figures in 2019
Number of .fr domain names: +3.7%
Number of French Overseas TLDs .re (Reunion Island), .pm (Saint-Pierre and Miquelon), .tf (French Southern and Antarctic Territories), .wf (Wallis and Futuna), .yt (Mayotte): +5.5%.
New TLDs back-end managed by Afnic (.paris, .bzh, .alsace, .corsica, .mma, .ovh, .leclerc, .sncf, .lancaster, .total, .aquarelle, .bostik.): +2.4%.
Afnic total revenues 2019: over €17M (+4.7%).
176 projects supported by the Afnic Foundation for Digital Solidarity: and €3.87M allocated in 4 years.
Download the report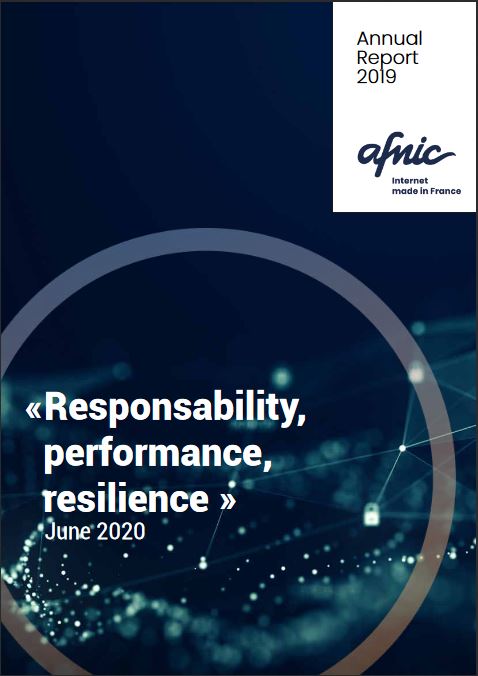 About Afnic
Afnic is the acronym for Association Française pour le Nommage Internet en Coopération, the French Network Information Centre. The registry has been appointed by the French government to manage domain names under the .fr Top Level Domain. Afnic also manages the .re (Reunion Island), .pm (Saint-Pierre and Miquelon), .tf (French Southern and Antarctic Territories), .wf (Wallis and Futuna) and .yt (Mayotte) French Overseas TLDs.
In addition to managing French TLDs, Afnic's role is part of a wider public interest mission, which is to contribute on a daily basis, thanks to the efforts of its teams and its members, to a secure and stable internet, open to innovation and in which the French internet community plays a leading role. As part of that mission, Afnic, a non-profit organization, has committed to devoting 11% of its Revenues from managing .fr Top Level Domain to actions of general interest, in particular by transferring €1.3 million each year to the Afnic Foundation for Digital Solidarity.
Afnic is also the back-end registry for the companies as well as local and regional authorities that have chosen to have their own TLD, such as .paris, .bzh, .alsace, .corsica, .mma, .ovh, .leclerc and .sncf.
Established in 1997 and based in Saint-Quentin-en-Yvelines, Afnic currently has nearly 90 employees.