09/26/2014
As a provider of technical services and solutions for registries, Afnic has backed 17 projects for new top-level domains (TLD) with ICANN, including .aquarelle for the same-name company and the .sncf TLD for the French Railway Board
The day provided an opportunity for Afnic to provide community support by sharing useful information on the day-to-day management of each project and presenting initial feedback from the national and international projects.
Several Afnic departments combined their efforts to make the day a success, including IT, marketing, communications and sales staff.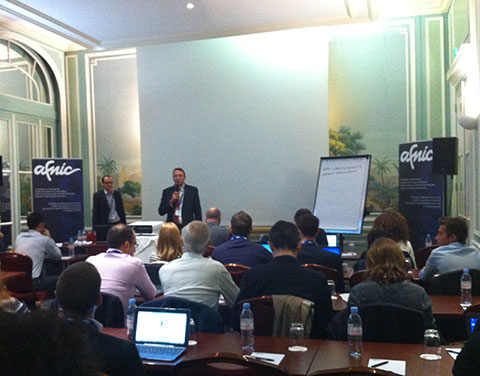 The morning was devoted to a series of presentations by Afnic representatives (progress report on the deployment of registry clients and on project milestones, registries/ICANN relations, presentation of the infrastructure set up by Afnic, etc.).
The afternoon was devoted to a series of client presentations. Aquarelle and Frogans shared feedback on the .aquarelle and .frogans TLDs, while Guillaume Pahud gave a talk in his capacity as a member of the Brand Registry Group, an organization representing several backers of international projects.
About Afnic
Afnic is the acronym for Association Française pour le Nommage Internet en Coopération, the French Network Information Centre. The registry has been appointed by the French government to manage domain names under the .fr Top Level Domain. Afnic also manages the .re (Reunion Island), .pm (Saint-Pierre and Miquelon), .tf (French Southern and Antarctic Territories), .wf (Wallis and Futuna) and .yt (Mayotte) French Overseas TLDs.
In addition to managing French TLDs, Afnic's role is part of a wider public interest mission, which is to contribute on a daily basis, thanks to the efforts of its teams and its members, to a secure and stable internet, open to innovation and in which the French internet community plays a leading role. As part of that mission, Afnic, a non-profit organization, has committed to devoting 11% of its Revenues from managing .fr Top Level Domain to actions of general interest, in particular by transferring €1.3 million each year to the Afnic Foundation for Digital Solidarity.
Afnic is also the back-end registry for the companies as well as local and regional authorities that have chosen to have their own TLD, such as .paris, .bzh, .alsace, .corsica, .mma, .ovh, .leclerc and .sncf.
Established in 1997 and based in Saint-Quentin-en-Yvelines, Afnic currently has nearly 90 employees.