09/26/2014
As a provider of technical services and solutions for registries, Afnic has backed 17 projects for new top-level domains (TLD) with ICANN, including .aquarelle for the same-name company and the .sncf TLD for the French Railway Board
The day provided an opportunity for Afnic to provide community support by sharing useful information on the day-to-day management of each project and presenting initial feedback from the national and international projects.
Several Afnic departments combined their efforts to make the day a success, including IT, marketing, communications and sales staff.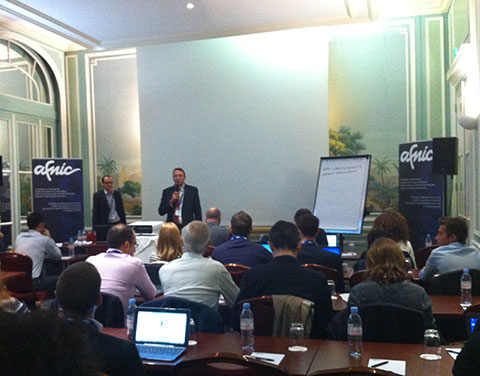 The morning was devoted to a series of presentations by Afnic representatives (progress report on the deployment of registry clients and on project milestones, registries/ICANN relations, presentation of the infrastructure set up by Afnic, etc.).
The afternoon was devoted to a series of client presentations. Aquarelle and Frogans shared feedback on the .aquarelle and .frogans TLDs, while Guillaume Pahud gave a talk in his capacity as a member of the Brand Registry Group, an organization representing several backers of international projects.