03/10/2016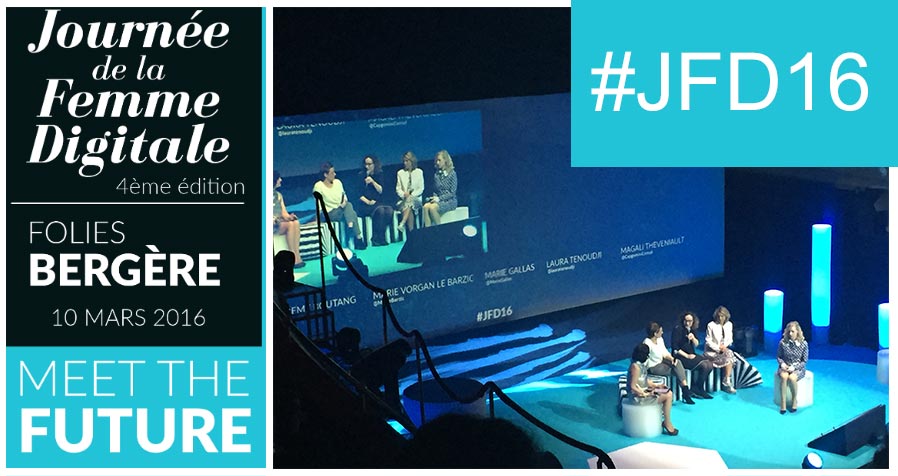 Digital Women's Day is an annual event created in 2013 by Delphine Remy-Boutang, founder of The Bureau, a digital communication agency, and Catherine Barba, entrepreneur, business angel, and a specialist in e-commerce. The purpose of the day is to celebrate successful digital initiatives launched by women, to promote gender equality in the Web and innovation, and to give the keys to those tempted by entrepreneurship to take the plunge and start up business.
Held on March 10 at the Folies Bergères, the theme of the 4th edition will be "Meet the future", with a trip into the ultra-connected world of tomorrow. The agenda includes meetings, round tables and workshops to understand digital technology and how it is revolutionizing our lives, and the place of women in the digital transition. To this extent, Afnic's Chief Sales Officer (Emilie Turbat) participates to this event.
The 3,500 participants expected to attend will also enjoy the events organized at the "Village of the Future", which will give an overview of life in the near future, and propose a "coding bar" and a selection of connected objects.
Afnic supports this initiative in favor of male / female equality, and recalls that gender equality is a major feature of its human resources policy: the percentage of female staff in the associations headcount is constantly increasing, rising to 41% of the association's employees at year-end 2015 against 37% at year-end 2014, and 3 of its 7 Executive Committee members are women.
These figures place Afnic above the national average in digital services, where women still represent only 27% of the workforce, according to the figures from the Syntec Numérique trade association.
For further information on Digital Women's Day 2016: