04/03/2013
From 7 to 11 April 2013, the 46th ICANN meeting will be held in Beijing at the Beijing International Hotel, providing an opportunity for Afnic to discuss with the international domain name community and bring together our customers and partners.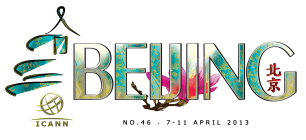 During the event, attention will focus mainly on progress in the deployment of the new TLDs, the reputation of the domain name industry against a backdrop of multiple product offerings in the coming months, the expansion in partnerships on the African continent, not to mention the latest announcements by ICANN President and CEO Fadi Chehadé on the functional organization of ICANN, whose stated aim is to keep as close as possible to the various communities involved. Some of these topics were discussed at the meeting organized by Afnic last February between ICANN and French stakeholders in the domain name industry.
Afnic will be playing an active role in the discussions throughout the 46th ICANN meeting and will use the event to bring together the French Internet community in Beijing.
For more information, visit the website for the 46th ICANN meeting in Beijing.